February 28th, 2022 by Brian White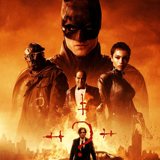 The Batman movie review title above says it all.  If you choose not to read any further, then all you need to know is this.  Matt Reeves did the unthinkable for me.  He made a Batman movie better than Christopher Nolan and despite my adoration for Reeves I wasn't expecting to be rocked to my core like this.  I was like a kid in a candy store the whole 176-minute runtime.  To say I liked The Batman is like saying guinea pigs are fond of Timothy hay.  We both LOVE it!  The Batman was everything I ever wanted in a Batman movie…the complete trifecta…DARK, BROODING and above all else…ADULT.  There were no cartoony or kiddie moments that would make this 47-year-old fan/critic flinch in disgust.  This movie felt like it was made for me and in the vein of the legendary Batman comics…he lives up to his moniker of the "The World's Greatest Detective."  Let's start with all the basics below and work our way through why you need to see this one ASAP.
I am not going to go into the Ben Affleck drenched history of this film or how it's not connected to the rest of the previously established DCEU universe.  Much like I had to if you're still frustrated over all this, get over it already.  And yeah like the majority of the fans I wasn't sold at all on Robert Pattinson as my favorite caped crusader.  However, as history has shown us time after time with previous Batman movie castings of Michael Keaton, Heath Ledger and even Mr. Affleck himself you have to trust in the process.  In other words don't judge a book by its cover.  Give it a chance!  I guarantee you'll be okay with Pattinson here.  It really is okay.  I would not lead you all astray here with something as serious as Batman is to me.  
Now I already mentioned that The Batman was handled with love, care and fervor in the more than capable hands of Matt Reeves.  I have nothing but mad respect for the director.  I met and talked to him before in person and he was the nicest and most humble person I ever met.  If he can make me weep using CG created apes, then I don't know why I ever had any doubt of him messing around in my beloved Batman universe.  Joining Reeves in creating this beautiful yet miserable rain soaked version of Gotham was writer Peter Craig who helped craft the screenplay.  And yes if you didn't catch my drift up above, The Batman is very much a reboot of the Batman film franchise.  Forget what came before as we have a new trilogy here (fingers crossed) and from what I read today not one, but two HBO Max spinoffs to look forward to.
In addition to Pattinson The Batman stars Zoe Kravitz, Paul Dani, Jeffery Wright, John Turturro, Peter Sarsgaard, Andy Serkis, Colin Farrell, Jayme Lawson and one other name I'll purposely leave out.  This film is set within the second year of Batman's crime fighting in Gotham.  Unlike previous incarnations of the character he physically works alongside police officers quite freely.  There are also new incarnations of Lieutenant Gordon (Wright), Catwoman (Kravitz), the Penguin (the virtually unrecognizable Collin Farrell) and the Riddler (Dano).  The latter pushes this feature more into the realm of a Saw-like film and I am completely in love with that.  On the surface I can kind of describe to you the Riddler as a serial killer (think Zodiac Killer) who targets Gotham's elite such as politicians, rich folks, etc.  It's up to the Batman and others to stay current with all the Riddler's riddles, but try as they might this incarnation of the villain is quite smart and doesn't stand out in the crowd with bright, green colored spandex.
I did a lot of research in regards to where both Reeves and Pattinson took inspiration in this newest adaptation of Batman.  The topic of the 90's rock band Nirvana completely fascinated me.  Yes, Reeves took some comic book influence from the young, inexperienced Batman in Year One and his psychology in Ego.  However, what moved me the most was Reeves going on record how he based this version of Bruce Wayne on Nirvana's frontman Kurt Cobain.  Wow!  He said he listened to the Nirvana song "Something in the Way" while writing the first act, which I can guarantee makes it into the film.  Hell yes!  This incarnation of Bruce Wayne lives very much in a decaying manor like Kurt Cobain did and he's trying to figure out who he is and if he's doing any good in the world.  The Batman is very much a narrative first person tale as we hear Bruce Wayne recount diary entries and we the audience are all witnesses to the conflicting thoughts within his mind.  There's definitely a lot of psychology to it all.
The Batman's version of Batman/Bruce Wayne here is also deeply rooted in his detective skills.  I thought Nolan did a great job of portraying this in his first two Batman films, but Reeves takes it to the next level here.  It helps of course that Pattinson's version of the Batman is a lot more welcomed by the police force at the crime scenes than Bale's Batman ever was, but I digress.  Because of this fascination with the detective side of Batman this feature plays out a lot more like David Fincher's Seven and Zodiac.  That's what is so killer about this film.  It's deeply dark, disturbing and very adult in nature.  Parents are going to love this, but their young kids they drag along probably won't.  This is not a kids movie.  I repeat.  Despite the PG-13 movie this is a very dark, adult film in nature.  There's even an F-bomb in the first thirty minutes.  Thank you God!  Now I just hope and pray that all those babies don't go ruining this franchise like they did with Batman v. Superman.  This is a thinking person's film, not a Marvel one.  There's also a very strong character arc I feel for Pattinson's character from where we meet him to where the film leaves off.  It's a very personal one and we are very much in touch with it all.
Now not only is the film's narrative downright dark, brutal and disturbing, but so are the visuals.  Like they coin in The Crow "It can't rain all time" well it can in this film's version of Gotham.  It's a very wet three hours we spend here in this feature's environments (London and Chicago backdrops).  It just adds to the movie's violent and brooding tones for me.  I love it!  And let's not forget about the action.  In addition to a thrilling game of cat and mouse detective story there are car chases, fight sequences, explosions and more.  I'm still over the moon with Farrell's physical transformation into the Penguin.  Sure they could have used any "heavier" actor, but the fact that Farrell took it this far is akin to Jared Leto's brilliant performance in last year's House of Gucci.  The prosthetics, FX (like I had any doubts there with Reeves helming this), the new Batmobile and even acting  (notice I didn't even dive deep there) is spot on throughout.  I went in thinking I was going to dislike the inclusion of the Catwoman, but Kravitz owned the role and I actually found myself falling a bit for the gothic like romance between her and the Bat (Michael Giacchino's score helps a lot there too).  And that's all I'll say.
Last but not least, this is NOT an origin story.  I repeat this is NOT an origin story.  The Bat has been active for two years now and there's a breath of fresh air here.  The backstory of the Wayne family is a little altered and we are treated to some aspects of the history we have never seen before on the big screen.  The character of the Riddler (with his plastic wrap and all) positions himself as an "agent of justice" and he's out to expose the truths about Gotham no matter how ugly they are.  Doesn't that promise alone just get you excited to watch The Batman?  Having seen it already it does for me!  And also, this film is not a fantastical one.  There are no Superman or Gods in this one.  Like Nolan so graciously did Reeve's new Bat universe is grounded in reality as much as possible.  
So there you have it folks…this Batman film is P-E-R-F-E-C-T to me (hence the gracious score down below).  I consider it to be one the greatest of all comic books ever made, which in layman's terms makes it the BEST Batman film EVER…to me (sorry Nolan…but you didn't use blood even when someone was shot repeatedly up close).  And just an FYI…there is only one lone extra at the conclusion of the film's credits (nothing during them).  Leave the young ones at home and enjoy this one.  KAPOW!