December 21st, 2020 by Gerard Iribe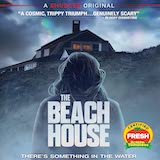 Hoping to reignite their relationship, college students Emily and Randall arrive at their weekend getaway only to discover a peculiar older couple already staying there. They all agree to share the home but, after an indulgent night of partying, they're awoken to a living nightmare of apocalyptic proportions. A mysterious airborne microbe has infected the water and it's making its way to the house…. The Beach House is available on Blu-ray now!
Film 
Emily (Liana Leberato) and Randall (Noah Le Gros) go to his parent's beach to try and reignite their relationship. She wants to continue graduate school studies and he does not want to go to school at all. He wants her to spend time with him at home. This stings somewhat since she's got future plans for herself. The couple's initial dynamic interesting because Randall comes from money obviously, and I do not get the impression that Emily does, which rubs her the wrong way when Randall tries to put his foot down and make decisions for her.
As the film unfolds, we are introduced to not even a handful of characters. The Beach House does a great job in keeping the characters and viewers isolated from "safety." Wait, but this is a horror movie, right? Yes! Don't let the title fool you. The Beach House is a transcendental-existential film. Not only that, but I do think the film may have been inspired by H.P. Lovecraft. To clarify, inspired, but not adapted. The Beach House is an original film.
The Beach House is also a slow burn of a film. It doesn't start to escalate until about the halfway point and then it's full speed ahead. I think that works in its favor because you get to know just about everything you can from the characters, whether you want to or not. You get to spend a lot of time with them and form your opinions as to who you like and who you don't.
Once the final act hits, we get into some creepy body horror moments that will make your skin crawl. By the film's end, you may have more questions than answers, but the trip that you just took, should have been worth it. I watched the film twice and I think it's one of the better "Lovecraft inspired" films out there – maybe because it was not a direct adaption of Lovecraft. It does its own thing and does it well. It is a low-key film and I do recommend it with a double header of The Color Out of Space.
Video
Encoding: MPEG-4 AVC
Resolution: 1080p
Aspect Ratio: 1.85:1
Clarity/Detail: The Beach House is filled with enormous detail, especially during the interior shots. Contrast and sharpness levels are nicely balanced, as well.
Depth: The outdoor scenes on the shore and the beach look splendid. They're definitely not on a public beach and the skyline has a bit of an overcast loom to it, which the Blu-ray transfer acknowledges.
Black Levels: There are several scenes taking place at night and in darkly lit interiors. I did not detect any instances of crush.
Color Reproduction: The color wheel was nice and natural. Some pixilation and banding were not an issue.
Flesh Tones: Some of the characters wanted to work on their tans, which look great. No one had a pasty afterglow to them. It's only towards the end when some of the characters start to have an otherworldly "glow" that their complexion changes.
Noise/Artifacts: The only areas that could potentially contain "noise" or "artifacts" are the scenes underwater. There are a couple of scenes in which particles shake loose from some of the columns that are holding the pier and parts of the property in place underwater. It's as if an underwater quake has shaken them loose. I assure you; it is not video noise.
Audio
Audio Format(s): English DTS-HD Master Audio 5.1
Subtitles: English SDH, Spanish, French
Dynamics: The Beach House starts out quiet in terms of the soundtrack, as a dialogue driven film before escalating into chaos. The Blu-ray, as usual from RLJE, is a refence audio affair. All of the sound elements are nicely balanced throughout the show.
Low Frequency Extension: The LFE subwoofer channel employs some terrific and tight rumbling, without distortion or painful rattling. It definitely enhances the film with even more dread during certain cues.
Surround Sound Presentation: The surround sound channels keep the ambience nice and dreadful. It's only until the world starts to fall apart that it picks up in the back.
Dialogue Reproduction: Dialogue levels are clean, crisp, and clear.
Extras
N/A
Summary 
The Beach House on Blu-ray pairs great with  The Color Out of Space. I initially had the film rated at a 3.5, but I watched it again and I enjoyed it even more on that second viewing. The video and audio remain stellar and I am bummed out that there no special features, which drags the overall Blu-ray down to its current rating. The Beach House is highly recommended!
The images used above within the review are not actual Blu-ray screenshots. They are for illustrative purposes only.