November 10th, 2020 by Gerard Iribe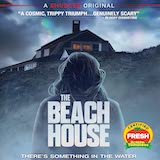 RLJE Films, a business unit of AMC Networks, along with Shudder, AMC Networks' premium service for horror, thriller and the supernatural, will release the horror film THE BEACH HOUSE on December 15, 2020 on VOD, Digital HD, DVD and Blu-ray.  THE BEACH HOUSE is the directorial feature debut of Jeffrey A. Brown who also wrote the screenplay. The film stars Liana Liberato ("Light as a Feather"), Noah Le Gros (A Score to Settle), Maryann Nagel and Jake Weber (Dawn of the Dead, "13 Reasons Why"). RLJE Films will release THE BEACH HOUSE on DVD for an SRP of $27.97 and Blu-ray for an SRP of $28.96.

THE BEACH HOUSE
"a cosmic, trippy triumph…genuinely scary" – Bloody Disgusting
"fast-moving, effective, Lovecraftian horror" – Screen Anarchy
ON VOD, DIGITAL HD, DVD & BLU-RAY December 15, 2020
Hoping to reignite their relationship, college students Emily and Randall arrive at their weekend getaway only to discover a peculiar older couple already staying there. They all agree to share the home but, after an indulgent night of partying, they're awoken to a living nightmare of apocalyptic proportions. A mysterious airborne microbe has infected the water and it's making its way to the house….
ABOUT RLJE FILMS
RLJE Films' recent features include Color Out of Space, based on the classic H.P. Lovecraft story, starring Nicolas Cage and Joely Richardson and written and directed by Richard Stanley; David Ayer's The Tax Collector starring Bobby Soto and Shia LaBeouf; and The Owners from director Julian Berg and starring Maisie Williams from "Game of Thrones". Upcoming releases include the critically acclaimed horror film The Dark And The Wicked from Director Bryan Bertino; and Adam Egypt Mortimer's Archenemy starring Joe Manganiello. us.rljentertainment.com.
ABOUT SHUDDER
AMC Networks' Shudder is a premium streaming video service, super-serving members with the best selection in genre entertainment, covering horror, thrillers and the supernatural. Shudder's expanding library of film, TV series, and originals is available on most streaming devices in the US, Canada, the UK, Ireland, Germany, Australia and New Zealand. To experience Shudder commitment-free for 7 days, visit www.shudder.com.
ABOUT AMC NETWORKS
Known for its groundbreaking and celebrated original content, AMC Networks (NASDAQ:AMCX) is the company behind the award-winning brands AMC, BBC AMERICA, IFC, SundanceTV, WE tv, and IFC Films. Its diverse line-up of popular and critically-acclaimed series and independent films include Killing Eve, Better Call Saul and The Walking Dead, which has been the #1 show on basic cable television for ten consecutive years, as well as Documentary Now!, Brockmire, Love After Lockup, and the films Boyhood, Death of Stalin, and many more. Its original series Mad Men and Breaking Bad are widely recognized as being among the most influential and acclaimed shows in the history of TV. The Company also operates AMC Studios, its production business; AMC Networks International, its international programming business; the subscription streaming services Acorn TV, Shudder, Sundance Now; and UMC (Urban Movie Channel); RLJE Films; and Levity Entertainment Group, the Company's production services and comedy venues business. For more information, visit http://www.amcnetworks.com.
on Blu-ray December 15, 2020!