June 10th, 2021 by Aaron Neuwirth
Presenting the latest box set from The Criterion Collection: Melvin Van Peebles: Four Films. Director, writer, composer, actor, and one-man creative revolutionary Melvin Van Peebles jolted American independent cinema to new life with his explosive stylistic energy and unfiltered expression of Black consciousness. Though he undeniably altered the course of film history with the anarchic Sweet Sweetback's Baadasssss Song, that pop-culture bombshell is just one piece of a remarkably varied career that has also encompassed forays into European art cinema (The Story of a Three Day Pass), mainstream Hollywood comedy (Watermelon Man), and Broadway musicals (Don't Play Us Cheap). Each facet of Van Peebles's renegade genius is on display in this collection of four films, a tribute to a transformative artist whose caustic social observation, radical formal innovation, and uncompromising vision established a new cinematic model for Black creative independence. Also included in the set is Baadasssss!, a chronicle of the production of Sweet Sweetback made by Van Peebles's son Mario Van Peebles—and starring the younger Van Peebles as Melvin.
presents
MELVIN VAN PEEBLES:
FOUR FILMS
MELVIN VAN PEEBLES' FIRST FOUR FEATURES,
TOGETHER FOR THE FIRST TIME
FIVE-BLU-RAY SPECIAL EDITION BOX SET, INCLUDES NEW RESTORATIONS, NEW CONVERSATION WITH VAN PEEBLES, RARE EARLY SHORTS, AND MORE
AVAILABLE ON BLU-RAY SEPTEMBER 28, 2021
FIVE-BLU-RAY SPECIAL EDITION COLLECTOR'S SET FEATURES
• New 4K digital restorations of all four films, approved by filmmaker Mario Van Peebles, with uncompressed monaural soundtracks for The Story of a Three Day Pass, Watermelon Man, and Sweet Sweetback's Baadasssss Song and 5.1 surround DTS-HD Master Audio soundtrack for Don't Play Us Cheap
• Baadasssss!, a 2003 fictional feature film based on director Melvin Van Peebles's diaries from the making of Sweet Sweetback's Baadasssss Song, directed by and starring his son Mario Van Peebles, with commentary by father and son
• New conversations between Mario Van Peebles and film critic Elvis Mitchell; producer Warrington Hudlin and critic and filmmaker Nelson George; and scholars Gerald R. Butters Jr., and Novotny Lawrence
• Audio commentary by Melvin Van Peebles from 1997 on Sweet Sweetback's Baadasssss Song
• Three early short films directed by Melvin Van Peebles
• How to Eat Your Watermelon in White Company (and Enjoy It), a 2005 documentary on Van Peebles's life and career
• The Story Behind "Baadasssss!": The Birth of Black Cinema, a 2004 featurette
• Melvin Van Peebles: The Real Deal, a 2002 interview with the director on the making of Sweet Sweetback's Baadasssss Song
• Episodes of Black Journal from 1968, 1971, and 1972, on The Story of a Three Day Pass, Sweet Sweetback's Baadasssss Song, and Don't Play Us Cheap
• Interview from 1971 with Van Peebles on Detroit Tubeworks
• French television interview from 1968 with Van Peebles and actors Harry Baird and Nicole Berger on the set of The Story of a Three Day Pass
• Excerpts from a 2004 interview with Van Peebles for the Directors Guild of America Visual History Program
• Introductions to all four films by Van Peebles
• Trailers
• New English subtitle translation for The Story of a Three Day Pass
• English subtitles for the deaf and hard of hearing
• PLUS: A 64-page book featuring writing on the films, including an introduction by film scholar Racquel J. Gates
THE FILMS
THE STORY OF A THREE DAY PASS
Melvin Van Peebles's edgy, angsty, romantic first feature could never have been made in America. Unable to break into segregated Hollywood, Van Peebles decamped to France, taught himself the language, and wrote a number of books in French, one of which, La permission, would become the stylistically innovative The Story of a Three Day Pass. Turner (Harry Baird), an African American soldier stationed in France, is granted a promotion and a three-day leave from base by his casually racist commanding officer and heads to Paris, where he finds whirlwind romance with a white woman (Nicole Berger)—but what happens to their love when his furlough is over? Channeling the brash exuberance of the French New Wave, Van Peebles creates an exploration of the psychology of an interracial relationship as well as a commentary on France's contradictory attitudes about race that is playful, sarcastic, and stingingly subversive by turns, and that laid the foundation for the scorched-earth cinematic revolution he would let loose just a few years later.
1967 • 86 MINUTES • BLACK & WHITE • MONAURAL • IN FRENCH AND ENGLISH, WITH ENGLISH SUBTITLES • 1.66:1 ASPECT RATIO
WATERMELON MAN
Melvin Van Peebles's only foray into Hollywood filmmaking, Watermelon Man is one of the most audacious, radically conceived works to be financed by a major American studio in the 1970s. Comedian Godfrey Cambridge delivers a virtuoso performance (initially in whiteface) as Jeff Gerber, a loudmouthed, bigoted white insurance salesman whose sitcomlike suburban existence is jarringly upended when he wakes up to discover, in a wild spin on Franz Kafka's The Metamorphosis, that he has become a Black man. What ensues is a ferocious satire of society's racist double standards that gradually transforms into an empowering portrait of awakening Black consciousness, executed with a mix of acerbic irreverence and deadly serious political commentary by a relentlessly subversive Van Peebles.
1970 • 110 MINUTES • COLOR • MONAURAL • 1.85:1 ASPECT RATIO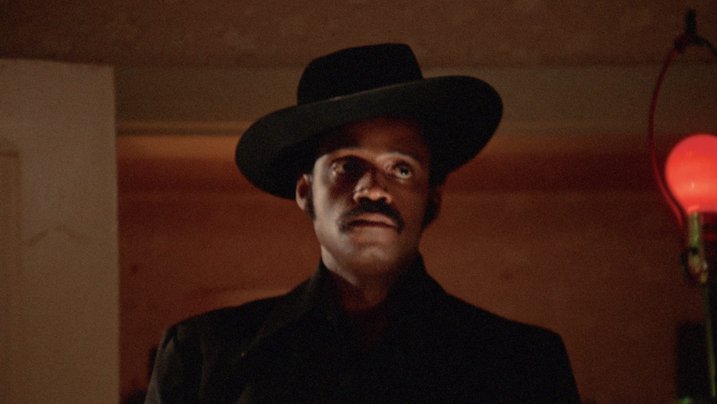 SWEET SWEETBACK'S BAADASSSSS SONG
A landmark of Black and American independent cinema that would send shock waves through the culture, Sweet Sweetback's Baadasssss Song was Melvin Van Peebles's third feature, after he walked away from a contract with Columbia in order to make his next film on his own terms. Acting as producer, director, writer, composer, editor, and star, Van Peebles created the prototype for what Hollywood would eventually co-opt and make into the blaxploitation hero: a taciturn, perpetually blank-faced performer in a sex show, who, when he's pushed too far by a pair of racist cops looking to frame him for a crime he didn't commit, goes on the run through a lawless underground of bikers, revolutionaries, sex workers, and hippies in a kill-or-be-killed quest for liberation from white oppression. Sweet Sweetback's Baadasssss Song's incendiary politics are matched by Van Peebles's revolutionary style, in which jagged jump cuts, kaleidoscopic superimpositions, and psychedelic sound design come together in a sustained howl of rage and defiance.
1971 • 97 MINUTES • COLOR • MONAURAL • 1.85:1 ASPECT RATIO
DON'T PLAY US CHEAP
Melvin Van Peebles's film version of his own Tony Award–nominated Broadway musical is a bold blend of theater and nervy, New Wave–inflected cinematic invention. A cast of Black stage and screen luminaries including Esther Rolle, Mabel King, and Avon Long stars in this charmingly offbeat, fablelike fantasy in which a pair of mischief-making devil-bats dispatched by Satan assume human form in order to wreak havoc on a Saturday-night house party in Harlem—only to find their diabolical plan thwarted by their hosts' infectious generosity of spirit. Staged with ebullience, the original blues- and gospel-infused songs by Van Peebles burst forth in a life-affirming celebration of Black joy, tenderness, resilience, and strength.
1972 • 102 MINUTES • COLOR • 5.1 SURROUND • 1.66:1 ASPECT RATIO