November 20th, 2020 by Aaron Neuwirth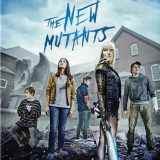 At long last, the final film of the X-Men series that began during the 20th Century Fox era managed to find its way to a theatrical release. No, The New Mutants was not riding on the best buzz before finally being seen by audiences, nor did the film deliver anything more than a middling end to this iteration of the long-running X-Men Cinematic Universe. It's a shame, as there was potential to see something neat by bringing a horror element into this world. Still, for those interested and the completists out there, The New Mutants now has a 4K Ultra HD release to dig into. It may not be the ideal film to show off a system with, but the teenage-tinged superhero film does what it can with the format.
Film:
The premise is fairly straightforward. Dani Moonstar (Blu Hunt) escapes some kind of force that leaves her as the only survivor of her people. She awakens in a facility run by Dr. Cecilia Reyes (Alice Braga). Dr. Reyes alerts Dani that she's actually a mutant, although she has not realized her powers. Locked in a rundown facility, Dani soon meets the other young mutants who are all discovering their powers as well, after having suffered traumatic events leading them to these extreme circumstances.
Other new mutants include Rahne Sinclair (Maisie Williams), a Scottish girl who can turn into a wolf and is suffering heavily from Catholic guilt. Illyana Rasputin (Anya Taylor-Joy) has the power to enter in and out of a demonic limbo dimension to teleport around the vicinity. Sam Guthrie (Charlie Heaton) is the son of a Kentucky miner, with the ability to propel himself into the air, becoming invulnerable in the process. And there's Bobby da Costa (Henry Zaga), a rich kid from Brazil, with the power to manipulate solar energy.
This film takes its inspiration largely from "The Demon Bear" saga, the most famous arc from The New Mutants comics from Chris Claremont and Bill Sienkiewicz. Ideally, this film would work well to capitalize on that storyline by warping around what one expects from an X-Men film, playing into the teenaged atmosphere, with a good dose of horror to go along with mutant power-based action scenes. Sadly, director Josh Boone (The Fault In Our Stars) has no real handle on making anything outside of the teen interactions interesting.
For a film that finds time to show clips from Buffy the Vampire Slayer on some TVs in the background in a couple of instances, the work really could have been done to tap into that energy. There's a version of this film that could have easily played into a mix of high school flicks and A Nightmare on Elm Street 3: Dream Warriors. Things don't work out that way, no matter how many fun posters in reference to some classic horror flicks were created to show what influences were in mind.
The issues become clear almost immediately. Whatever effort Boone and co-writer Knate Lee put into the research, the screenplay is subpar, with dialogue operating like a handbook instead of real speech. The drab setting is done no favors, thanks to a lack of inventiveness in filmmaking. And for a film based around a series where the outcast characters with superhuman abilities are the main draw, everyone in this movie is a bore (let alone seemingly out of place, given how much the actors have noticeably aged since filming took place).
Only Taylor-Joy comes close to functioning as a fleshed-out character by nature of being the "mean girl" who happens to have a power set that's utilized quite effectively. It doesn't help that her disposition is not only to be non-friendly but confrontational in a way that has her spouting racist lines at Dani, the Native American lead/audience gateway character. That said, as Illyana softens, we get to understand her powers and the role of the hand puppet she carries around.
While not a slog to sit through the way X-Men: Apocalypse ended up being, there's a feeling of indifference that's wrapped around this film, much like the forcefield Braga's character uses to trap the new mutants inside the mental hospital. The New Mutants is never aggressively bad, just lacking in all areas that would make the material more compelling for a film. As it stands, this glorified TV pilot has the means to be a lot better, but rather than embrace being a new first class, it's a poor last stand for the X-Men franchise.
Video:
Encoding: HEVC / H.265
Resolution: 4K (2160p)
Aspect Ratio: 1.85:1
Layers: BD-66
Clarity/Detail: Despite the drab environments, there is a noticeable amount of crispness regarding how much this film can put on display in its bigger moments. For a small-scale superhero flick, it does feature times where it can shine at home. This is mostly whenever powers are being used. Even with the CG enhancements, the detail level in the animations of people on fire, Illyana crossing through dimensions, or the huge demon bear can show off the jump this 4K presentation takes from its Blu-ray counterpart.
Depth: Set in a hospital, with only so many characters, the sense of distance is felt in some broader scenes trying to apply a level of scope. There's never any level of distortion, and movements always come through smooth.
Black Levels: The black levels are very strong, using the nighttime and darker interiors to properly convey the right sense of shadow and saturation. No crushing whatsoever, with deep black levels revealing themselves the more we get into the darkness that emerges in sequences playing into dim lighting and more.
Color Reproduction: Colors are quite strong. As the film purposely plays down colors for most of its runtime, seeing the pop that comes through thanks to costume choices or the effects coming out of things like fire or portals being opened means having a great amount of contrast to show off just how detailed those elements can be. The HDR comes in well to further heighten the level color on display.
Flesh Tones: Facial textures all feature a great detail level, which is important given the hybrid of special effects and characters in some instances.
Noise/Artifacts: There is nothing wrong with this picture.
Audio:
Audio Format(s): English Dolby Atmos and 2.0 Descriptive Audio 5.1, Spanish 7.1 Dolby Digital Plus, and French Dolby Digital 5.1
Subtitles: English SDH, Spanish, French
Dynamics: As this is coming from the Disney line of home releases, I was curious to know if it would suffer the same fate as some other superhero films from previous years. For whatever reason, Atmos is just not the highpoint for Disney releases. However, I had little to complain about here. The New Mutants features an intricate mix that mostly does the job. It's not an action-heavy film, but plenty is going on to enjoy how this mix was put together when the film does enter that arena.
Height: As this is a fairly quiet film due to the few characters and sparse locations, you get enough detail in the ambient noise and the use of score without feeling overcrowded.
Low-Frequency Extension: Thanks to the action there is, and the music, you get a lot to work with on an LFE level.
Surround Sound Presentation: A great balance is created here, as the surround presentation does all it needs to create an immersive world as necessary for this film. As one would expect, it's a front-loaded track, but the other speakers provide what is necessary.
Dialogue Reproduction: Everyone is heard loud and clear.

Extras:
While there are no in-depth making-of featurettes to look at, the extras barely satisfy with some looks behind the scenes, and a handful of cut sequences, and a commentary that is actually more an interview with the film playing in the background. All of the extras, including the commentary, are only available on the Blu-ray.
Blu-ray Features Include:
Audio Commentary with director Josh Boone and comic book artist Bill Sienkiewicz – To avoid saying anything about the film, this commentary is a feature-length interview with Sienkiewicz, which is enjoyable, but don't expect any breakdown of what's taking place on the screen.
Deleted Scenes (HD, 10:52)
Origins & Influences (HD, 7:27) – A look at the comic inspiration for this film.
Meet The New Mutants (HD, 7:16) – The cast talk about their roles in the film.
Theatrical Trailer (HD, 2:22)
Teaser Trailer (HD, 2:00)
Digital 4K UHD Copy of the Film
Summary:
In a different world, The New Mutants would have been a competently made superhero flick that worked as a decent transition of the X-Men into the MCU (however soon that may actually happen). As it stands, the film is not quite a mess, just an uninteresting take on a set of characters that could easily be fleshed out better were it not for lackluster direction. The 4K UHD presentation is pretty great, with a video transfer that truly shines and a small number of extras to round it all out. For X-Men completists, good luck, but there's not much worthwhile here.
Order Your Copy Here:
Paid Link