October 6th, 2020 by Gerard Iribe
In THE PALE DOOR, the Dalton gang find shelter in a seemingly uninhabited ghost town after a train robbery goes south. Seeking help for their wounded leader, they are surprised to stumble upon a welcoming brothel in the town's square. But the beautiful women who greet them are actually a coven of witches with very sinister plans for the unsuspecting outlaws – and the battle between good and evil is just beginning. Directed by Aaron B. Koontz (Scare Package) who also co-wrote the script with Cameron Burns (Camera Obscura) and Keith Lansdale ("Creepshow"), THE PALE DOOR stars Devin Druid ("13 Reasons Why"), Zachary Knighton ("Happy Endings"), Noah Segan (Knives Out), Stan Shaw (The Monster Squad), Pat Healy (Cheap Thrills), Bill Sage (We Are What We Are), Melora Walters ("PEN15", Magnolia) and Natasha Bassett (Hail, Caesar!). The Pale Door is released on Blu-ray & DVD October 6, 2020! Read our Pale Door Blu-ray review now!
Film
When the Dalton Gang bites off more than they can chew in a failed train robbery, they'll have to do whatever it takes to dodge law enforcement and The Pinkertons. What they didn't count on was that of the valuable cargo they stole from that "failed" train robbery. On the run and short on supplies they will come across a ghost town of sorts. The only thing "open for business" is that of the local and very friendly brothel. Hijinks will ensue indeed.
The Pale Door was a bit of a surprise due to how it has been marketed. The artwork and promotional materials make the film look like it has some pedigree. I mean, from the stellar opening credit sequence to some of the horror visuals and gore, The Pale Door is not just some flash in the pants. It has something to say. Does it work 100% of the time? No. The Pale Door is still a low budget affair and those limitations can creep in here and there. Some of the sets look cheap and the costumes look a little too clean for it to be a pioneering town.
Again, those were nitpicks. Once we get started with The Dalton Gang, similarities to other western and horror genre films will become that much more glaring. The Dalton Gang is essentially The Magnificent Seven and the lovely brothel and its inhabitants may as well just come from From Dusk till Dawn. Obviously, it's not on the same league as those two, it does what it can. When we do reach the brothel and all hell is let loose, the horror and gore quota skyrocket and it's plenty of fun.
The Pale Door does not seek to reinvent the horror wheel. It's an entertaining western-horror hybrid. Sure, the low-budget sucks, but it is what it is. Here's hoping that The Pale Door's exposure to film fans takes hold. I'd love more straightforward western-horror films in the future. I can already tell that The Pale Door will be a cult-hit at the very least.
Video
Encoding: MPEG-4 AVC
Resolution: 1080p
Aspect Ratio: 1.85:1
Clarity/Detail: Sharpness and contrast levels are fine. There are a few scenes here and there where contrast levels look a little too blown out.
Depth: I guess it may have been due to its low budget roots but there are a few scenes that do look a bit flat and I don't believe it has anything to do with the transfer – just the way they were shot.
Black Levels: Black levels were deep and inky for the most part, but I did notice a few instances of crush here and there. Nothing too severe, and it was in some of the exterior shots.
Color Reproduction: The color palette is rich during scenes of daylight, opening credits, when we're introduced to the gang, and once we enter the brothel. Banding was not an issue, or pixilation.
Flesh Tones: Flesh tones were nice and natural, except when folks turned "unnatural."
Noise/Artifacts: I did not spot instances of dirt, debris, or noise.
Audio
Audio Format(s): English DTS-HD Master Audio 5.1
Subtitles: English SDH
Dynamics: The Pale Door on Blu-ray sounds as good as it can. RLJE Films has never been a slouch when it comes to lossless audio tracks and this is no different. It is a western after all, so all of the usual tropes and mechanics are enhanced by this lively lossless DTS audio track.
Low-Frequency Extension: The LFE subwoofer channel gets low (I mean that as a pun) during scenes involving horror at the brothel. It also enhances the supernatural vibe overall. It never rattled or felt distorted.
Surround Sound Presentation: Gunfire has an amazing amount of depth. Bullets and witches' whiz by and around the sound field to give it a nice sense of three dimensional envelopment.
Dialogue Reproduction: Dialogue sounds clean and crisp. No problems on that end.
Extras
The Pale Door on Blu-ray has a few special features worthy of note. There's a complete commentary track in addition to a making-of featurette and editing segment.
The Making of The Pale Door
Filmmaker Commentary
Editing The Pale Door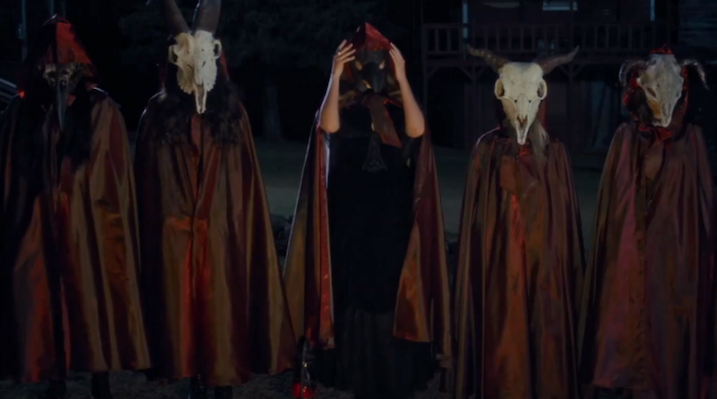 Summary
The Pale Door will not win awards for originality since it's a hodge-podge of better films. The Blu-ray has good video and a stellar lossless track. The special features are more than enough and considering most releases these days do not have any special features anymore, is welcome. Halloween is right around the corner, so why not go through The Pale Door, if you dare.
The images used above within the review are not actual Blu-ray screenshots. They are for illustrative purposes only.