January 24th, 2019 by Brandon Peters
She used her beauty to bring kingdoms to their downfall and men to their knees! On February 26, 2019, SCREAM FACTORY is excited present the highly sought-after Hammer Film cult classic THE VENGEANCE OF SHE on Blu-ray. Directed by Cliff Owen and based on characters created by H. Rider Haggard, this high camp fantasy film classic stars John Richardson (Battle of the Stars, War of the Planets), Olinka Berova (Lucrezia) and Edward Judd (Island of Terror). Noel Willman (Doctor Zhivago) and Colin Blakely (Murder on the Orient Express) also co-star in the movie. A must-have for movie collectors, this definitive Blu-ray release contains special bonus content including new 2K scan of the original film elements, new interviews and much more! Pre-order is available now at ShoutFactory.com.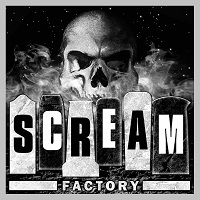 SCREAM FACTORY™ PRESENTS
THE VENGEANCE OF SHE
Starring John Richardson, Olinka Berova, and Edward Judd
HIGHLY ANTICIPATED HAMMER FILM CULT CLASSIC
ARRIVES ON BLU-RAY™ FEBRUARY 26, 2019
FROM SCREAM FACTORY™
A young beautiful woman named Carol (Olinka Berova) is plagued by hallucinatory voices calling her "Ayesha" and is drawn by a mysterious force toward the east. During her voyage, she meets Dr. Philip Smith (Edward Judd) who decides to accompany Carol to her unknown destination. Eventually the two reach the lost city of Kuma where Carol is greeted as the reincarnation of Queen Ayesha, the beloved of King Killikrates (John Richardson). Philip is imprisoned and meets Za-Tor (Noel Willman) who tells him of the high priest's deceitful plan to obtain the secret of immortality by bringing back Ayesha to King Killikrates. Will Philip escape in time to reveal the truth and save Carol from destruction?
Special Features:
NEW 2K scan of the original film elements
NEW interviews with assistant director Terence Clegg, visual effects artist Joy Cuff and clapper/loader Trevor Coop
NEW Audio Commentary by the Monster Party podcast hosts Matt Weinhold, Shawn Sheridan, Larry Strothe and James Gonis
World of Hammer – Lands Before Time
Theatrical Trailer
TV Spots
Still Gallery
1080p High-Definition Widescreen (1.66:1)/DTS-HD Master Audio Mono/English Subtitles/1967/Approximate Feature Running Time: +/- 101 Minutes