June 23rd, 2020 by Jason Coleman
We recently lost someone who in my humble movie opinion was a filmmaker who possessed a distinctive style and a definitive movie magic quality – Director Joel Schumacher sadly passed away after a yearlong battle with cancer.  Having been a fan of his work since I was a kid, I can honestly say that some of his films had a long-lasting effect on me.  And while there were some outings that were merely just entertaining (Phone Booth had its moments!) and fluffy (Batman Forever is a guilty pleasure for sure!), there were also more than enough notable and even five-star flicks of his that broke ground to have their rightful place in cinema history.  (And I have reviews going back years that rave about the selections below!)  From bitter businessmen who have had enough to the hijinks of a wacky cab company, here's my tribute to the late great Joel Schumacher with a look at his…Top Five Films.
1. "FALLING DOWN" (1990)
I remember seeing early press kit photos from this one featuring a very stern and serious looking Michael Douglas going by the name of D-Fens with buzz cut grey hair, nerdy rimmed glasses, and a bad attitude to match – and thankfully the movie itself just got better from there.  With both hilarious moments (picking up a lame burger and comparing it to the lush menu pic – "Look at this pathetic squashed thing!") and moving ones (the whole "economically viable" scene with Vondie Curtis-Hall is heartbreaking) this tale of a man beat down by the daily grind who decides he has had enough is a powerful provocative picture that pulls no punches.  One unforgettable outing, Falling Down is Schumacher's five-star flick.
2. "FLATLINERS" (1990)
Known mostly for gloss and shine in both visuals and casting of up and coming actors, Flatliners is nevertheless one entertaining and engaging flick.  Of course, the film succeeds in large part to the visual prowess of Schumacher and also by unapologetically casting hot heavy hitters for maximum movie effect, but this tale about med students who decide to see what is beyond death by flatlining and then coming back is a premise with serious story savvy.  Add to that some inspired insane work by lead man Kiefer Sutherland (his crazed findings are the most interesting!), some quotable lines ("Today is a good day to die!") and brilliant cinematography by a pre-Speed Jan de Bont and you got a flick that in the end has both style and substance.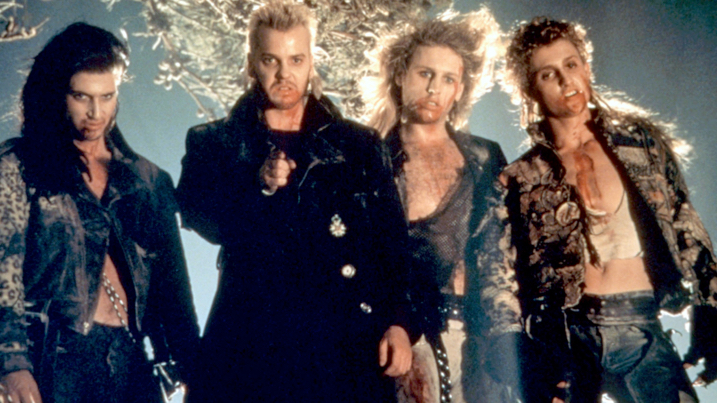 3. "THE LOST BOYS" (1987)
A movie that feels like two films for the price of one, but skillfully never comes across as uneven, The Lost Boys is frankly a ton of fun.  On the one side you've got a dark drama involving adult teen Jason Patric following an alluring Jami Gertz into a den of vamps led by Kiefer Sutherland (with full blonde mullet!) and on the other a hilarious send-up of bloodsucking culture with younger brother Corey Haim enlisting the help of the fang-killing Frog Brothers Corey Feldman and Jamison Newlander to slay creatures of the night.  But thanks to 80's wild abandon and Schumacher's light touch, The Lost Boys never feels anything but accessible.  Plus with the casting of older actors like Dianne Wiest and Edward Herrmann for laughs (they're wonderful here!) and the iconic and eclectic soundtrack (Cry Little Sister had me at hello!), there's something special here that somehow feels lost from film fare of today.
4. "8MM" (1999)
While some may take offense to the dark and at times hard to watch nature of 8MM, the story via Se7en scribe Andrew Kevin Walker is a real page-turner.  Nic Cage's successful private investigator is hired to find out if a newly found snuff film is authentic and is in turn forced to explore seedier sides of life – not exactly G-rated fare.  But both Cage and Schumacher thankfully jump in headfirst delving deep into an underground world that makes for one riveting and unapologetic emotional journey.  (The scenes between Cage and grieving mother Amy Morton will kneecap you!)  And while Schumacher shows his casting prowess with the likes of an early Joaquin Phoenix, Catherine Keener and the late James Gandolfini for sure, it's his matter of fact telling of Walker's grim tale that makes 8MM ultimately feel authentic.
5. "D.C. CAB" (1983)
This may be a more juvenile selection, but growing up as a crass comedy loving youth D.C. Cab played on repeat in my household.  Wacky and zany laughs from the likes of Mr. T, early Bill Maher, Marsha Warfield, Paul "it's tough to be a man baby" Rodriquez, Gary Busey (who almost steals the show here as the larger-than-life Dell!) and especially the seriously underappreciated "rollers in the hair" and "Irene Cara loving" Tyrone played by the late great Charlie Barnett gives D.C. Cab it's most memorable and quotable moments.  So while there's neither a well-woven storyline nor any deep and meaningful content, on a sheer gut-busting lowbrow laughs level this is still one bawdy bumpy ride well worth repeating.