November 18th, 2019 by Brandon Peters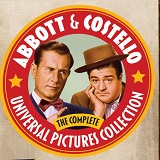 One of Shout! Factory's more impressive releases this holiday season is definitely the Abbott & Costello: The Complete Universal Pictures Collection. This truly is an all-timer set, collecting 28 of the legendary comedy duos' films. Bud Abbott and Lou Costello did 36 feature films altogether, so you're getting pretty much everything here. Yes, that does mean if you're a Classic Monsters fan, you're getting Abbott & Costello Meet Frankenstein for the bazillionth time (As well as the other monster films for the ga-jillionth time). Given the enormity of this box set and the fact that we do things right over here at Why So Blu, its going to take a while to plow through these 28 films and accompanying bonus material spread out over 15 discs. We'll be taking a disc-by-disc approach (2 Films each disc, Disc 15 is all bonus material) culminating in a "Full" review of the entire set featuring links to quickly navigate from film-to-film/disc-to-disc. This review focuses on Disc 1, housing the films One Night In The Tropics (1940) and Buck Privates (1941)

One Night In The Tropics (1940)
Jim "Lucky" Moore (Allan Jones), an insurance salesman, comes up with a novel policy for his friend, Steve (Robert Cummings): a 'love insurance policy', that will pay out $1-million if Steve does not marry his fiancée, Cynthia (Nancy Kelly). The upcoming marriage is jeopardized by Steve's ex-girlfriend, Mickey (Peggy Moran), and Cynthia's disapproving Aunt Kitty. The policy is underwritten by a nightclub owner, Roscoe (William Frawley), who sends two enforcers – Abbott and Costello – to ensure that the wedding occurs as planned.
This is the feature film debut for our duo, but its not truly their movie. Abbott & Costello are a pair of side characters, there for the comedic relief and they obviously steal the show in this movie. The film follows a pretty silly and interesting plot that you can see the genesis for screwball things later on down the line. Heck, it probably doesn't even need Abbott & Costello to work successfully, they are just an added bonus that at the time probably were a surprise enhancement.
This film features two "handsome" male leads to carry this movie, which is something you can see a lesson being learned for later on in these movies. These guys are charged with being both romantic leads and trying to deliver silly ass comedy. When you watch them do their bits, you just can't help but think "Why didn't they just have Abbott & Costello play these fools?" It was probably thought they couldn't be believable as romantic leads. It would take a few films, but it would be learned that that would not matter.
One big noteworthy item from this movie is that it contains their most famous bit, the "Who's On First" routine. It feels super random and shoehorned in to the movie, but nonetheless, the damn thing is so clever, impressive and fun that it I'll easily let it slide. I mean, once it started, my attention was back in full force and their was a grin across my face. Overall, this movie is all right, has a sweet charm screwball comedies of this time have and is a nice breezy watch.
Buck Privates (1941)
When two sidewalk salesmen, Slicker Smith (Bud Abbott) and Herbie Brown (Lou Costello), duck into a theater to avoid being busted by the cops, they never expect it will lead to their enlisting in the army. It turns out the theater is now an Army Recruitment Center. But these former peddlers are not the only fish out of water. Wealthy Randolph Parker III (Lee Bowman) joins as well, though he seems more focused on hostess Judy Gray (Jane Frazee) than on his responsibilities.
Now, Buck Privates is where one could truly mark the motion picture start for Abbott & Costello. Like the last time, there is a straight screwball comedy story present, but now its been shuffled to the background in a B-plot. There are missing pieces and we jump to it in random spots, but the spotlight belongs to our comedic duo. They don't show up for a little bit as the B-plot sets itself up, but once the two jump in they take over. And it really shows how much they matter as the film is much stronger than One Night In The Tropics, which is pretty good, but they are more of a Jay and Silent Bob type presence in it.
One thing I always forget about with these older films, is that they are all musicals. There aren't any massive, epic dance numbers in them, but Buck Privates features a multitude of songs (There are plenty in One Night in the Tropics, too). And its quite possible, in 1940, this was not considered a musical either. That's just how movies were. Somehow, someway, songs would work themselves into the movies. In this one there is a little trio that sings most of the songs, but others do too.
Buck Privates has an overarching "plot" but it feels more that its just set dressing for Abbott & Costello sketches and little comedy bit/joke routines to take place in. It feels like many of the scenes could be easily worked into a movie about working in a kitchen or doing theater, sports or anything really. Nothing feels super forced, but nothing quite feels like its important to the overall story either. It doesn't matter though, as the movie does flow well and the bits are funny, which is all you can ask for when sitting down for one of these.
Video
Encoding: MPEG-4 AVC
Resolution: 1080p
Aspect Ratio: 1.37:1
Layers: BD-50
Clarity/Detail: Both films come here to Blu-ray with HD masters for this Blu-ray release. Buck Privates is likely the same one already released during Universal's 100th anniversary a few years back. It looks fine, but has plenty of room for improvement and looks like it could have been made from an SD master. One Night in the Tropics has a bit of a heavier grainy look to it and there are some noise problems that come with it. Overall, both films feature a nice amount of detail and crispness that come through for their age. A full on restorative effort for classic films that have now become more of a niche item probably are too costly and this is likely the best we will see for these Abbott & Costello films.
Depth:  The films both feature average depth, but with this look they do create a nice separation with fluid movements with actors and moving objects on screen. There were some motion distortion issues that occurred in a few moments with a frame artifact appearing once in One Night in the Tropics.
Black Levels: Blacks are deep, dark and wonderfully detailed with good textures and information still present while carving some good definition for both films. No crushing witnessed on either film.
Color Reproduction: N/A
Flesh Tones: Skin tones are a nice white/grey and keeps consistent throughout. Both films math up quite well here. Facial features are quite strong with textures visible features in any reasonable distance.
Noise/Artifacts: There are some issues (Noted above) and One Night in the Tropics has a bit heavy a dose of noise throughout. Overall, this is perfectly watchable, its just not the best for the videophiles out there.
Audio
Audio Format(s): English 2.0 Mono DTS-HD MA
Subtitles: English
Dynamics: Both films feature a nice mono track. Buck Privates is a pretty clean track, but One Night In The Tropics has a very heavy hiss along with it. You can still make out effects, music and vocals quite well and the hiss travels up and down with it. Buck Privates is rather solid, though does feature some limitations based on the source. Both films don't feature much in the way of strong low frequency sounds, but there are moments that feel decently represented.
Height: N/A
Low Frequency Extension: N/A
Surround Sound Presentation: N/A
Dialogue Reproduction: Vocals are pretty clear and crisp and avoid peaking at most turns.  As mentioned. Tropics has a heavy wave of analog hiss that the voices can sink into and sting a bit with.
Extras
One Night In The Tropics
Theatrical Trailer (SD, 3:06)
Still Gallery (HD, 3:36)
Production Notes (HD, 1:37)
Buck Privates
Audio Commentary
With Film Historians Bob Furmanek and Ron Palumbo
Theatrical Trailer (SD, 1:37)
Image Gallery (HD, 3:10)
Production Notes (HD, 1:41)
Summary*
*These discs are not available as an individual release at this time. A Summary rating will be provided in the full set review posting.
One Night in the Tropics and Buck Privates showcase Abbott & Costello at their earliest cinematic incantations. While not all of it lands as well as it once did, both films still provide some solid giggles overall. The transfers and audio for them leave plenty to be desired but will overall will have to be good enough and they are pretty solid. Extras are lighter, but you gotta realize that most people involved with these and other archive elements are likely long gone (As will be the case for every film in this set).