November 20th, 2019 by Brandon Peters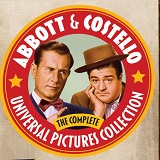 One of Shout! Factory's more impressive releases this holiday season is definitely the Abbott & Costello: The Complete Universal Pictures Collection. This truly is an all-timer set, collecting 28 of the legendary comedy duos' films. Bud Abbott and Lou Costello did 36 feature films altogether, so you're getting pretty much everything here. Yes, that does mean if you're a Classic Monsters fan, you're getting Abbott & Costello Meet Frankenstein for the bazillionth time (As well as the other monster films for the ga-jillionth time). Given the enormity of this box set and the fact that we do things right over here at Why So Blu, its going to take a while to plow through these 28 films and accompanying bonus material spread out over 15 discs. We'll be taking a disc-by-disc approach (2 Films each disc, Disc 15 is all bonus material) culminating in a "Full" review of the entire set featuring links to quickly navigate from film-to-film/disc-to-disc. This review focuses on Disc 15, where the meaty bonus features are held.
Extras
Abbott & Costello: The Complete Universal Pictures Collection comes with a booklet featuring a couple essays, information and trivia about each film as well as photos and marketing materials for them. The set is three amaray cases fitted into a hard shell case similar to previous Shout! Factory releases of The Omen and Critters. Each individual movie contains its own set of extras including commentaries, trailers and galleries.
Abbott and Costello Life and Legacy (HD, 1:13:12) – A wonderful history on the lives and careers of the two men as told by Chris Costello (daughter of Lou Costello) and Ron Palumbo (co-author of Abbott and Costello In Hollywood). This new retrospective is very intricate, personal and terrific overlook on the two. Chris covers more the Lou Costello angle and Palumbo tends to lean more on the Bud Abbott perspective. We learn so much about their upbringing, inspirations, heroes, families and their rise through television and film as well as their stamp on cinema history.
Abbott and Costello Film Stories (HD, 50:36) – An interview with author/film historian James L. Neibaur (The Monster Movies of Universal Studios). A very energetic fellow, Neibaur basically supplies a little background and trivia on a film by film approach. 
Abbott and Costello Behind the Scenes  (HD, 17:08) – Ron Palumbo returns to go over the relationships Abbott & Costello had with many of the talents behind the camera (Writers, directors) and how each of those utilized them and what you could expect when they collaborated.
The World of Abbott and Costello (HD, 1:14:53) – An extra film you could say. Narrated by Jack E. Leonard, this movie is just comprised of a compilation of scenes/clips from 18 of their Universal movies, edited together to try and form 1 streamlined story.
Abbott and Costello Meet Jerry Seinfeld (SD, 45:44) – This 25 year old TV special finds Jerry Seinfeld celebrating the history and routines of the comedic duo. I actually remember watching this when it aired. I think I may have taped it for rewatch, too.
Abbott and Costello Meet the Monsters (SD, 33:19) – Included on the standalone (And subsequent monster box set) releases of Abbott & Costello Meet Frankenstein. Film historian David J. Skal leads and narrates a retrospective on the making of Abbott & Costello Meet Frankenstein.
Abbott and Costello Meet Castle Films (HD, 1:11:38) – After we are presented with a slideshow history lesson and case artwork for the 8mm/16mm Castle Films release of Abbott & Costello, we are treated to 8 of Abbott and Costello's best Castle Films 8mm/16mm films.
Abbott and Costello Trailer Reel (SD, 1:05:10) – Featuring 29 trailers. 
Pardon My Sarong Bloopers (SD, 3:55)
It Aint' Hay Bloopers (SD, 7:16)
Hit the Ice Bloopers (SD, 12:42)
Little Giant Bloopers (SD, 18:44)
Abbott and Costello Meet Frankenstein Bloopers (SD, 12:14)