December 4th, 2019 by Brandon Peters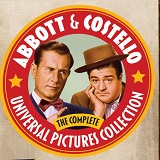 One of Shout! Factory's more impressive releases this holiday season is definitely the Abbott & Costello: The Complete Universal Pictures Collection. This truly is an all-timer set, collecting 28 of the legendary comedy duos' films. Bud Abbott and Lou Costello did 36 feature films altogether, so you're getting pretty much everything here. Yes, that does mean if you're a Classic Monsters fan, you're getting Abbott & Costello Meet Frankenstein for the bazillionth time (As well as the other monster films for the ga-jillionth time). Given the enormity of this box set and the fact that we do things right over here at Why So Blu, its going to take a while to plow through these 28 films and accompanying bonus material spread out over 15 discs. We'll be taking a disc-by-disc approach (2 Films each disc, Disc 15 is all bonus material) culminating in a "Full" review of the entire set featuring links to quickly navigate from film-to-film/disc-to-disc. This review focuses on Disc 4, featuring Pardon My Sarong (1942) and Who Done It? (1942).
Pardon My Sarong (1942)
Two Chicago bus drivers (Bud Abbott, Lou Costello) land on a Pacific isle with natives and crooks.
Pardon My Sarong continues to take Abbott and Costello through to a newer adventure. Though this one sorta lines up with their first film A Night in the Tropics, its quite different. This one, like Ride 'Em Cowboy before it, embraces its surroundings and environment and plays it up quite well. There are fresh new bits (The shaving routine is a nice classic) that feel pretty reigned in and directed and cut tightly to the best effect. The film also features some solid adventure work as well. Its a pretty solid treat in this set, and a corner certainly feels like it is being turned, though I know another Buck Privates movie sits on the horizon down the road.
Who Done It? (1942)
Aspiring radio writers pull off a convincing masquerade as detectives on the case of a murdered network president.
While the past few films have been taking the comedic duo to extravagant locales or (Sigh) big military bases, Who Done It? limits them to a very confined space. Akin to the Ghost movie a few films ago, this one is about being entrapped with a smaller cast and a mystery afoot. Sadly, while the plot and overall idea of this movie is top tier so far, the comedy just isn't as up to the task as they duo try and resurrect some bits that just land on a whimper or an eye roll. Overall, I did enjoy this film quite a bit and thought it was a gem of a scenario to put them in. If you're into old time radio or movie production, this movie adds a level of fascination in being set during the recording of an old time radio drama serial.
Video
Encoding: MPEG-4 AVC
Resolution: 1080p
Aspect Ratio: 1.37:1
Layers: BD-50
Clarity/Detail: Pardon My Sarong and Who Done It? come to Blu-ray looking on the better side of transfers for this set. There are some streaks in the print for Who Done It, including a line that hangs around for a certain shot of the film for away before slowly fading out. THe image is pretty sharp and the details are rather strong on both film with the proper expectations set. These both fare more in the Keep 'em Flying range of transfers in the set.
Depth:  Some rather decent depth consistent with the other films in the set so far. Movements are smooth and cinematic with no problematic blurs or jitters with rapid motion.
Black Levels: Blacks are pretty deep and provide plenty of good instances of shadow and assistance in defining the crispness of a character or object on screen. No crushing witnessed.
Color Reproduction: N/A
Flesh Tones: Skin tones carry a similar gray/white skin tone as is par for the course with the films in this set. Texture and facial details are best when close up but hold strong in more medium shots.
Noise/Artifacts: Clean.
Audio
Audio Format(s): English 2.0 Mono DTS-HD MA
Subtitles: English SDH
Dynamics: Both films feature very nice, appropriate Mono tracks that feature a nice balance of all things effects, vocals and music in the mix. The only thing that sounds rather different is the sing/songs that feature in pretty much all these damn films. Like usual, it sounds like a record is being played once a segment starts rather than feeling like its live for the characters on screen.
Height: N/A
Low Frequency Extension: N/A
Surround Sound Presentation: N/A
Dialogue Reproduction:  Vocals are clear and crisp, singing obviously taking on its own feel. Surprisingly theses two films find no fault with peaking in the source material.
Extras
Pardon My Sarong
Image Gallery (HD, 4:50)
Production Notes (HD, 1:33)
Who Done It?
Audio Commentary
With film historian Frank Coniff. Or as WE ALL KNOW HIM – TV's Frank and one of the original geniuses from Mystery Science Theater 3000. 
Theatrical Trailer (SD, 1:38)
Image Gallery (HD, 5:51)
Production Notes (HD, 1:09)
Summary*
*These discs are not available as an individual release at this time. A Summary rating will be provided in the full set review posting.
Well, what do you know, Abbott & Costello got through a whole disc and didn't join some branch of the United States military. And I enjoyed the disc much moreso. This features a similar quality to what you've seen before in all facets (Picture quality, audio quality, type of bonus features). One of the more favorable discs in the set for yours truly early on.