November 25th, 2019 by Brandon Peters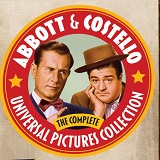 One of Shout! Factory's more impressive releases this holiday season is definitely the Abbott & Costello: The Complete Universal Pictures Collection. This truly is an all-timer set, collecting 28 of the legendary comedy duos' films. Bud Abbott and Lou Costello did 36 feature films altogether, so you're getting pretty much everything here. Yes, that does mean if you're a Classic Monsters fan, you're getting Abbott & Costello Meet Frankenstein for the bazillionth time (As well as the other monster films for the ga-jillionth time). Given the enormity of this box set and the fact that we do things right over here at Why So Blu, its going to take a while to plow through these 28 films and accompanying bonus material spread out over 15 discs. We'll be taking a disc-by-disc approach (2 Films each disc, Disc 15 is all bonus material) culminating in a "Full" review of the entire set featuring links to quickly navigate from film-to-film/disc-to-disc. This review focuses on Disc 9, featuring The Wistful Widow of Wagon Gap (1947) and Abbott & Costello Meet Frankenstein (1948).
The Wistful Widow of Wagon Gap (1947)
Chester Wooley (Lou Costello) and Duke Egan (Bud Abbott) are traveling salesmen who make a stopover in Wagon Gap, Montana while en route to California. During the stopover, a notorious criminal, Fred Hawkins, is murdered, and the two are charged with the crime. They are quickly tried, convicted, and sentenced to die by hanging. The head of the local citizen's committee, Jim Simpson (William Ching), recalls a law whereby the survivor of a gun duel must take responsibility for the deceased's debts and family. The law spares the two from execution, but Chester is now responsible for the widow Hawkins (Marjorie Main) and her seven children. They go to her farm, where Chester is worked by Mrs. Hawkins from dawn to dusk. To make matters worse, Chester must work at the saloon at night to repay Hawkin's debt to its owner, Jake Frame (Gordon Jones). Her plan is to wear Chester down until he agrees to marry her.
The Wistful Widow of Wagon Gap finds our duo taking on the western genre in the more traditional sense of the genre. Granted, there would be another film between this and Meet Frankenstein (Albeit the non-Universal The Noose Hangs High), you can clearly see a little bit of things teetering out and the comedy team picking at something to see what works. It has some more more expected humor and they even reprise one of their old bits in the film. This was also a follow up to their second Buck Privates film, if that's telling you about where they were in terms of reaching.
Its not that the film isn't enjoyable at all, but its definitely not one of the essential ones I'd recommend to anyone. Wistful Widow was interesting this time around as it was sorta boring because the cast was SOOOOO dude heavy. The only female characters in the movie are in it because they have to be for the plot. Its amazing how boring it can make a movie to enjoy and just look at without at least some diversity in the genre of the film. I'm not gonna fault the movie for being made when it was made, or think it takes away from any enjoyment, its just something I kinda noticed this time around.
Abbott and Costello Meet Frankenstein (1948)
Originally published as a part of the Naptown Nerd Universal Frankenstein Retrospective (September 2015)
In the first of Bud Abbott and Lou Costello's horror vehicles for Universal Pictures, the inimitable comic duo star as railway baggage handlers in northern Florida. When a pair of crates belonging to a house of horrors museum are mishandled by Wilbur (Lou Costello), the museum's director, Mr. MacDougal (Frank Ferguson), demands that they deliver them personally so that they can be inspected for insurance purposes, but Lou's friend Chick (Bud Abbott) has grave suspicions.
The Universal Monsters lie dormant for three years following House of Dracula after an impressive revived run in the 1940s.  Also down on their luck was the famous comedic duo of Bud Abbott and Lou Costello.  To some kids they're the "Who's on first?" guys and probably most modern kids are like "Who?"  Anyway, the team decided to make a comedy using the likes of the monsters Universal had made so famous.  Bud Abbott at first went along, thinking this was a dumb, childish idea, but once the filming started he "got it".  While the film ended up reviving the Abbott & Costello brand as well as Universal doing monster movies into the 1950s, the film does end up being the swan song for the "big three" of Frankenstein Monster, Dracula and the Wolf Man.
Bela Lugosi finally returned as Dracula in the film, one he apparently never cared to see but agreed to all press outings and obligations.  Lugosi looks a bit aged, but convinces me enough that he's having fun with the role again.  Its a bit more of a campy take on it before, but that's needed here due to the material.  Once again, the film's villain plot winds up being about someone transferring a new brain into the Frankenstein Monster, not realizing EVERYONE ends up failing at that.  But, this time that failure candidate is Count Dracula, so it adds a little more fun to it.  For not having played the role in 17 year, Lugosi sure seemed able to just "turn it on" like he'd never left.
Lon Chaney takes on Larry Talbot for the fifth and final time.  This man surely was the heart of the Universal Classic Monster series even if he didn't enter until late in the game.  He once again is the "hero" of the monsters, trying to stop the other two and assisting our comedic protagonists along the way.  Also, Glenn Strange wound up being injured on set, so Chaney got his wish and played a stand in for the Frankenstein Monster in a few scenes, including the finale.  I love the man's gung ho attitude and willingness to jump right in and do thing just for the love of the genre.  You didn't get that much I'm sure back then and we definitely don't see a lot of that now.
This comedy grouping almost had the perfect reunion, but alas Boris Karloff didn't make it.  He'd appear in the following Abbott & Costello movie, where his name was in the title.  Karloff was 61 years old, so I understand if he's not going to take on being the monster again.  Instead we get Glenn Strange in his third and most active outing as the monster.  He's decent enough.  Appearance-wise, Strange has actually always looked very good and closest to Karloff's.  I think one of Strange's strength's as the monster is that there is the least to say about him in the role in a positive way.  I mean, Lugosi's monster wasn't in much of Frankenstein Meets The Wolf Man but that performance is very widely know and discussed.  But also, up til this one, Strange's monster has been a non factor in his movies until the end.
Abbott & Costello Meet Frankenstein is actually a bit of a landmark film in cinema history.  While not the first horror-comedy hybrid film, its one of the most significant ones.  This opened the door for some more comedic takes on more familiar territory.  It also launched a handful of Abbott & Costello Meets __insert monster here__ films.  One thing I appreciate from it a lot is some of the filmmaking here that I think could go lost on the untrained eye.  There are fantastic sequences here of something I'll refer to as "comedy suspense".  When Wilbur (Costello) goes into the Wolf Man's hotel room to check on something and procrastinates on taking an apple while we all know the Wolf Man is around ready to pounce is terrific.  Its a situation where you both laugh, but are tense hoping the man isn't mauled by the Wolf Man.  This is my favorite one of those moments, but many of them play throughout the film and I feel like this is one of the biggest early examples of where this sort of scenario was used in film.  And its done quite well.
A team up for the ages, this is a film I've enjoyed since my youth.  I probably saw it before I saw most of the rest of the Universal Monster movies.  I (and apparently Universal) consider it to be a piece of the canon and final film for the Frankenstein, Dracula and Wolf Man storylines. Yes, it doesn't pick up a lick of continuity from the previous film, but does adhere to the rules, returns cast members and could easily fit the setting.  This is also franchise horror, which would be none for loose continuity, revisionist parts and redoes.  So yeah, why not, Frankenstein 8, Dracula 6 and Wolf Man 5.  And yes, I call it Abbott & Costello Meet Frankenstein, not Bud Abbott & Lou Costello Meet Frankenstein.  That what it was always called and referred to when I was growing up and its what their comedy troupe was called.  I dunno when the pretentious change happened, but I'm sticking with what I'm familiar.  The film is definitely a good romp for kids, and I think adults with a nice childish sense of humor like myself can find the fun in it, too.  The Mummy and Invisible Man would each get another turn at bat following this, but Universal took a different direction with the monsters in the 50s, evolving to something new, so this one last tip of the hat was a fun farewell to a terrific 17 year run for Frankenstein and the rest of the monsters.
Video
Encoding: MPEG-4 AVC
Resolution: 1080p
Aspect Ratio: 1.37:1
Layers: BD-50
Clarity/Detail: Seeing as Abbott and Costello Meet Frankenstein has been on Blu-ray for many years and had many releases, its no surprise that this release holsters the same transfer. So lets focus on The Wistful Widow of Wagon Gap since its brand new here on the Blu-ray format. The print used for this release is in quite good shape. Its pretty crisp and clean and one of the better looking pictures of the ones I've seen in this set. The image isn't perfect but it features some really good shading and nice details.
Depth:  Movements are smooth and cinematic with some solid spacing and distance between foreground and background images. Its not some 3 dimensional marvel, but it does a nice above average job.
Black Levels: Blacks are pretty deep and manage good saturation with good shading to help the definition of the image. No crushing witnessed.
Color Reproduction: N/A
Flesh Tones: Skin tones carry and nice gray/white to them and are consistent with no flickering or changes from shot to shot. Facial features carry good texture from close-ups to medium shots with no smoothing issues.
Noise/Artifacts: No real issues, there are some specs in the transfer and a nice complimentary layer of grain.
Audio
Audio Format(s): English 2.0 Mono DTS-HD MA
Subtitles: English SDH
Dynamics: Again, Abbott and Costello Meet Frankenstein is the same as we are all used to, but The Wistful Widow of Wagon Gap is all new. This is actually a very good audio track that sounds pretty clear and clean for the most part. It has good balance and free sounding effect that sound quite loose and natural in the mix. It only really has issues with shouting voices and loud moments in the music.
Height: N/A
Low Frequency Extension: N/A
Surround Sound Presentation: N/A
Dialogue Reproduction: Vocals are pretty clear with good attention to nuances. It does struggle when people yell, scream or shout in the movie. A small, faint analog hiss is audible .
Extras
The Wistful Widow of Wagon Gap
Theatrical Trailer (SD, 2:33)
Image Gallery (HD, 5:12)
Production Notes (HD, 2:03) 
Abbott and Costello Meet Frankenstein
Audio Commentary
By film historian Gregory William Mank
Theatrical Trailer (SD, 1:40)
Image Gallery (HD, 6:30) 
Production Notes (HD, 2:21) 
Summary*
*These discs are not available as an individual release at this time. A Summary rating will be provided in the full set review posting.
The Wistful Widow of Wagon Gap is a decently silly film from the comedic duo and I'm pretty sure we can all agree that Abbott and Costello Meet Frankenstein has its place in the horror world and is one of the greatest comedies of all time. One film on this disc obviously towers over the other. Frankenstein is the one we've had many copies of on Blu-ray before and the Wistful Widow fares a little better than most have in this set.