November 23rd, 2019 by Adam Toroni-Byrne
Mike Banning is back. The unlucky secret service agent always happens to put himself in the wrong place at the wrong time.  Last most of us (not me) saw him, he was saving the President in London.  Now, back home, Mike has some demons and some ailments making him less heroic. The human side of Banning is what makes Angel Has Fallen one of the better 3rd installments I've seen recently.  Read more about the action packed three-quel below and grab your copy (at a great price) from the link below. As an Amazon Associate your purchases from that link help keep the site going, and gives me a small (minuscule, really…) kick back that can go to buying more movies, eventually. Read on!

Film 
Angel Has Fallen begins just a tad differently than the other films in the …Has Fallen series. Mike Banning (Gerard Butler) is geared up and in the heat of battle right from the start.  He is on the hunt for militant soldiers at an uncanny looking compound setup. Almost too clean to be real. It is – It's a training facility. Visiting the compound as a guest, Banning is doing a practice run of the course, run by his old pal Wade Jennings (Danny Huston). He is stealth, tough and in kick a$$ mode right away. Underneath the bravado and bravery though, Banning is tired, a little broken and in a ton of pain.  His doctor lets him know early on, that he's shocked he's able to get around at all with all the problems with his body.
Moving past the opening, showing Banning's age and his new life with wife (Piper Perabo) and young daughter, we are privy to a time of change. Now the President, Allan Trumbull (Morgan Freeman) has hand picked Banning to be the director of the Secret Service. This would take Mike out of the field and make it easier for him to settle down into a more domestic life. His wife would love it, and he'd have more time to spend with his family, and less to worry about as far as his safety.  On a fishing trip with President Trumbull, Mike is asked face to face to head the Service. He asks for more time. Then, the cavalry arrives. Drones exploding across the sky, the fishing trip is ambushed, killing the entire security team, placing Banning unconscious and President Trumbull into a coma.
As he is waking up, Banning is given knowledge from the FBI (including Jada Pinkett Smith in a small but well played role) that he's being blamed for the massacre and the attempted murder of Trumbull.  Worse still, someone has planted faulty records and a phony bank account on Banning, making him an easy target. Chases, prison breaks, and gun battles are the name of the game after that.  Then, when he has nowhere else to turn, Mike reconnects with his father, Clay (a scene stealing Nick Nolte) for help to clear his name.  Time begins to run out, while the vice president (Tim Blake Nelson) takes over and begins to make hasty decisions.
This does sound like a standard political mystery thriller from my writing. Make no mistake that it is, right on the money. But at this time, there haven't been too many quality action films like this. There are no superheroes, supernatural enhancements, technology-based cyborgs or anything of the sort. Imagine that… I was pleasantly surprised! There are well paced scenes involving white house and government chatter to bring the elements all together. The action is fast, energetic, and at times cheer worthy in it's execution. The lake ambush scene is downright exhilarating in its execution.  The film overall is sort of predictable, but you find yourself caring for the good guys, wishing the worst for the bad, and feeling excited to see the battles unfold.  I was very pleasantly surprised by how well made this movie was. Definite recommend for action film fans!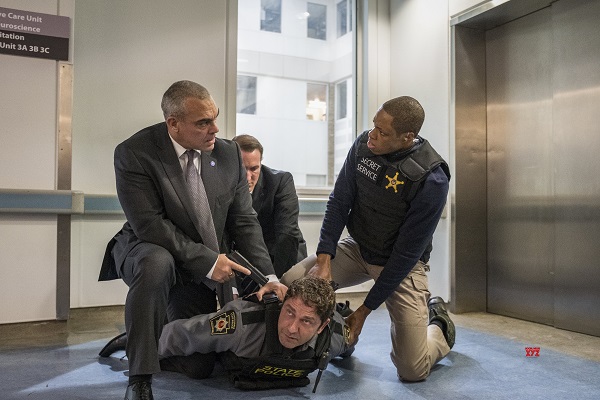 Video 
Encoding: HEVC/H.265
Resolution: 4K
Aspect Ratio: 2.39:1
HDR: Dolby Vision
Clarity/Detail: Struck from a 4K DI, this is a phenomenally sharp presentation. The clarity is immeasurable even in darker scenes. Details come in all forms, from facial features to interior and exterior textures. This is a glorious presentation of details overall.
Depth: In an early scene with drones attacking, the drones appear small and hard to define from afar, but as they get closer, they become more and more fleshed out, nearly coming out at you from the screen. Depth is incredible here and you are always able to distinguish details no matter how far or close they are.
Black Levels: Black levels are spot on here. There are no washed-out blacks to report at all.
Color Reproduction: Colors are somewhat muted here. It's one of those "cool blue" movies where days are often gray, and a lot of time is spent in rooms or outdoor areas with a blue color palette. Reds and greens come in like a breath of fresh air when they come up in the presentation.
Flesh Tones: Flesh tones are presented as naturally as possible. Facial features and skin tone are never bland, flat or exaggerated.
Noise/Artifacts: Pristine
Audio 
Audio Format(s): English Dolby Atmos, English Dolby Digital 2.0, French and Spanish Dolby Digital 5.1
Subtitles: English, Spanish
Dynamics: Dynamically speaking, this is a great mix. The sound field is spread evenly throughout all the channels with lots of moments of surround activity. There isn't a dull moment in the dynamic department of the Atmos track.
Low Frequency Extension: Active is the name of the game here. Whether Banning is training for his next mission, evading police or government baddies, or battling in a forest, there is always a great moment for some bass-heavy bump!
Surround Sound Presentation: Surrounds are used effectively throughout. Most apparent is the drone attack I mentioned earlier. This is a moment that is near reference for the use of surrounds in effectively setting a scene.
Height: The height channels are used wonderfully throughout the film. They are used during action sequences in typical ways we all know and love, and in quieter scenes to emphasize the ambience of the particular scene setting. The din of a federal work room, the sounds of a busy hospital, or the quiet of a woodsy homestead are all in those height channels, subtle or not.
Dialogue Reproduction: Excellent dialogue reproduction too! This mix places dialogue perfectly in every scene. You won't miss a line!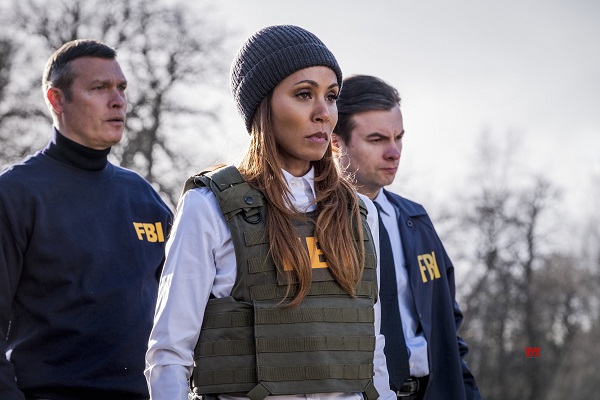 Extras 
Angel Has Fallen comes with a slipcover, digital code and bundled Blu-ray. The features are as follows:
Introduction with Gerard Butler (HD, 00:19) – This plays automatically when you put in the disc. It's a short thanks for buying, and an invite to check out the making of the film told within some featurettes.
Even Heroes Fall: The Story(HD, 8:35) – A small look over at the story of the film. May contain some spoilers, so watch it after you watch the film.
Someone To Watch Over Me: New Blood (HD, 13:02) – All about the director, Rick Roman Waugh who also wrote the film.
Calling All Angels: Casting (HD, 18:13) – A feature in depth about the casting of the film (obviously)
True Faith: Authenticity (HD, 12:47) – The journey of the filmmakers as they try to make an authentic political thriller is told here.
Fights For You: Stunts and Action (HD, 8:39) – A short one about the films action set pieces and stunts. Good fun!
Earth Angel: Recreating DC (HD, 6:25) – If you didn't know, this film is about Washington DC, but wasn't shot in America. This featurette brings all of that information to light.
Angel Declassified (HD, 8:38) – Some more behind the scenes EPK stuff about two large set piece scenes and the little mid-credits sequence that ends the film on a comedic note.
Summary 
At the very least, I expected to like Angel Has Fallen just OK. I like Gerard Butler, and have been taken with his films, even if they're nothing to write home about (Ahem, Hunter Killer, Law Abiding Citizen…) but I was sucked right into this one.  This entry in the terribly titled Has Fallen series has its predictable moments, but is great fun and in some ways even bests the previous entries (I can't say much for London Has Fallen, as I never got around to seeing it…) but I felt this particular film wasn't as serious as the first, and I felt a better connection to Banning and his secret service world within the film.  Pick this one up!
**Paid Link — As an Amazon Associate, I earn from qualifying purchases**