November 22nd, 2019 by Yancy Berns
The rousing and irresistible Blinded by the Light didn't quite catch on in theaters the way it might have ten years ago, but savvy home viewers can now catch the film on Blu-ray. To see what those great reviews were all about and catch Springsteen fever. And remember, he is "the Boss of us all."
–
–
–
Film:
Javed Khan (Viveik Kaira) lives in Luton, England, with his Pakistani immigrant parents Malik (Kulvinder Ghir) and Noor (Meera Ganatra), and two sisters. During his struggle to find his artistic voice and deal with the dreadful racist invective hurled at him every day by hateful white toughs at school, Javed is introduced to the music of American rock hero Bruce Springsteen by the school's only other South Asian student, Roops (Aaron Phagura). Javed soon finds himself nearly possessed by The Boss' cutting but open-hearted lyrics about the struggles of working-class life in America. With the words and music of his newfound hero emboldening him, Javed faces the painful processes of first love, clashes with his conservative father, and taking the initial steps away from home.
Bruce Springsteen is first described to Javed, the likable young writer, as "The direct line to all that is true in this shitty world," and I can't imagine a better way to illustrate the feeling of astonishment a young person gets when they discover an artist they feel speaks directly to them. If identification was all it took to embrace a movie, director Gurinder Chadha's Blinded By The Light would be at the top of the recent movie heap for this writer, as I had my own titanically revelatory Springsteen moment just a few years after writer Sarfraz Manzoor (whose memoir the film is based on) did.
One way the movie knocked me out was in calling to mind just how out-of-fashion Springsteen was just five or so years after the wild success of "Born in the USA." It took more than a decade for the taint of Ronald Reagan's clueless public fondness for "Born in the USA" – an angry, anti-war anthem his media team clearly didn't grasp – to wear off of Springsteen's good name. But it didn't matter to me the summer after graduating high school when I heard the first few darkly yearning verses of "Thunder Road" and heard the Boss calling. Or when my dad pointed out the painful needs expressed by the stark lyrics of the seemingly bouncy "Dancing in The Dark," which Chandha's film plays out here for the first of several musical fantasy sequences that communicate the power of Springsteen's songs over Javed as he begins to feel emboldened to "take an honest stand" for the things he wants in the world he inherited from his parents.
Chadha (perhaps best known for her work on Bend It Like Beckham) shows us the lyrics of Springsteen's songs projected on the actors and against walls, and the words "there's something happening somewhere" – from "Dancing" – especially stand as the eternal rock and roll rallying cry and as an irresistible call to arms to Javed to follow his dreams of writing poetry and escaping from dreary Luton. Kaira, who resembles Daniel Radcliffe so much so, it adds an interesting subtext to these schooldays proceedings, carries the movie ably as the lead. If we didn't believe him, we wouldn't buy the movie, but we do.
I went into "Blinded" with a strong idea of what to expect, and to a large degree, I was right. It's not the first British charmer to come down the pike and feature a soulful portrait of working-class pluck and generational transition, and in many ways the film resembles dozens of similar movies in terms of formula, tone, and story arc that we've seen since the "kitchen sink" dramas of the 1960s and especially big 90's crossovers like The Full Monty.
Still, Chadha really charges the proceedings with her own undeniable passion for The Boss, and along with "Dancing in the Dark" we also get dreamlike scenes showcasing "Thunder Road," "The Promised Land, and, most winningly, "Born To Run," played at full length after Javed and Roops hijack the narrow-minded school DJ's booth to blast that epic single across the school while they raise righteous hell. That "Born to Run" sequence is an instant classic, but by that point, I was already sold on Blinded By The Light, even as the third act began to shape up in fairly rote fashion.
If you think Javed and his father's clash won't involve a third act "Independence Day" needle drop and some tears, you know neither Springsteen nor comfy, spirited British charmers like this truly winning picture. The Boss must have blushed when he saw it. The only people I can imagine really rejecting Blinded by the Light are those who don't like having Springsteen's greatness shoved down their throat for two hours, but those cranky few will have to seek their soul salvation elsewhere.
Video:
Encoding: MPEG-4 AVC
Resolution: 1080p
Aspect Ratio: 2.35:1
Clarity/Detail: As a modern mid-budget English film, the movie looks clean, crisp, and sharp as represented on this disc.
Depth: The photography here is minimally stylized save for the big music scenes, but there isn't a moment where the Blu-ray fails to preserve a cinematic look.
Black Levels: Most of the film takes place in daylight, but darker scenes are handled well.
Color Reproduction: The disc retains the slightly muted colors of the source material, much of it reflecting rainy Luton.
Flesh Tones: Lacking special effects beyond the superimposed lyrics, flesh tones are represented truly throughout.
Noise/Artifacts: I didn't pick up any blemishes on my viewing.
Audio:
Audio Format: English: Dolby Atmos; English: Dolby TrueHD 7.1 (48kHz, 24-bit)
Subtitles: English, French, Spanish
Dynamics: The movie sounds great, and the audio has magnificent presence. The scenes presenting Springsteen's music are as potent as one would hope and sound fresh, even if you're deeply familiar with them.
Low-Frequency Extension: It's not a showy audio track when the music is not blasting, but the subwoofer handles the big drums of the mighty Max Weinberg with aplomb during the music.
Surround Sound Presentation: Surround is crisp and clearly delineated without adding much to the experience. The surround mixes on the Springsteen tracks and impressive.
Dialogue Reproduction: Dialogue is perfectly represented.
Extras: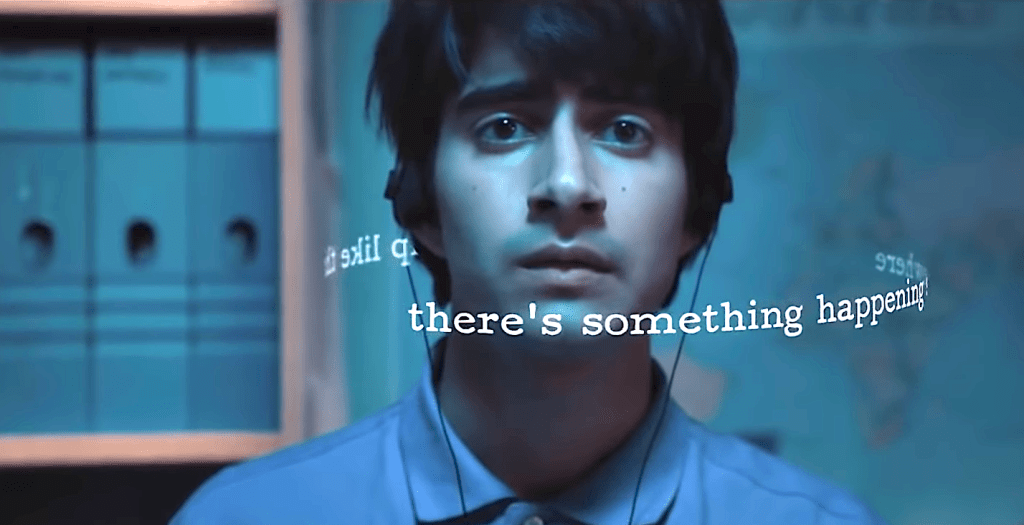 Extras are minimal and of the EPK variety, but there are enough interesting tidbits and testimonials about Springsteen here to merit a one-time watch.
Memoir to Movie
The Most Crazy Thing
Deleted Scenes
HD Digital Copy
Summary:
Blinded by the Light is a winner, whether you're a Springsteen devotee or not. Yes, there's a certain familiarity to this formula, but when presented with such dogged passion and zest, there's no question that Gurinder Chadha's film illustrates the sacred communion that exists between artist and devotee – she proves it all night long, for that matter. The disc is just what you expect for a 2019 release, with a strong transfer and worth extras.
Order Your Copy Here