December 2nd, 2021 by Brandon Peters
The Warner Archive Collection continued journey through the Michael Curtiz catalog ends the year on the longtime heralded Angels With Dirty Faces. This is a notable film in the canon of James Cagney. Of this release, Warner Archive Collection states "It's back and looking better than ever! The acclaimed Warner Bros. gangster classic which paired off-screen pals James Cagney and Pat O'Brien for the sixth time in this timeless and unforgettable film. Cagney's Rocky Sullivan is a charismatic ghetto tough whose underworld rise makes him a hero to a gang of slum punks. O'Brien is Father Connolly, the boyhood chum-turned-priest who vows to end Rocky's influence. Other top talents join them including Humphrey Bogart as a scheming lawyer, Ann Sheridan (in her first major leading-lady role) as Rocky's hard-edged girlfriend and the Dead End Kids as worshipful street urchins, all ably directed by the great Michael Curtiz (Casablanca). The 1938 New York Film Critics Best Actor Award came Cagney's way, as well as one of the film's three Oscar® nominations. Watch the film's shocking finale and you'll know why." You can order this loaded release by using the paid Amazon Associate link at the bottom of the page.

Film
Rocky Sullivan (James Cagney) and Jerry Connolly (Pat O'Brien) were brought up in one of New York's toughest neighborhoods, Hell's Kitchen. While his buddy Rocky gets caught up in racketeering in reform school, Jerry decides to become a priest. Years later, Rocky is released from prison and returns to Hell's Kitchen, where Jerry works with at-risk children. Rocky wants a temporary safe haven with his old friend before resuming his life of crime, but Jerry hesitates, testing their relationship.
Angels with Dirty Faces is a pretty seminal film in everyone's careers who works on it and one that influenced many a film and genres to come. Its a unique tale in the mobster genre, and has some fine character work to it. Sneakily, its a pretty well crafted and shot film, with great visual language and interesting camera work throughout, including a pretty bang up job for the opening shot right after the credits. Some of the photography and choices used in the film will stick with you long after you see the film.
Watching it today, Michael Curtiz's film really feels like it is the genesis for the "Tonight, on a very special episode of" type story commonly used for sitcoms when they were to take a more serious tone. The film is about the yins and yangs about growing up, adjusting, practicing morals and keeping beholden to doing the right thing no matter who or what is involved. Priest Jerry in the film comes to that with his criminal friend Rocky, whom he just can't fix and also fighting the temptations of dirty money to help repair the youth center that desperately needs it. There are moral dilemmas abound between our two characters in the forefront, and its their exchanges as actors that make this film much more than it already strongly is.
Interestingly enough, I first Angels with Dirty Faces in college in one of my film criticism classes. I believe it was used in studying the mob genre and showcasing the many different ways in which you can use that backdrop to not only tell a tale but forward the genre. Sure, there's the "Haha, that's like the title in Home Alone" bit, but beyond that, this film really soars. James Cagney is pretty outstanding and all his supporting players, and Curtiz, are more than up to the challenge of keeping up with him and playing on his level.
Video
Encoding: MPEG-4 AVC
Resolution: 1080p
Aspect Ratio: 1.37:1
Layers: BD-50
Clarity/Detail: Angels with Dirty Faces makes its debut on Blu-ray with a new 2021 1080p HD Master from 4K Scan of original nitrate camera negative. And it looks as you'd imagine and come to expect from Warner Archive Collection. This is a slick, detailed looking image with a nice healthy layer of grain and gorgeously rich black and white image. Who knows if this film even looked this good on cinema screens when it was first running.
Depth:  The image contains a terrific depth of field on display, really showing a good pushback and having a lovely sense of space between objects as accented with good confident camera movements. Motion is smooth and natural with no blur or jitter distortions.
Black Levels: Blacks are quite deep, rich and close to natural levels. Its very artful the way they are handled here, gracefully showcasing shadows and putting together every frame. Patterns, details and fine information all comes through with ease. No crushing witnessed.
Color Reproduction: N/A
Flesh Tones: Skin tones are a white/gray mixture with a consistent appearance from start to finish of the film.
Noise/Artifacts: None
Audio
Audio Format(s): English 2.0 Mono DTS-HD MA
Subtitles: English SDH
Dynamics: Angels with Dirty Faces comes with the original mono theatrical mix over 2 channels. While a nice restoration and it sounds pretty great, it IS a product of its time and carries a little hiss with it and sounds of its era. There is a good balance and very nice work with sound effects. The vocals and score do have goo clarity and depth but can also carry some peaking, hissyness and buzzyness in areas.
Height: N/A
Low Frequency Extension: N/A
Surround Sound Presentation: N/A
Dialogue Reproduction: Vocals have a very old school, analog sound to them with a bit of a hiss carrying with the voices. Its nothing detracting, but very much of its time and very 1930s.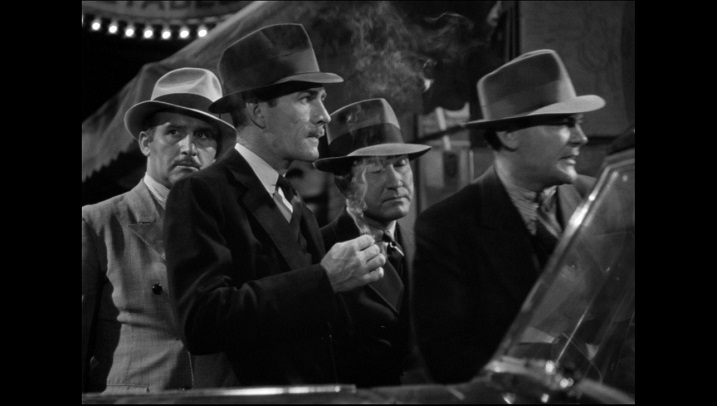 Extras
Audio Commentary
Warner Night at the Movies 1938
Introduction by Leonard Maltin (SD, 4:20)
"Boy Meets Girl" Theatrical Trailer (SD, 2:47)
Newsreel (SD, 2:06)
Musical Short: "Out Where the Stars Begin" (SD, 19:15)
Porky & Daffy (HD, 7:32)
Angels With Dirty Faces: Whaddya Hear? Whaddya Say? (SD, 22:16) 
Lux Radio Theater Broadcast 5/22/1939 (HD, 59:07) – Audio only
Theatrical Trailer (HD, 3:20)
Summary
Angels with Dirty Faces is one of the seminal mobster movies of the 1930s and 1940s, featuring some the eras most famous (or would later be most famous) faces under the helm of one of the era's best directors. It finally makes its way to Blu-ray with an outstanding black and white transfer. There is a nice handful of extras to make for a throwback 1938 theater going experience. This is one of the most loaded Warner Archive Collection titles out there and a film more than worthy of being in anyone's collection.
This is a paid Amazon Associates link