July 8th, 2021 by Brandon Peters
July's contribution to the Paramount Presents line is kind of a beautiful two-fer. One is a film that had a prior release with a subpart transfer and the other has never been on Blu-ray before. And together, they both make and complete a series of film. Walter Hill's 48 Hrs and Another 48 Hrs starring Nick Nolte and Eddie Murphy will be getting the fancy editions featuring new interviews with Walter Hill. Both are getting brand new 4K restorations as well. This early edition of what would become the buddy cop genre will be landing on shelves (maybe?) on July 6th. This review will cover the sequel, Another 48 Hrs. You can pre-order using the paid Amazon Associates link below to land yourself a copy of this new Blu-ray if you so please.
Film
While trying to capture drug lord "The Iceman," policeman Jack Cates (Nick Nolte) confronts two criminals and kills one of them in self-defense. The head of internal affairs (Kevin Tighe) wants to prosecute Jack since there was no weapon found on the victim. In order to prove his innocence, Jack rescues ex-convict Reggie Hammond (Eddie Murphy) from a hit ordered by The Iceman. Reggie, who knows the real identity of the criminal, may be Jack's last hope.
In terms of films that truly live up to their titles, Another 48 Hrs should be in contention for one's that keep that promise the strongest. Walter Hill's film finds a way to retread the original while going big, louder and more outrageous when given the opportunity. Its not lazy, its not uninspired, its just what many sequels were long ago. Audiences and studios were wanting to deliver much of the same thing you enjoyed the first time again. So, you'll have characters motioned back to square one, one-liners repeated, jokes retold and action/plot beats in step and sync with the original film. Another 48 Hrs has this pretty much down to a T.
That's not to say its not entertaining. If you enjoyed the first one, you're certain to enjoy this "bigger and badder" rendition of it as well. Hill ups his ante and challenges himself a lot in the action department. There's a big bus crash to go along with many other stunts in the film that are still big dangerous eye openers even today. The gunplay and violence in film is also increased and goes for a lot of shock with its loudness as well as the gore and graphic details when a bullet splatters flesh or a punch lands. This 48 Hrs sequel holds back no punches and goes at all stops to show you just how painful this violence can be.
Eddie Murphy and Nick Nolte carry that same chemistry they had originally, but its a real shame the film has to backtrack them so much to have them be as close to where they were in the original film. They haven't grown much at all and we have to see them climb back to where they ended the first film by jumping through the same hoops again. Those same hoops can be pretty fun and provide some nice gags with both actors doing their thing. But, it'd been cool to have a mix of that setup to go along with either a new direction or enhanced angle to have them feast on.
If you're into action comedies, look no further really. While Another 48 Hrs is a step down from the original, it still delivers some solid core goods to terrific degrees. Walter Hill really takes the opportunity to push himself with stunts, shootouts and blood splatter, leaving the character and comedy dynamics to his cast. Murphy and Nolte deliver pretty much what you're expecting of them. The film has a villain twist that pretty obvious via casting from the jump, but still manages to thrill well enough in the action and character exchanges to make it a worthwhile 2 more days.
Video
Encoding: MPEG-4 AVC
Resolution: 1080p
Aspect Ratio: 1.85:1
Layers: BD-50
Clarity/Detail: Another 48 Hrs debuts on Blu-ray with a brand new 4K restoration. The film has some interesting results as its a bit of a grungier looking image. Its sharp enough and features plenty of good texture and details. Grain is heavier than it was on the first film. With how dark and shadowy the film is, its a wonder if a bump to 4K UHD might actually alleviate some of the slight shortcomings with this one's transfer.
Depth:  Solid spacing in the image throughout with a good sense of scale both small and wide throughout the film's travels. Motion is smooth and cinematic with no issues surround any motion distortion.
Black Levels: Blacks are deep and closer to natural. A lot of this film is dark and shadowy and hold much of the details as intended. Grain tends to be a bit heavier in the darker sequences, no crushing witnessed.
Color Reproduction: This one doesn't quite have the color of the first one, basing its palette mostly off of normal browns, grays an the like. There are some good pops with neon lights and a clothing choice or two. Explosions roar with orange fire pretty good.
Flesh Tones:  Skin tones are natural and consistent throughout the film, give or take a nightclub/bar sequence with different filtering/lighting. Facial features and textures are decently visible from any reasonable distance in the frame.
Noise/Artifacts: Clean.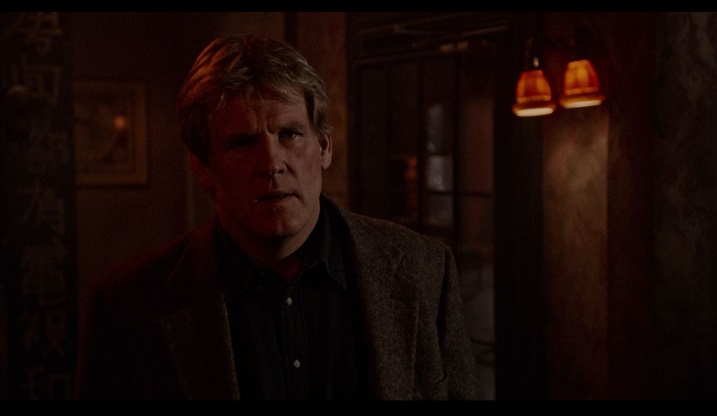 Audio
Audio Format(s): English 5.1 Dolby TrueHD, German 2.0 Dolby Digital, French 2.0 Dolby Digital, Japanese 2.0 Dolby Digital, Isolated Score Track
Subtitles: English, English SDH, German, French, Japanese
Dynamics:  Another 48 Hrs 5.1 Dolby TrueHD track is quite the party. Gunshots really punch and sound like cannons. It is a loud track that truly brings the action right into your viewing space. Effects take center stage in this, but never at the expense of the score or the dialogue. This mix has a nice balance, good layering and plenty of depth making things very lifelike in an enhanced way.
Height: N/A
Low Frequency Extension: Explosions, crashes, gunshots, fire, punches, music bumps and more really have your subwoofer bringing the thunder.
Surround Sound Presentation: While a lot happens up front, the mix always seems to be aware when the film needs to feel 360 degrees of living. Club scenes, busy offices and more come to life with good ambiance and playful sound travel around the room.
Dialogue Reproduction:  Vocals are clear and crisp.
Extras
Another 48 Hrs  in first pressing, comes with a slip cover that folds open to reveal the original poster art for the film. It also comes with a redeemable digital copy.
Filmmaker Focus: Director Walter Hill on Another 48 Hrs (HD, 14:35) – Like the interview on the 48 Hrs disc, this one has Hill with good honesty discussing the film. He admits he wasn't too interested in doing it, but didn't want anyone else to make the film. Murphy apparently was the one who wanted to do the sequel and Nolte gave his all but Hill felt he was bored on set as he didn't like doing films he felt were just being done for the money. Walter talks a lot about the stunts in the film and going into shooting with no script.
Theatrical Trailer (SD, 1:31)
Summary
With Another 48 Hrs its the same song but some of the verses have changed the words around a bit. And its not too bad. It delivers on your core action comedy beats. Paramount Presents delivers a rock solid release with a kickin' 5.1 track to go with a pretty good film transfer. There's a terrific interview with Walter Hill to add some post-viewing weight to the disc. If you're picking up the first one, you'll wanna pick up this too. Or else look at your shelf with a sense of incompleteness.
This is a paid Amazon Associates link