May 3rd, 2023 by Brandon Peters
Kicking off Marvel's "Phase 5" of its cinematic universe, Ant-Man and the Wasp: Quantumania will be arriving on 4K Ultra-HD Blu-ray on May 16th. Already available digitally and on Disney+, the film will be able to actually own and in its best possible presentation that day to go along with some nifty extras and Atmos sound. This piece of the puzzle underwhelmed from any number of perspectives and brought forth some interesting conversations regarding the state of the MCU as well as the treatment of digital artists by juggernaut studio. For those of you keeping up with the home video releases, you can pre-order yourself a copy using the paid Amazon Associates link following the review to hopefully have at your doorstep at or in close proximity to the release date.

Film
Super Heroes Scott Lang (Paul Rudd) and Hope Van Dyne (Evangeline Lilly) return to continue their adventures as Ant-Man and The Wasp. Together, with Hope's parents Janet Van Dyne (Michelle Pfeiffer) and Hank Pym (Michael Douglas), and Scott's daughter Cassie Lang (Kathryn Newton), the family finds themselves exploring the Quantum Realm, interacting with strange new creatures and embarking on an adventure that will push them beyond the limits of what they thought possible.
The Marvel Cinematic Universe's "Phase 5" kicked off in February to the tune of Ant-Man and the Wasp: Quantumania. This third installment in the Ant-Man sect of the MCU wound up underwhelming critically and financially for the high and mighty studio. This brought forth concern over the visual effects in these movies, some of that showcases the nickel and diming of artists. Another note of this was that this chapter was used as a big mythology episode of the franchise, introducing the next big bad, Kang The Conqueror, to the big screen. In the grand scheme of things, this is possibly just flash in the pan and large swaths of people will continue to show up and support the MCU no matter what the installment is. Ant-Man has never been one of their top draws, so why get so up in arms now?
While Quantumania is a perfectly enjoyable, lazy Saturday afternoon family fantasy film, there is something to be said about this direction they've taken the Ant-Man portion of the Marvel franchise. While the Quantum Realm isn't any different than some space planet found in Guardians of the Galaxy or another dimension for Doctor Strange, those had their footing and base there. No, I'm not against Ant-Man being able to go to these places. However, its bread and butter and what has made it stand out and work with the others is that they had been Earth-bound caper/heist comedy movies. There's a funny group of criminals doing things big and small and a nice cast of comedic actors bouncing off one another grounded by Evangeline Lilly's Hope or Michael Douglas' Hank Pym.
Now, the franchise aesthetically doesn't look any different than a number of Marvel or other blockbuster tentpoles or wanna be science fiction franchises. It now also leans on just Paul Rudd and some newer strange aliens to deliver our comic timing. Kathryn Newton is perfectly fine her as the recast daughter, but perhaps she could have provided more of her character's dad's side of the family than her mom's. With the cast loaded now with all straight characters and Paul Rudd having to balance rather than let silliness fly, the looseness of this series is a bit too tight and almost a sludge for the runtime. The crew of Michael Pena, T.I. and David Dastmalchian's thieves are sorely missed here and I wish a spot could have been found for them. Also leaving a hole are Judy Greer and Bobby Cannavale. Heck, even Randall Park showing up at some point would have been nice.
I sound like a whiner and as if there was a movie already done before or that I was expecting to get and didn't. I was fine, but underwhelmed with the movie at hand. And there's definitely a way to make this here work a lot better. It just feel like it has been bumped off course from what thrives in this series and forced into being the mythology episode of great importance, even though it really doesn't fit this Ant-Man world. Nonetheless, it does skate on by with basic Marvel charms and adventure, while likely not coming out as anyone's top film or in the top half of the 31 MCU features to this point.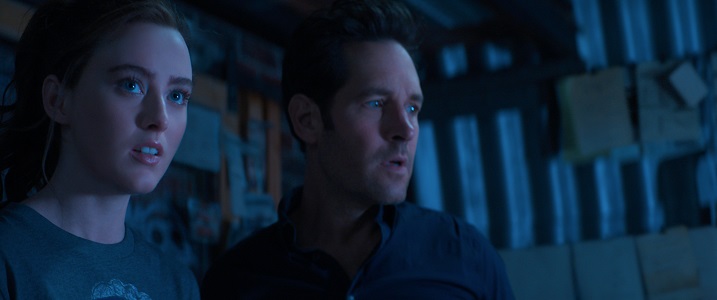 Video
Disclaimer: Screen captures used in the review are provided by Getty Images, not the 4K UHD Blu-ray disc.
Encoding: HEVC / H.265
Resolution: 4K (2160p)
Aspect Ratio: 2.39:1
Layers: BD-66
Clarity/Detail:  Ant-Man and the Wasp: Quantumania arrives on 4K Ultra-HD Blu-ray with a really pretty looking image. Despite qualms with the digital effects in the film, its quite colorful and really pops when looking at a scene with good contrast. Its a pretty clear and clean image and while I think the effects have possibly improve since the theater they still leave some to be desired and in this image a bit becomes more obvious in a separation between actor and volume backdrop.
Depth: Depth of filed is pretty solid. There's some good space and then there's some space in shots that shows a clear separation between actor and fake backdrop. Movement is smooth and natural with no issues coming from motion distortions.
Black Levels: Blacks are deep and natural. They really allow for some terrific contrast while also maintaining an strength in saturation that allows fine patterns and textures to showcase through on dark surfaces.  No crushing witnessed.
Color Reproduction: Colors are really pretty and pop quite well here. There is a lot of contrast in the Quantum Realm to allows the magical, mystical stuff to glow and radiate off the HDR. Purples, greens, golds, reds, blues and so much more really sting through.
Flesh Tones: Skin tones are natural and consistent from start to finish of the film. Facial features and textures are clear as day from any given distance in the frame.
Noise/Artifacts: Clean.
Audio
Audio Format(s): English Dolby Atmos, English 2.0 Descriptive Audio,  French 5.1 Dolby Digital, Spanish 7.1 Dolby Digital Plus, Japanese 7.1 Dolby Digital Plus
Subtitles: English SDH, French, Spanish, Japanese
Dynamics: Sadly, Quantumania doesn't buck the trend for Marvel movies and the Atmos track. This one has a pretty light sounding presentation and does pack any real sort of punch you want it to without cranking your volume or subwoofer impact. Its a softer sounding presentation that probably didn't help itself that I put in Knock At The Cabin after (a smaller scale production with an Atmos track that leaves this one in the dust).
Height: From above you get plenty of flying creatures, energy bursts, debris, giant people movements as well as score and and other contributions that fit the moving image onscreen.
Low Frequency Extension: The subwoofer has a presence that is felt, but you definitely sit anticipating a bigger whallop on anything major that pounds.
Surround Sound Presentation: Plenty of fun to be had around the room with this mix. Its a 360 degree experience with much offscreen activity tracked and some nice rolling sound across the room.
Dialogue Reproduction: Vocals are clear and crisp.
Extras
Ant-Man and the Wasp: Quantumania comes with the standard Blu-ray edition and a redeemable digital code. All bonus materials are found on the standard Blu-ray disc.
Audio Commentary
by director Peyton Reed and writer Jeff Loveness
All in the Family (HD, 7:28) – Peyton Reed, Paul Rudd, Kathryn Newton, Evangeline Lilly, Stephen Broussard and Michelle Pfeiffer kind of give boiler plate character, actor and production bits here regarding the film and reflect on the trilogy and Scott Lang as Ant-Man.
Formidable Foes (HD, 11:36) – This featurette focuses on both Kang The Conqueror, MODOK and Lord Krylar with cast and crew discussing Jonathan Majors, Corey Stoll and Bill Murray aplenty.
Gag Reel (HD, 1:52)
Deleted Scenes (HD, 2:59)
Summary
Ant-Man and the Wasp: Quantumania is a decent enough time, though, in the pop culture sense feels like a real step back and analyze what's going on right now and reflect on ourselves moment for the MCU. This 4K Ultra-HD disc delivers the expected performance in audio and video we are accustomed to from Disney and Marvel. Extras feels par for the course, and yes, they used to be a bit more than this. But, they want to save all that for Disney+ it seems. Those collecting will probably pick it up, so I wont' feel the need to tell you that you pretty much know what to expect here with a purchase.
This is a paid Amazon Associates link