March 15th, 2020 by Brandon Peters
The Scream Factory dip into the Paramount catalog vault has not been messing around. From the outset they are getting right to the titles they KNOW people are wanting. April Fool's Day is one of those titles, being one of the most popular slasher films from the 1980s still left with no Blu-ray release (He Knows You're Alone still looms large. Will 2020 finally be the year?). Longtime readers will know I've been waiting for this one for a good while as I wrote THIS wishlist piece <<Eyes open wide when they see the date>> six years ago. The wait is worth it in the end as a company is putting it out that will put some effort in to the extras, giving us a slew of new interviews that I'm not sure Paramount themselves would have. This super exciting release will be landing on shelves virtual and physical on March 24th, just in time for you to watch it ON April 1st this year. How considerate of Scream Factory (They're no dummies.).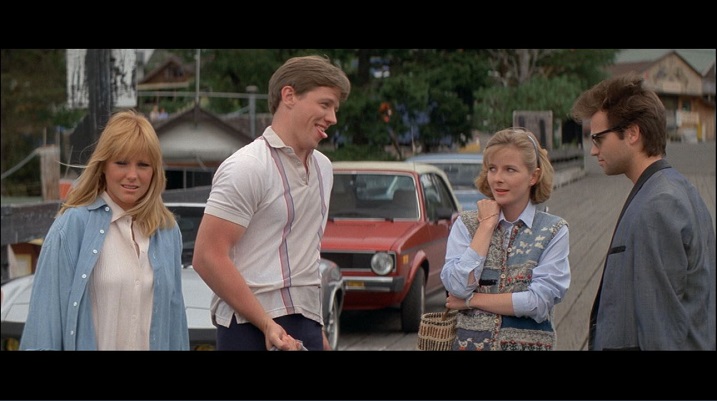 Film
When Muffy St. John (Deborah Foreman, Valley Girl) invited her college friends up to her parents' secluded island home for the time of their lives, she just forgot to tell them it just might be the last time of their lives. As soon as the kids arrive on the island, someone starts trimming the guest list … one murder at a time. And what starts out as a weekend of harmless "April Fool's Day" pranks turns into a bloody battle for survival.
At the end of the day, I'll call April Fool's Day a slasher film. And for the most part, it definitely fits the mold. Less obvious as the films like Student Bodies, April Fool's Day is a spoof/satire/parody of the whole genre, but has the clever gusto to play the thing straight. The best part is how it lures you in before playing the joke on you and pulling out the rug to have you fall onto your ass.  I'm aware many will argue me that its not, but they can't deny that it doesn't have the hallmarks of one with the roster of teens/college kids that bump off one by one, the secluded location, little background of a potential killer and oh yeah…taking place on a holiday for title namesake. And unlike many of them, the title plays into what the film is overall.
One benefit the film has over a lot of its others is the fun, memorable and enjoyable cast. This is a really nicely set 1980s cast of characters. Its a wonder they couldn't have loaned this group out or use them for a Friday the 13th movie. Something like The New Blood could have used this bunch (Yes, aware Amy Steel is in Part II). They are obviously having a blast together and bringing out some good genuine relations and actions with one another. There are some good jokesters going around and some actually good performances. You can tell Thomas F. Wilson is someone waiting to lift off and a complete presence every time he takes his scene stealing role to frame. Amy Steel should have been a much bigger star in the 1980s as she puts together another terrific (And different) "final girl" role. The most outstanding of the bunch here is Deborah Foreman in a deliciously bubbly and weird role that charms and makes you want her to be a part of every frame in the movie.
What helps make this Agatha Christie inspired riff work, is getting a veteran horror director like Fred Walton to take the reigns and make it sparkle. Walton is able to develop a look and feel for the film that invites you in for the horror, never taking your eye off of that possibility with the aesthetic, but allowing for genuine comedic twists and turns to certain events. He is also able to wrangle the cast and delivers an ability to get them to feel such a comfort and togetherness in the film that you could pluck any two of the performers into a scene where they could ignite an instant and unique chemistry that would work tremendously. The most important thing this film never forgets is that it is here to have fun over all.
I don't know that April Fool's Day would ever make a TOP 10 SLASHERS list or anything for me, but I've always had a nice soft spot for it as it is quite fun to watch. If anything, it works best as a teen comedy film. I've mentioned many times that the slasher films of the 1980s were my teen movies that I grew up on as I didn't obsess over John Hughes films or anything like that. And where April Fool's Day stands above is in its characters and having some pretty quality actors in the cast to bring them to life. I also like the devious horror nature to it as well. At the end of the day, I just plain enjoy it whether you want to call it horror, comedy, murder mystery, slasher or not. Its just a solid, good movie to me.
Video
Encoding: MPEG-4 AVC
Resolution: 1080p
Aspect Ratio: 2.35:1
Layers: BD-50
Clarity/Detail: April Fool's Day arrives for the first time on Blu-ray (In America) with a transfer that has no information available regarding it. Its likely some already existing HD master. The film looks pretty good and a tick up from its DVD counterpart, but isn't one that's going to boast and wow. I'm not down on it, it IS in improvement. Sharpness, clarity and detail have all improved over the textures of the film. Regardless, I'm super happy to finally have this on Blu-ray and will say that it does look very nice as it can be and that's about as much as you could ask for in regards to a cult classic comedy/horror film that likely wasn't seen as much of a favorite while sitting in the Paramount vault before Scream Factory was able to get a hold of it.
Depth: Depth of field is slightly over the side of average in terms of free space and distancing between foreground, background and the characters and objects in between.  Motions is smooth and cinematic in its appearance and the film has no issues with jitter or blur during and rapidity in action.
Black Levels: Black levels are a solid medium level, not too light and not too dark. They don't do much in the way of unwanted consumption as details handle pretty well. No crushing witnessed during this viewing of the film.
Color Reproduction:  This is a rather rustic film that has a nature green, brown tone hanging over everything. Clothing does sport some 80s color pop where appropriate and the blood (When seen) does spot some good boldness.
Flesh Tones: Skin tones are natural and consistent throughout the film with no issues regarding flicker or whatnot. Facial features and textures are best glanced in a close up and most medium shots.
Noise/Artifacts: Clean
Audio
Audio Format(s): English 5.1 DTS-HD MA, English 2.0 Stereo DTS-HD MA
Subtitles: English
Dynamics: April Fool's Day includes both a 5.1 track and a stereo track. The mix is pretty good and eventful. Vocals, sound effects and the score all work in tandem to bring a nice harmonious blend. None ever steps on the foot of the other. This track haunts through all the active speakers to good effect and overall provides a rock solid presentation for this mid-80s slasher classic. In addition the stereo track actually does quite a decent job of things as well.
Height: N/A
Low-Frequency Extension: A decent little bit of thud comes through in the subwoofer with the jump moments in the score, doors slamming, boats hitting a dock and more.
Surround Sound Presentation: While this isn't super playful and clever with the sound placement, it does utilize the rear channels to good effect for building an ambiance, spreading out the score and keeping an accurate interior/exterior. Sound travel works accurately to the action on screen.
Dialogue Reproduction: Vocals are clear and crisp. Always being audible no matter how the intense the score or situation is in the moment of the film.
Extras
April Fool's Day – Collector's Edition comes with a reversible cover insert featuring the original poster artwork. Just as a note, when clips from the film play during these interviews, there are times where they play choppily.
Horror with A Twist – "I'm doing it for you people. Its not for me." An interview with director Fred Walton. Split into two parts, the first ventures from his discovery of loving movies at an early age and his gateway to horror being opened with War of the Worlds leading to Psycho. It follows him through college, When A Stranger Calls and ends on his meeting with Frank Mancuso Jr. The second part is a completely detailed run through on the production of April Fool's Day. His work with the crew, touching on different actors and how he handled the set. Walton talks his disappointment of how the film was sold and that he does not think it was a slasher film and that it disappointed those fans. Overall, he's super friendly, happy to open up and a joy to hear talk about the movie.
Part 1 (HD, 23:58)
Part 2 (HD, 23:02)
Well of Lies (HD, 16:32) – An interview with actress Deborah Goodrich Royce. She begins her story with her dancing career. Royce found a break in commercials for Coca Cola and Bacon Flavored Cheetos (Product never came out). Her turning point was landing All My Children. Before coming in and landing April Fool's Day, she had heard they were interested in Sarah Jessica Parker for her part in the film (Though says she can't confirm if it was actually true). Deborah discusses her experiences on the film and later in life when she began to realize this was a cult hit when she was sent a screenplay for a potential sequel as well as going to revival screenings with other actors who had been in the film.
Looking Forward to Dessert (HD, 17:15) – An interview with actor Clayton Rohner. "I had exposure to it (Hollywood), but I was going to be a commercial fisherman." He had no interest in show business though he talks of how surrounded he was with it. We then get to hear about an acting professor that gave him a B and "owned" him as he would go out to prove him wrong. Rohner talks a little of his career pre-April Fool's Day then goes over his character and his appreciation for Deborah Foreman's preparation for her character. He talks the absurdity of how many endings that had for the movie "We all just had to play it as real as we could".
Bloody Unforgettable (HD, 26:00) – An interview with composer Charles Bernstein. "I basically work alone". Bernstein, like all interviewees, goes over what brought him to music and his earliest inspirations. He mentions he's currently in the middle of working on many things. We hear him discuss his relationship with Wes Craven and how he did everything for A Nightmare On Elms Street on his own except the "One, two, Freddy's coming for you…" portion. He then goes over his work on April Fool's Day and how he found it a big deal because it was a mainstream effort from Paramount. "This is heaven" as he says Mancuso was a wonderful guy and Walton was very helpful. He felt intimidated that John Strauss (Amadeus) was the music editor who had done the temp track. He closes with the story of the song that plays over end credits.
The Eye of Deception (HD, 17:23) – An interview with cinematographer Charles Minsky. "I kinda fell into cinematography. I had no idea what it was about." He was a jack of many different trades before he became entranced with the idea that everyone had to come to the camera or else they weren't in the movie. Minsky now teaches through the ASC. Like everyone else he talks about his career leading up to April Fool's Day and when he gets to the film he supplies great details on the locations for the film and what they were used for in other projects or personal asides (Was on vacation where the dock was the year prior). Minsky discusses working with Fred Walton and how he would play every part to translate the blocking "We always had great communication…there was never a problem.". He doesn't think the film is badly intentioned and that its fun and not terribly serious.
Theatrical Trailer (SD, 1:42)
TV Spots (SD, 1:35) – 3 spots
Summary
April Fool's Day is a fun side step in the world of slasher films (Yeah, overall I still consider it with that lot), with a good cast and some solid touches on horror and comedy. Scream Factory's new Collector's Edition of the film brings it to Blu-ray with some excellent new interviews and a pretty solid transfer of the film. With how late in the Blu-ray game this film has come out, this is likely the best it is going to get (At least for a LONG time). And overall, this is a very good effort for this cult horror/comedy.
This is a paid Amazon Associates link