July 30th, 2022 by Brandon Peters
Paramount Presents continues to be one of the most fun and varied lines of specialty Blu-ray releases month in and month out. Case in point the throwback beach party movie from 1987, Back to the Beach, is debuting on the format in this line. Releasing August 9th, its being giving the typical Presents line packaging, but also the tradition filmmaker focus interview and a new 4K restoration just for this release. The comedy's filmmaker focus will be none other than its director, Lyndall Hobbs. Pre-order yourself a copy to have for at or around release day by using the paid Amazon Associates link following the review.
.
.

Film
Frankie Avalon and Annette Funicello, teen idols of a wave of Beach movies, returned to the big screen in this hip, hilarious 80s update of their surf-and-sand adventures. The Jamaican Ska may have replaced The Twist in the intervening years, but Frankie and Annette still know how to bring the party—as well as teach their own children a thing or two in the process. Along for the fun in the warm California sun are a host of familiar faces–Connie Stevens, Dick Dale, Stevie Ray Vaughan, Dona Adams, Bob Denver, Jerry Mathers, Barbara Billingsley, Edd "Kookie" Byrnes, and Pee-Wee Herman.
Back to the Beach is an enjoyable cheesefest and the best part about it is that the film knows it and doesn't try to be anything more than embracing of it. This is the legacy sequel, follow up or closing chapter on the famous beach party movies of Hollywood teen movie yesteryear. The best idea was to just make another one in the spirit of it, and that's what has been done here by Lyndall Hobbs and company. Finding some icons of that era to star as well as some nice cameos by big names of the time really puts a good bow on top.
What's cool about Back to the Beach is that it was a movie made to sort of revisit something for a brief moment, check in, give a proper goodbye, and move on. It wasn't meant to cash in on anything, hopefully start a franchise or bring back a genre in its entirety. Its just this one celebration, this reunion, and everyone moves on afterward. That's sort of a lost art or long gone mindset in today's Hollywood. Today, there would be so much extra baggage and expectation with a thing like this.
Its not high art, but its kind of high fun. There's a nifty look at early Pee-wee Herman here. I got pretty nostalgic for a cameo with Don Adams as he recited some of his Get Smart greatest hits one-liners. But that's the type of movie we have here. One that knows what it is, what the audience wants from it, and just marinates and soaks in that for a swift 90 minutes. Back to the Beach is the bit of quick blast of nostalgic fun that you jump right in and right out of.
Video
Encoding: MPEG-4 AVC
Resolution: 1080p
Aspect Ratio: 1.85:1
Layers: BD-50
Clarity/Detail: Back to the Beach debuts on Blu-ray with a brand new 4K restoration of the film. Carrying a nice, thin layer of grain, the film boasts plenty of great details, textures and patters throughout. It has a crisp image that showcases some really nice depth and clarity, looking as youthful as the populace of the beach featured in the film.
Depth:  There is a solid depth of field on display in the film, showcasing some good scale on the beach scenes. Motion is smooth, filmic and has no issues with any motion distortions.
Black Levels: Blacks are deep and at natural levels. No issues come from any information being hidden as even the black on wetsuits show texture, pattern and details…heck even some see-through-esque looks. No crushing witnessed.
Color Reproduction: Colors are pretty strong with lots of vibrant, pastel colors showing through. Teal, pink, blues, yellows, reds all come on quite strong with some good pop. There are some good vibrant colors in a more faded form that showcase some good looks too.
Flesh Tones: Skin tones are natural and consistent throughout the film. Facial features and textures are clear and visible from any reasonable distance in the frame.
Noise/Artifacts: Clean.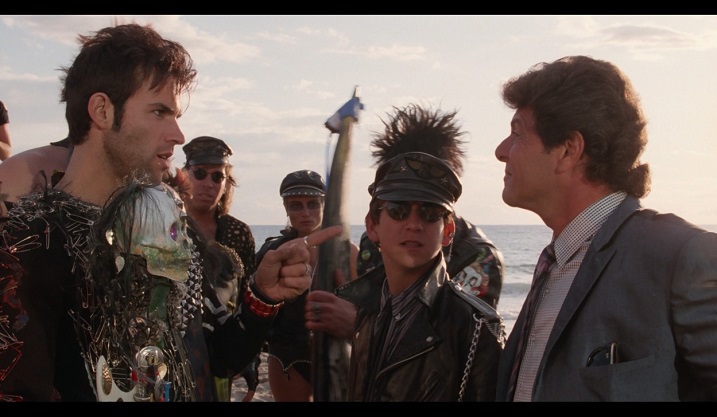 Audio
Audio Format(s): English 5.1 DTS-HD MA, French 2.0 Dolby Digital
Subtitles: English, English SDH, French
Dynamics: Back to the Beach is back to the basics with a rock solid 5.1 track. Some of the more stronger weather and wave conditions bring a nice dynamic flare to things as it travels the room, uses space and rumbles the subwoofer all at the same time. The track is balanced and has some rather cool depth and layering to it.
Height: N/A
Low Frequency Extension: Thunder, waves crashing, bass and drum in the music and some natural sounds have the subwoofer giving of some pretty respectable power.
Surround Sound Presentation: There's a lot of this mix hanging out up front, but music and some decent ambiance are fit to the rear channels. Sound travel is accurate and pretty impacting on the front 3 speakers on the left to right and right to left motions.
Dialogue Reproduction: Vocals are clear an crisp. It features some nice variations that all feel natural with normal, singing and microphoned examples on display.
Extras
Back To The Beach in first pressing, comes with a slip cover that folds open to reveal the original poster art for the film. It also comes with a redeemable digital copy.
Filmmaker Focus With Director Lyndall Hobbs (HD, 9:03) – Hobbs gives some background on her and how she came into the project. It was her choice to take the film into a musical direction. She details production stuff but also gets into sharing that she wishes the film got a wider release and found more life theatrically as it was well reviewed at the time as she cites a positive blurb from Roger Ebert.
Summary
Back to the Beach is a pretty easy, silly, fun flick to check in and check right out of. Being a musical can help it bop around as well. Paramount adds it to the presents line with another cool filmmaker focus interview. The transfer and audio here are about as top of the line as you can get with Blu-ray and the 5.1 surround. Fans of the film should be happy with the presentation and the new interview for this one.
This is a paid Amazon Associates link