October 17th, 2022 by Aaron Neuwirth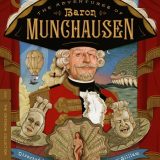 Coming in January: Terry Gilliam's adventure fantasy of epic proportions The Adventures of Baron Munchausen; Mia Hansen-Løve's radiant summertime sojourn in which fiction and reality collide, Bergman Island; John M. Stahl's devastating story of single mothers, racial identity, and the American dream, Imitation of Life; and from Lesotho, Lemohang Jeremiah Mosese's startling meditation on roots and rebellion This Is Not a Burial, It's a Resurrection. Plus: Danish provocateur Lars von Trier maps the soul of Europe in the Europe Trilogy.
–
THE ADVENTURES OF BARON MUNCHAUSEN
1988 • 126 minutes • Color • 5.1 surround • 1.85:1 aspect ratio
The boundless imagination of Terry Gilliam yields a dazzling fantasy of epic proportions. Inspired by the extravagant exploits of the fabled Baron Munchausen, this spectacle—born of a famously turbulent production—follows the whimsical eighteenth-century nobleman (John Neville) as he embarks on an outlandish quest that takes him from faraway lands to the moon to the belly of a sea monster and beyond, meanwhile waging battle against a vengeful sultan and the tyranny of logic. Packed frame to frame with special effects, mischievous wit, and colorful performances—including a young Sarah Polley as the Baron's no-nonsense sidekick—the Oscar-nominated The Adventures of Baron Munchausen is a lavish celebration of the triumph of make-believe over reality.
DIRECTOR-APPROVED SPECIAL EDITION FEATURES
New 4K digital restoration, approved by writer-director Terry Gilliam, with 5.1 surround DTS-HD Master Audio soundtrack
For the 4K UHD edition: One 4K UHD disc of the film presented in Dolby Vision HDR and two Blu-rays with the film and special features
Audio commentary featuring Gilliam and his coscreenwriter, Charles McKeown
Documentary on the making of the film
New video essay by critic and filmmaker David Cairns about the history of the Baron Munchausen character
Behind-the-scenes footage of the film's special effects, narrated by Gilliam
Deleted scenes with commentary by Gilliam
Storyboards for unfilmed scenes, narrated by Gilliam and McKeown
Original marketing materials including a trailer and electronic-press-kit featurettes, as well as preview cards and advertising proposals read by Gilliam
Miracle of Flight(1974), an animated short film by Gilliam
Episode of The South Bank Showfrom 1991 on Gilliam
English subtitles for the deaf and hard of hearing
PLUS: An essay by critic and author Michael Koresky
Available January 3, 2023
–
BERGMAN ISLAND
2021 • 113 minutes • Color • 5.1 surround • 2.35:1 aspect ratio
Writer-director Mia Hansen-Løve embarks on a luminous summertime odyssey to the home of Ingmar Bergman for her seventh feature, a graceful, shape-shifting tale about the interplay of life and art and the ways in which stories are born. In search of inspiration for their current filmmaking projects, Chris (Vicky Krieps) and her partner (Tim Roth) travel to the remote island of Fårö, Sweden, where Bergman lived and worked for decades. There, the spirit of the cinema master looms as Chris confronts her complicated relationships to work, men, motherhood, and her artistic influences. Also featuring radiant performances from Mia Wasikowska and Anders Danielsen Lie, Bergman Island is a rich deconstruction of the mysteries of the creative process and the journey that every film takes from thought to page to screen.
DIRECTOR-APPROVED SPECIAL EDITION FEATURES
2K digital master, approved by director Mia Hansen-Løve, with 5.1 surround DTS-HD Master Audio soundtrack on the Blu-ray
New interview with Hansen-Løve
New interview with actor Vicky Krieps
Bergman's Ghosts(2021), a short film made during the filming of Bergman Island by actor Gabe Klinger
English subtitles for the deaf and hard of hearing
PLUS: An essay by critic Devika Girish
Available January 31, 2023
–
IMITATION OF LIFE
1934 • 110 minutes • Black & White • Monaural • 1.33:1 aspect ratio
Melodrama master John M. Stahl brings his exquisite restraint and almost spiritually pure visual style to this devastating, enduringly relevant story of mothers and daughters. Imitation of Life explores the friendship between two struggling single mothers: one (Claudette Colbert) a working-class white woman who ascends to the top of the business world, the other (Louise Beavers) her Black housekeeper, whose life is shattered by the rejection of her rebellious, white-passing daughter (Fredi Washington). It is this latter relationship—attuned to America's bitter racial realities and heartbreakingly enacted by trailblazing Black performers Beavers and Washington—that lends the film its transcendent emotional power. This first adaptation of Fannie Hurst's best-selling novel boldly confronts the complexities and contradictions of racial identity, economic exploitation, and the limits of the American dream.
SPECIAL EDITION FEATURES
4K digital restoration, with uncompressed monaural soundtrack on the Blu-ray
New interview with Miriam J. Petty, author of Stealing the Show: African American Performers and Audiences in 1930s Hollywood,about the resonance of Louise Beavers's and Fredi Washington's performances
New interview with Imogen Sara Smith, contributor to The Call of the Heart: John M. Stahl and Hollywood Melodrama,about director John M. Stahl and his work with actor Claudette Colbert and others
Trailer
English subtitles for the deaf and hard of hearing
PLUS: An essay by Petty
Available January 10, 2023
–
THIS IS NOT A BURIAL, IT'S A RESURRECTION
2019 • 122 minutes • Color • 5.1 surround • In Sesotho with English subtitles • 1.40:1 aspect ratio
With a poet's eye for place, light, and the spiritual dimensions of everyday existence, Lemohang Jeremiah Mosese crafts a meditation on the concept of homeland and a transcendent elegy for what is lost in the name of progress. Grieving and alone following the deaths of her husband and children, elderly Mantoa (Mary Twala Mhlongo, in a soul-shaking end-of-life performance) prepares for her own death and to be buried alongside her ancestors. When plans for a new dam near her village in the landlocked kingdom of Lesotho threaten to literally wash away all she holds dear, Mantoa takes a last stand, mobilizing her neighbors to fight for their land and their way of life. The experience of watching Mosese's visionary, much-lauded This Is Not a Burial, It's a Resurrection is as timeless and elemental as the land itself.
DIRECTOR-APPROVED SPECIAL EDITION FEATURES
2K digital master, approved by director Lemohang Jeremiah Mosese, with 5.1 surround DTS-HD Master Audio soundtrack on the Blu-ray
New audio commentary featuring Mosese and producer Cait Pansegrouw
Mosese's short films Mosonngoa(2014) and Behemoth: Or the Game of God (2016), along with his 2019 essay film Mother, I Am Suffocating. This Is My Last Film About You., with a new introduction by Mosese
Trailer
PLUS: An essay by novelist and playwright Zakes Mda
Available January 24, 2023
–
LARS VON TRIER'S EUROPE TRILOGY
With his dazzling first three features, Lars von Trier sought nothing less than to map the soul of Europe—its troubled past, anxious present, and uncertain future. Linked by a fascination with hypnotic states and the mesmeric possibilities of cinema, the films that make up the Europe Trilogy—The Element of Crime, Epidemic, and Europa—filter the continent's turbulent history, guilt, and traumas through the Danish provocateur's audacious deconstructions of genres including film noir, melodrama, horror, and science fiction. Above all, they are bravura showcases for von Trier's hallucinatory visuals, with each shot a tour de force of technical invention and dark imagination.
THREE-BLU-RAY SPECIAL EDITION FEATURES
4K digital restoration of Europa, with uncompressed stereo soundtrack, and 3K digital restorations of The Element of Crimeand Epidemic, with uncompressed monaural soundtracks
Audio commentaries featuring director Lars von Trier and others
Tranceformer: A Portrait of Lars von Trier(1997), a documentary by Stig Björkman
Interview from 2005 with von Trier about the Europe Trilogy
Making-of documentaries for all three films
Programs on the films featuring interviews with many of von Trier's collaborators
Two short student films by von Trier: Nocturne(1980) and Images of Liberation (1982)
Danish television interview with von Trier from 1994
Trailers
English subtitles for the deaf and hard of hearing
PLUS: An essay by critic Howard Hampton
Available January 17, 2023
THE ELEMENT OF CRIME
1984 • 103 minutes • Color • Monaural • 1.89:1 aspect ratio
Lars von Trier's stunning debut feature is a grungily expressionistic hallucination—a trancelike trawl through fractured memories, a murder mystery, and the psychic limbo of cultural displacement. From his exile in Cairo, a former police investigator (Michael Elphick) undergoes hypnosis in order to relive his memories of Europe and his last case, for which he went to dangerous lengths to enter into the mind of and catch a serial killer targeting children. Bathed in a sulfurous yellow glow pierced only by startling flashes of electric blue and red, The Element of Crime combines hard-boiled noir, dystopian science fiction, and dazzling operatic flourishes to yield a celluloid nightmare of terrifying beauty.
EPIDEMIC
1987 • 106 minutes • Color/Black & White • Monaural • In English and Danish with English subtitles • 1.66:1 aspect ratio
A jet-black comedy of contagion, a subversive medical-horror freak-out, and a sly metacinematic prank, Lars von Trier's sophomore feature—born from a bet that he couldn't make a film for less than $150,000—finds the director channeling his singular thematic obsessions into an evocatively lo-fi, perversely self-reflexive provocation. The filmmaker himself stars as a harried screenwriter whose efforts to complete a script about the outbreak of a deadly disease coincide with a grisly real-life plague. A twisted reflection on Europe's haunted past—from the Black Death to World War II—and its scarred present, Epidemic is von Trier at his most idiosyncratic and audaciously experimental.
EUROPA
1991 • 112 minutes • Color/Black & White • Stereo • In English and German with English subtitles • 2.39:1 aspect ratio
"You will now listen to my voice . . . On the count of ten you will be in Europa." The ominous, hypnotic induction by Max von Sydow inaugurates the entrancing final installment of Lars von Trier's Europe Trilogy. An idealistic American (Jean-Marc Barr) travels to postwar Germany to take a job as a sleeping-car conductor for the Zentropa railways—and finds himself plunged into a murky, Kafkaesque world of intrigue and betrayal where the shadow of Nazism hovers menacingly over everything. With its ravishing cinematography (in black and white, color, and at times a stunning mix of both), dreamlike use of rear projections, and lush fusion of melodrama and noir conventions, Europa is a sublimely stylized cinematic fugue.