October 17th, 2022 by Jason Coleman
The scares never stop at this year's Screamfest Horror Film Festival (go to www.screamfestla.com for more details!), taking place October 11th – 20th at the infamous TCL Chinese 6 Theatres in LA at the Hollywood and Highland Center as it continues its reign of ruckus on the big screen.  Of course, WhySoBlu.com is keeping its own carnal coverage going by checking out as much unspooling evil as possible.  Today we're slashing a massive amount of wicked wares in the form of a whopping four feature films and twenty-seven short film reviews for your encapsulated pernicious pleasure.  (And to keep in sync with their title, ALL short film reviews are…short!)  So from drug-addled honeymoons to emotion in the apocalypse, check out the skinny via…'More Feature/Short Film Reviews!'
FEATURES
"Do Not Disturb" – If ever there was a cinematic visual version of a peyote trip, John Ainslie's Do Not Disturb is that film.  A tale of an uptight couple that head to Miami on their honeymoon in search of strengthening their relationship and end up in a nightmarish drug-induced fever dream thanks to a mysterious substance from a stranger is unlike anything I've seen.  (Even Repulsion has nothing on this one!)  Massive time jumps, passion and hatred, feelings and raw emotions, and even hunger for human flesh are just a mere pinch of the things touched on here.  All-encompassing in all it exposes, disturb here is an apt title indeed.
"The Goldsmith" – An outing with a seriously captivating and sinister tale to tell, what makes The Goldsmith stands out above all else is its sheer unpredictability.  Sure there is plenty of suspense (will the three nefarious home invaders make it out alive?), twists and turns (what exactly is the family business?), and gore galore (you have to SEE it to believe it!) but what ultimately drives this Italian import is stellar storytelling.  Directed with skilled precision by Vincenzo Ricchiuto, the film reminds one of past iconic helmers of suspense, and thankfully, not unlike the film's lead character, this moviemaker has the gift of mayhem mastery.
"Employee Of the Month" – There's a light irreverence to the murder comedy that is Employee Of the Month that makes it almost impossible not to like.  So fun and engaging is killer office couple Jasmina Douieb and Laetitia Mampaka that their seemingly small homicidal indiscretions become almost…forgivable.  (Almost!)  With plenty of humor, a pinch of carnage, and a lot of getting even, this one definitely wins the office pool.  (And not just with blood!)
"Mad Heidi" – I definitely adore the whole Swissploitation angle of this cheddar fest send-up of Grade-B action flicks of the past, but at times Mad Heidi is a tad straight-laced. Meaning when the over-the-top bits rear their ugly and wonderful head, the film soars (the best/worse performance of the flick is Starship Troopers alum Casper Van Dien whose bad accent and overacting are just what the doctor ordered!), but some of the more somber moments just fail to hit the fun mark.  A flick that safely straddles the line between being good and bad, Mad Heidi feels like it needs to pick a cinematic side.
SHORTS
"When The Time Comes" – Emotionally effective and heartbreakingly moody short about a father/husband dealing with an ailing family in a time of apocalyptic mayhem – helmers Jondaniel Cornett and Jonathan Frey are true storytellers to watch for.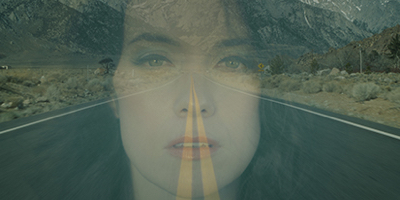 "The Recipe" – Savory and sinful dish about a lonely and underappreciated housewife who goes looking for something more…deadly – bon appétit! (BTW, that's genre and Human Centipede alum Ashlynn Yennie who steals the show as the lethal leading lady in question – good show!)
"Five Star Review" – Strange things are afoot at this home-sharing apartment – not five-star but you'll need to take a shower afterward.
"Wallpaper Man" – In a classic case of a child's imagination coming to life, the creepy creature brought forth by an abused child is a classic movie monster begging for additional twisted tales.  (More please!)
"The Hangman" – Creepy rope dude who walks on the ceiling and has an unsettling grin at all times – scary as shit.
"Buzzkill" – Not of the human variety, instead this tasty animated baddie goes the way of the pesky fly to hammer its horrors home.
"Witchy" – This cautionary tale for all cheaters actually manages to combine comedy, horror, moving moments, and a severed phallus – impressive.
"The Eyes" – A short that feels like something John Carpenter would have done in his early days (complete with 80's music and eye-popping effects!), helmer Mike Timm needs to get himself a feature going STAT!
"The Jogger" – Short about an ominous man following a young female jogger packs an emotional ending – guess cardio can be creepy.
"The Powers that Be" – Eerie little ditty that gives pause to those helping a stranger in need – powerfully effective.
"Cinefilia" – Cute and quick look at movie geeks who take it too far – funny even through the end credits.
"Baby Fever" – The after-effects of teenage pregnancy gone horribly awry – helmer Hannah May Cumming is one sick puppy.  (I bow!)
"Slasher Squad" – Short but utterly effective twist on the killer lurking outside scenario – more Adelaide Kane kicking ass in either motion capture or real life, please.
"Aftertaste" – Hell's Kitchen meets The Conjuring in the tale of a gal who is cursed with a mystical gift involving hungry spirits – should firmly go feature on this one.
"VRDLK: Family of Vurdulak" – This tale of a blowhard diplomat who finds that the stories of monsters run afoul are anything but fiction packs a piercing animated punch.
"The Last Christmas" – Trying to capture Santa may be naughty, but this short is nefariously nice.
"Ride Or Die" – An affliction that slows by speed?  Definitely want to see more from this creepy universe.  (Feature ASAP!)
"The Black reCat" – All the animations, puppets, and maquettes for this tale of killer cat curiosity are impressive – interested in what a feature-length flick with all these trimming would look like.
"Cruise" – Quick and quirky short that features a telemarketer nightmare – get them to take the free cruise or die.  (Help!)
"Baby Boom" – Odd little outing that features two male nightmares – a one-night stand with an infecting alien gal and having to give birth.  (Where it comes out of, I'll leave it up to the imagination!)  A little payback makes for good horror.
"Freebirth" – The debate of hospital vs. natural childbirth rages on with some notable results.  (Psychotic people take this stuff way too seriously!)
"Tislebu" – Wacky tale about an urban couple that relocates to a farm to get close to nature and become obsessed with a looming mushroom-like tree that oozes liquids in the barn – think watered-down Little House on the Prairie meets Cronenberg.  (aka odd indeed!)
"Role Play" – Rich in style but lacking in substance, this one-night stand from hell shows helmer Bill Neil simply needs a script to match his cinematic prowess.
"Naked Zombie Girl Is Back" – For a seemingly silly throwback to exploitation flicks of the past, complete with eye-popping, chainsaw-cutting blood and guts effects, this one is pretty somber.  (Lesson – never take such subject matter so seriously!)
"The Ratcatcher's Daughter" – In what seems like too much story crammed into a short space, this grim 1920s post-war Russia animated tale of lethal rats needs a feature to properly breed.
"The Days That (Never) Were" – Feeling more like an animated newsreel than a frightful fictional story this tale of impending earth doom isn't all that world-shattering.
"All You Can Eat" – Tainted burritos bite back – sadly not as fun as it sounds.
Still here kiddies?  Well, stay tuned to WhySoBlu.com for continued coverage of all things Screamfest Horror Film Festival 2022, and go to www.screamfestla.com to see what tasty movie table scraps are left – more to come!