January 18th, 2021 by Brandon Peters
Batman is back again in the DCAU with Batman: Soul of the Dragon. I believe this is two releases in a row for the caped crusader, following last year's A Death In The Family choose your own adventure thing-a-m0-bob. Like Gotham By Gaslight before, Soul of the Dragon is an elseworld story changing things up to try out some different style and substance. And honestly, that's where its at with me currently. I wish the live action films would get this crazy with Batman and stop taking him so dead seriously. But, don't get me wrong, Matt Reeves doing Batman excites me a lot and I'm there the moment it arrives. Soul of the Dragon arrives on January 25th on both 4K Ultra-HD Blu-ray and regular 'ol Blu-ray. There's a load of bonus features plopped onto this as well. You can pre-order from the paid Amazon Associates link below.
.

Film
Set in the midst of the swinging 1970s, this Elseworlds adventure finds Bruce Wayne training under a master sensei. It is here that Bruce, along with other elite students, is forged in the fire of the martial arts discipline. The lifelong bonds they form will be put to the test when a deadly menace arises from their past. It will take the combined efforts of Batman, world-renowned martial artists Richard Dragon, Ben Turner and Lady Shiva, and their mentor O-Sensei to battle the monsters of this world and beyond!
As I've made no secret of here, I'm all for doing "elseworlds", "what ifs", "alternate universe" and whatever kinda weird experimental offshoots one can do with Batman nowadays. He's a character that we all know quite well, up and down and all around. We've seen his story done well and straight as many times in good ways and bad ways. Sure there are different angles and filmmaker perspectives to tell it, but ultimately they like to play it safe. Whereas I am all about the strange. And when you tell me…Batman, but in a 1970s kung fu exploitation film…my mouth is just salivating and telling you that my money is already in your account.
One of the more interesting, and better choices, in Soul of the Dragon is to go more Bruce Wayne heavy on the story than Batman. And its quite fun to see him and this group of fellow students he trained with reconvening and "getting the band back together." This also helps to bring each of them to the front and center and really gives them all a bigger and more equal importance in the story. Bruce/Batman is very much a piece of this ensemble, and the film benefits from that.
Vibe and theme is very important to fulfilling the overall experience of the film. And they truly get so much of it right, its remarkable. Beyond just the music and "wachikas", sets and costuming, there's something about the way it was written and executed. Character dialogue feels like a relic of the era. Many of the angles, scenarios and movements work like an old kung fu film. The fight choreography is surprisingly calculated and detailed for an animation.
Batman: Soul of the Dragon is a blast. If you're a fan of Batman, Bruce Lee, Jim Kelly, Sonny Chiba or just flat out love yourself the 70s, punches, kicks and style, check it out. I'm hoping DC Animated Universe continues these stylish turns on their already very familiar characters in the catalog.
Video
Disclaimer: Screen captures used in the review are taken from the standard Blu-ray disc, not the 4K UHD Blu-ray disc.
Encoding: HEVC / H.265
Resolution: 4K (2160p)
Aspect Ratio: 1.78:1
Layers: BD-66
Clarity/Detail: Batman: Soul of the Dragon arrives on 4K Ultra-HD Blu-ray as a decent uptick from the standard Blu-ray, but not really huge jump. The colors are a little stronger, the image a bit finer, but overall it wouldn't convince anyone to jump formats. However, it still is the best way to view it at the end of the day.
Depth:  While a very 2D animated feature, there is a nice detached feeling from the characters and their backgrounds, as well as a good three dimensional pushback. Movements are smooth without any distortions from rapid motions.
Black Levels: Blacks are deep and natural. They do well with shading and definition of the characters. No crushing witnessed.
Color Reproduction: Colors are strong, looking bold and striking where they can. Its a more primary palette on display so everything is rather solid. There is a nice HDR glow added to some neon lights, fire and mystical beam things.
Flesh Tones: N/A
Noise/Artifacts: Clean.
Audio
Audio Format(s): English 5.1 DTS-HD MA, Spanish 5.1 Dolby Digital
Subtitles: English SDH, French
Dynamics: Batman: Soul of the Dragon has a rather impactful 5.1 mix. Its one that is well aware of the room/enviornment that characters are in. Battles are a whirlwind of depth, nice foley and good balance. While this isn't some big, thundering blockbuster Atmos track, this 5.1 still kicks enough ass.
Height: N/A
Low Frequency Extension: Crashes, punches, engines, kicks and things breaking all get a good rumble from the subwoofer as well as good beats in the score.
Surround Sound Presentation:  Much of the action is held up front, but once a big fight breaks out, its all fair game for the rear channels. Rears also provide good environment building with slight ambiance while also helping to bolster the score.
Dialogue Reproduction:  Vocals are clear and crisp.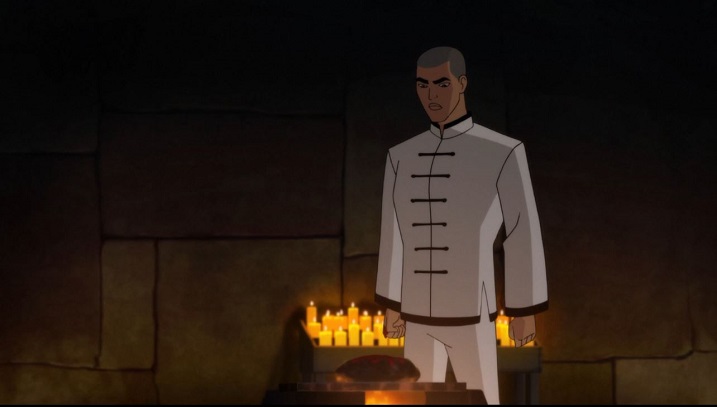 Extras
Batman: Soul of the Dragon comes with the standard Blu-ray edition and a redeemable digital code. Bonus features are found on the standard Blu-ray disc.
Batman: Raw Groove (HD, 30:30) – This is a nice piece that gives a bit of an overview of 70s history, culture, pop culture, kung fu and pretty much everything that influenced Batman: Soul of the Dragon.
Producer Jim Krieg's Far-Out Highlights (HD, 18:03) – This is the "Sneak Peak" featurette from the previous DCAU Blu-rays labeled as something else, but is a bit more in depth.
A Sneak Peak at the Next Animated DC Universe Movie, Justice Society: World War II (HD, 8:07) – The cast and some of the creators talk about the upcoming World War II set animated film that features Matthew Bomer and other recognizable people in the cast.
A Preview of Superman: Red Son (HD, 11:21) – An older featurette with people discussing the background of the animated Superman film.
A Preview of Batman: Gotham By Gaslight (HD, 8:30) – Same deal here but for Gotham By Gaslight.
From the DC Vault: Batman The Animated Series, "Day of the Samurai" (HD, 22:21) 
From the DC Vault: Batman The Animated Series "Night of the Ninja" (HD, 22:19)
Trailers – Deathstroke: Knights & Dragons: The Movie, Justice League Dark: Apokolips War, Mortal Kombat Legends: Scorpions' Revenge
Summary
Batman: Soul of the Dragon totally met my expectations and was a fun time I'm looking forward to digging back into again soon. It comes with a terrific audio and video presentation. There's a load of extras, including a great documentary about 1970s culture that is one of the better featurettes they've put on these animated films. Definitely pick this one up as its "all the things".
This is a paid Amazon Associates link