July 25th, 2021 by Brandon Peters
June saw the first half of the DC Animated Universe's adaptation of the seminal Batman comic book arc, The Long Halloween. It was a pretty big deal, as its been such an influential story any way you shake it regarding the caped crusader. And what better crew to have done it justice than that of the well regarded animation unit they have going on. This second half arrives to conclude things on August 10th. Aside from the Blue Beetle short if features no bonus features about the film itself. Please note, that there will also be a 4K Ultra-HD Blu-ray release later this year for the whole she-bang of Part One and Part Two for a complete The Long Halloween release for bats. If Blu-ray is your bag and just grabbing these two parts is it for you, go ahead and use the paid Amazon Associates link following the review to land yourself a copy in time for release.

Film
Inspired by the iconic mid-1990s DC story from Jeph Loeb and Tim Sale, Batman: The Long Halloween, Part Two continues as the Holiday Killer is still at large and, with Bruce Wayne under the spell of the venomous Poison Ivy, Batman is nowhere to be found. Liberated by an unlikely ally, Bruce quickly uncovers the real culprit: Poison Ivy's employer Carmine Falcone. The Roman, his ranks decimated by Holiday and his business spinning out of control, has been forced to bring on less desirable partners – Gotham City's rogues' gallery. In the meantime, Harvey Dent is confronting battles on two fronts: attempting to end the mob war while also dealing with a strained marriage. And, after an attack that leaves Harvey hideously disfigured, the District Attorney unleashes the duality of his psyche that he's strived his entire life to suppress. Now, as Two-Face, Dent decides to take the law into his own hands and deliver judgment to those who've wronged him, his family and all of Gotham. Ultimately, the Dark Knight must put together the tragic pieces that converged to create Two-Face, the Holiday Killer, Batman and Gotham City itself.
While the first part of The Long Halloween played as a nice detective story, the second half is a straight up action thriller. A police procedural mystery where the bad guys were suddenly in danger and the formation of Batman, James Gordon and Harvey Dent came together to figure it out. Its part of the dream Batman lore that fans clamor for. The ideal situation. This one puts Batman into action, things unfold and murder happens less patiently.
One of the better elements of Part Two, is the sort of nightmare fuel that injects itself into the story as well as the animation. Having both Poison Ivy, Scarecrow and Two Face be some of the prime antagonists in the story really just opens itself up into that territory. The animation takes a real haunting tone with some fun experimentation from villain to villain in the story. This version of the Scarecrow is particularly top notch and his stylings just beg you to watch this in the fall.
This second part of the story also has some great drama to play out in the film. There's some good stuff among the mob bosses. There's the obviously dramatics with how Harvey Dent's story plays out. But some of the best stuff comes from Batman questioning his own legacy and his parents' past dealings in Gotham City. Then there's a bit of his own dilemma with Catwoman, his feelings for her and whether he would ever want a partner or someone to open up to.
Batman: The Long Halloween is an important story and one that is of the ilk to be careful in touching when it comes to something the fanboys hold so dear. But understanding adaptation and seeing what they've done, I think the folks at DC Animation have really pulled this off. Particularly, I think its one of my favorite Batman ones they've done. Its a story with gloomy emotion, a big dark side, but they still manage to keep it moving, have fun characters and really keep as true to the source as they are able.
Video
Encoding: MPEG-4 AVC
Resolution: 1080p
Aspect Ratio: 1.78:1
Layers: BD-25
Clarity/Detail: A reminder that Batman: The Long Halloween – Parts One and Two will be getting a 4K Ultra-HD Blu-ray release later in the year. Part Two carries the same quality image transfer as the first did. Again, they've put it onto a BD-25. The image leaves some to be desired in terms of vividness and wanting a bit more fullness coming from the color. It has a bit of dingy appearance and a look that makes you feel like some backlit device hasn't been turned on. There are also some crushy blacks appearing intermittently in some darker areas of shadow and fabrics.
Depth:  While this feels a bit squished onto the BD-25, there is some good spacing on the characters and backgrounds for separation, especially in camera swings and such. Movements are smooth, with very little in the way of a blur/jitter distortion.
Black Levels: Blacks are deep and inky. There are some issues of light crush, likely due to the film being a bit compressed looking and put on a BD-25. I'm sure this'll be gone by time the 4K version arrives.
Color Reproduction: Colors pull through pretty nice with a very primary mix. Greens come strong as do reds. Very good attention to yellows all around with its hues and lighting.
Flesh Tones: N/A
Noise/Artifacts: Clean.
Audio
Audio Format(s): English 5.1 DTS-HD MA, French 5.1 Dolby Digital, German 5.1 Dolby Digital, Spanish 5.1 Dolby Digital
Subtitles: English SDH, French, German SDH, Dutch, Spanish
Dynamics: The 5.1 mix is pretty engaging, loud and has fun with the multiple channels. The mix is quite balanced with good depth and layering to it. From the quietest corners of sewer to the loudest bits of action, the mix really knows how to get a bang for its buck.
Height: N/A
Low Frequency Extension: Explosions, gunfire, punches, water splashing, crashing and more give a good bump from the subwoofer.
Surround Sound Presentation: There's a lot of fun to be had in many different arenas for the speakers. There are terrific ambient moments helped build from the rear channels. There's an alley fight with a lot of martial arts weapons whipping around that manage to travel throughout the speaker realm which is a lot of fun. This is quite an active, spaced out and detailed mix.
Dialogue Reproduction: Vocals are clear and crisp.
Extras
Batman: The Long Halloween – Part Two comes with a redeemable digital code for the film.
DC Showcase: Blue Beetle (HD, 15:30) – This is pretty fun with a very retro aesthetic.
A Sneak Peek at the Next DC Animated Movie, Injustice (HD, 7:48) – A look at this elseworlds story that came from a video game that has the DC heroes squaring off against one another.
A Preview of Batman: The Dark Knight Returns, Part 2 (HD, 6:53) 
A Preview of Batman: Hush (HD, 9:17) 
From the DC Vault: Batman: The Animated Series – "Two-Face Part 1" (HD, 22:17)
From the DC Vault: Batman: The Animated Series – "Two-Face Part 2" (HD, 22:30)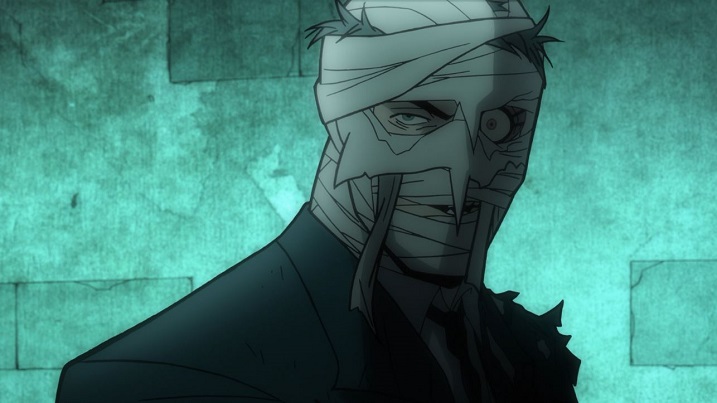 Summary
Batman: The Long Halloween – Part Two concludes the cartoon adaptation in fine fashion, holding up well with the first half's quality. The Blu-ray release for it is pretty much the audio and video quality you receive last time around, so nothing new to report there. The extras contain your typical look at the next animated movie, a short cartoon and a handful of rehashed bonus features. If you grabbed the first, you might as well grab the second. Together they make for a terrific Batman story, one of the best ever told.
This is a paid Amazon Associates link