December 8th, 2020 by Brandon Peters
Following up one of the best, most popular and acclaimed television series of all time is a tall task. After five seasons, Better Call Saul has made it look so easy. This penultimate season was delayed due to actor scheduling because they wanted to get the show "right" or how they intended it to go. And of course it was very much worth waiting some extra months. Sony has released the season on Blu-ray, as it came out on November 24th. My review is late as the review copies were delayed. Did everyone who purchased it receive it on time? I'm curious to know if this was a widespread delay on the disc. It comes with commentaries on every episode as well as featurettes that are both VERY insightful as well as just plain fun. Ordering it is as easy as clicking the paid Amazon Associates link that follows the review.
.

Season
In Season Five of the critically acclaimed drama Better Call Saul, Jimmy McGill's decision to practice law as "Saul Goodman" creates unexpected and profound waves of change throughout Albuquerque's legal and illegal circles. Kim Wexler finds herself at a crossroads as her connection with Jimmy deepens. Wracked with guilt and regret, Mike Ehrmantraut hits rock bottom. Meanwhile, Nacho Varga tries to survive as Gus Fring's covert war on the cartel becomes a life-and-death chess match with the mercurial and relentless Lalo Salamanca.
Its absolutely unbelievable that this prequel extension focused on a supporting character of Breaking Bad has been this phenomenal. Honestly, I expected good entertainment, but I never imagined it becoming the BEST entertainment. There is no milking here and zero fan pandering. Vince Gilligan has proven himself a master and really understanding this New Mexico drug cartel, fast food mafia, lawyer dramatics world he's crafted. Familiar faces have only arisen and become more of a factor as they have naturally been required to. Seeing as this is season 5, second to last, it makes sense that its becoming a lot more familiar now.
Perhaps the most brilliant move from Vince Gilligan was a simple one. Give us Saul, give us Mike, but keep the entire world here mostly all new characters populate this world. Therefore the stakes are now set. Since none of these folks appeared or are mentioned in Breaking Bad, we wonder "What happened to them?" Knowing how ruthless Gilligan has never shied away from being, we all just assume they'll be killed off before the show lowers its curtain. But, they can't kill all of them, right? There can be some very ugly and discomforting fates that don't include bullets to the brain.
The one I, and I'm sure most fans chew their nails regarding, am worried about it is Kim Wexler. Rhea Seehorn has really been the MVP of this show full of potential MVPs. Kim is a unique character and presence that honestly feels like no one else on television. Beyond being in a relationship with Jimmy, she's just a really admirable, respectable, loyal, tough and overall good person who won't deserve whatever awful fate awaits her. This season REALLY toyed with emotions about what danger she is in. My hope is that the show has somewhat of a happy ending for Kim and we meet or confirm she's still among the living via the black and white Gene subplot that typically book ends our seasons.
I'm both excited and sad that Better Call Saul will be hanging it up, but I trust Vince Gilligan's hand and I'm glad the show didn't over welcome its stay and came to do what it set out to. I won't call it util its over, but this show has managed to not only meet the bar and level Breaking Bad set, but also easily exceed it time and again. And I'd never imagined that was possible. Perhaps there are more New Mexico stories for Vince Gilligan to tell. I'm absolutely here for it.
Episodes
Magic Man
50% Off
The Guy for This
Namaste
Dedicado a Max
Wexler v. Goodman
JMM
Bad Choice Read
Something Unforgiveable
Video 
Encoding: MPEG-4 AVC
Resolution: 1080p
Aspect Ratio: 1.78:1
Layers: BD-50
Clarity/Detail: In its fifth season set on Blu-ray, Better Call Saul continues to have a beautiful image and motion picture quality that has showcased well on these Blu-ray sets. Its a nice jump from the broadcast look with a much crisper and fluid looking image with a much richer look in its colors. The image is bold and well detailed, showing really nice looks at the textures and patterns on all of the fancy suits as well as things like carpet, tables and other objects. Its a really beautiful looking image.
Depth:  Good depth of field with the characters looking free and loose in every environment. Movements are smooth, fluid and natural. No distortions really noticeable.
Black Levels: Blacks are really well saturated and rich. They get really deep in darker rooms. Detail holds strong enough and disappears where intended. No crushing was witnessed in this viewing.
Color Reproduction: Colors are really a highlight of this release. There are many colorful pieces of clothing, shirts, ties, suits, blouses, drapes, pool balls a pink bakery box and such that really burst and pop off the screen. Another strength are the regular rustic browns, grays and such.
Flesh Tones: Skin tones are natural and maintain an consistency from episode to episode. Details like lip texture, wrinkles, dried skin, make-up, glossy/oily foreheads and more come through perfectly clear.
Noise/Artifacts: Clean
Audio 
Audio Format(s): English 5.1 DTS-HD MA, French 5.1 Dolby Digital
Subtitles: English, English SDH, Arabic, Dutch, French
Dynamics: Better Call Saul is a rather straight drama, but it will contain action sequences with guns and car crashes throughout the season. This 5.1 track tracks things accurately with great sound engineering and wonderful ambiance to bring every environment to life. There is a good balance and nice intricate and detailed sound effect work, layering it into lifelike quality.
Height: N/A
Low Frequency Extension: Gunfire, doors shutting, soundscape hits and other noises will bring the subwoofer to a good boom.
Surround Sound Presentation: Saul is mostly focused on a front-heavy approach with accurate movements and placement. The rear channels aren't lying dormant, but they primarily provide ambiance while at times having activity where appropriate for unique sounds.
Dialogue Reproduction: Vocals are the bread and butter of this track and they promote a crisp and loud clarity throughout.
Extras
Better Call Saul: Season Five is a 3-disc set.
Disc 1
Audio Commentary
Magic Man – with Peter Gould, Jennifer L. Bryan, Larry Benjamin, Thomas Golubic and Chris McCaleb
50% Off – with Peter Gould, Norberto Barba, Alison Tatlock, Rhea Seehorn, Michael Mando and Mark Freeborn
The Guy for This – with Michael Morris, Ann Cherkis, Bob Odenkirk, Tony Dalton and Dean Norris
Deleted Scenes
Ethics Training with Kim Wexler (HD, 28:04) – A 10-part info series as produced by Saul Goodman (heard directing off screen), where Kim Wexler (Played by Rhea Seehorn) gives info-tape type advice to lawyers. Howard Hamlin even stops in for a segment.
Disc 2
Audio Commentary
Namaste – with Peter Gould, Gordon Smith, Mark Johnson, Diane Mercer and Skip Macdonald
Dedicado a Max – with Peter Gould, Jim McKay, Trina Siopy, Paula Dal Santo and Jonathan Banks
Wexler v. Goodman – with Peter Gould, Thomas Schnauz, Michael Morris, Patrick Fabian and Phillip W. Palmer
JMM – with Peter Gould, Melissa Bernstein, Alison Tatlock, Rhea Seehorn and Giancarlo Esposito
Deleted Scenes
Namaste (HD, 1:14)
Dedicado a Max (HD, :55)
Wexler v. Goodman (HD, :34)
Disc 3
Audio Commentary
Bagman – with Peter Gould, Vince Gilligan, Gordon Smith, Bob Odenkirk, Jonathan Banks and Dave Porter
Bad Choice Road – with Peter Gould, Thomas Schnauz, Melissa Bernstein, Diane Mercer, Marshall Adams and Cheri Montesanto
Something Unforgiveable – with Peter Gould, Ariel Levine, Mark Freeborn, Steve Brown, Al Goto and Valerie Chu
Deleted Scenes
Bagman (HD, 1:59)
Something Unforgiveable (HD, 2:24)
Gag Reel (HD, 5:48) 
Crystal Balls (HD, 8:59) – This one ponders what the fate of the characters who we never see or hear mention in Breaking Bad are.  Many predictions are made by the cast and crew.
The Effects for This! (HD, 1:57) – Before and after VFX comparisons.
The Good, The Bags and The Ugly (HD, 13:22) – From the "Bagman" episode section. This covers the ambitious yet challenging shoot for the episode that many felt was great but not eager to approach something like it again.
The Ambush (HD, 29:52) – From the "Bagman" episode section. Commentary style, Vince Gilligan goes in great detail about how this scene came together. He pauses and changes to effects tests and such and he gives his dissertation.
The Cannon Roll (HD, :59) – From the "Bagman" episode section.  All 6 camera angles from the car crash in the episode.
Tell Me Again (HD, 10:09) – From the "Bad Choice Road" episode section. This includes Bob Odenkirk, Rhea Seehorn, Tony Dalton, director Thomas Schnauz, producer Melissa Bernstein and others as they talk about how they blocked and prepared for the scene as actors and familiarized with the set and material. This is a fantastic examination and showcase of relationship, preparation and execution of just 1 scene and knowing the importance of it.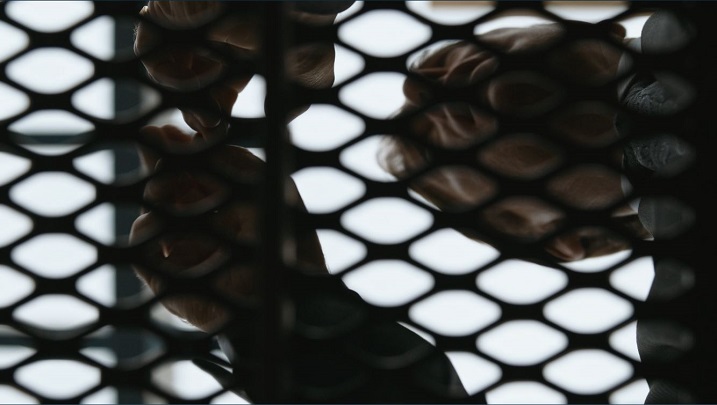 Summary
Better Call Saul continues to be one of the most marvelous shows on television and in turn, one of the most incredible prequel stories ever told. This fifth season offers some of the greatest suspense captured on any screen big or small. Sony's Blu-ray release features outstanding video and audio presentations and a wealth of terrific extras. An absolute worthwhile purchase, with every cent spent on it being totally worthwhile.
This is a paid Amazon Associates link