February 24th, 2020 by Gerard Iribe
Struggling through a seemingly endless creative rut, hard-partying and Los-Angeles-based artist Dezzy Donahue (Dora Madison, Friday Night Lights) can't stop the resulting bad streak of problems, including unpaid rent and professional stagnation. In an effort to combat her tough luck, Dezzy throws caution to the wind, indulges in heavy drugs and rages her nights away. Her kinda/sorta boyfriend, Clive, is concerned while her debauchery-minded friend Courtney and her enigmatic hubby Ronnie keep feeding Dezzy s darkest urges. Gradually, though, the party starts to end, and in its place, Dezzy finds herself thirsting for blood and suffering from terrifying visions. Having never been one for moderation or self-control, she's unable to resist her newfound dangerous impulses. And that's very bad news for everyone in her life, all of whom are filled with the red liquid she now so desperately craves.
Film
Dezzy Donahue (Dora Madison) is a brilliant Los Angeles based artist. She's a brilliant painter but has hit a bit of rut and can't come up with her next masterpiece. Her bills and rent are way past due and she's just been dropped by her agent. One night after a night of partying with the wrong people she's dragged into a world of the living dead – vampires, to be exact.
Dezzy becomes addicted to "bliss", which turns her into a literal drug fiend. She has cravings that she can't control, but she also kicks her art career into high gear, and before she knows it, her agency comes back to represent her. Not only does she become successful again, she turns into a creature of the night that can only be satiated by drinking human blood. Bring on the night!
Bliss was, excuse the pun, a wild trip! I blind-bought the film after watching the trailer and seeing that Eureka! Masters of Cinema had secured the UK rights — I would definitely be importing it.
The two main independent directors, that Bliss' writer/director Joe Begos is now being compared to, is that of Abel Ferrara and Gaspar Noé. I would go one further and complete the trifecta by including Alex Cox. The sheer kinetic force of Bliss knocked my socks off. It's a loud and voracious piece of independent horror filmmaking that is destined to play the grindhouse circuit for years to come.
If there's a anything negative to say about Bliss is that some of the acting can get a little sketchy in parts, but not enough to make me lose interest. Bliss is the perfect "midnight madness" type of film. Dora Madison is killer as Dezzy and the overall film works as the perfect L.A. vampire film.
*Feature film DISCLAIMER: This film contains flashing images that may cause discomfort or trigger seizures for people with with photosensitive epilepsy. Viewer discretion is advised.
Video
Encoding: MPEG-4 AVC
Resolution: 1080p
Aspect Ratio: 2.39:1
Clarity/Detail: You don't see this too often but Bliss was shot on 16mm film, so props on that. There are moments of grit, but during the more psychedelic scenes the print really shines! Contrast does tend to get blown out a bit but it's part of the hazy aesthetic of the film — it's not a fault.
Depth: Bliss has plenty of depth with regards to the print. During the many scenes involving hallucinations and what not – the print becomes absorbing.
Black Levels: There are many scenes in the darkness but the black levels stay true to the source — they're deep, inky, and free of crush for the most part.
Color Reproduction: The color palette is rich with color, especially those primaries. Was the secondary colors kick in during the hallucinations and various "highs" – it takes on an almost neon sheen. All of this is accomplished without banding or pixelation.
Flesh Tones: The living and the dead have great tans, but this just means that they live in Los Angeles. The Blu-ray handles everyone's complexions nicely, though.
Noise/Artifacts: The grain structure for Bliss is awesome. Anomalies, debris, noise, etc., was not an issue.
Audio
Audio Format(s): English DTS HD-MA 5,1, English LPCM 2.0
Subtitles: English SDH

Dynamics: The DTS 5.1 lossless soundtrack rocks hard! I did not get a chance to sample the LPCM 2.0, so for all intents and purposes, I speak highly of the 5.1 track. It's an aggressive soundtrack that lovingly pummels you into submission with the hard rock and metal track spread throughout. Vocals are nicely centralized.
Low-Frequency Extension: The LFE subwoofer channel handles the dread of the night with expert bump. There are many scenes involving dead, destruction, and tunes. The bass definitely hits your face.
Surround Sound Presentation: The rear surround channels serve the non-action-oriented scenes with care, but peak during those scenes featuring feedings, sex, and rock 'n roll delusion.
Dialogue Reproduction: Dialogue levels are clean, clear, and crisp. I could hear everyone's screams of passion and terror quite clearly. Even the songs played throughout had clear and distinct vocals.
Extras
Oh man, not only do you get a commentary track on this Bliss Blu-ray special edition from Eureka! Masters of Cinema – you get, count them, THREE audio commentary tracks! Everyone watching is having a ball. A deleted scene and trailer round out the special features.
Brand new audio commentary with film historians Kat Ellinger and Samm Deighan (Daughters of Darkness podcast)
Audio commentary with director Joe Begos and actress Dora Madison
Audio Commentary by director Joe Begos, producer Josh Ethier, and the Russell FX team
Deleted Scene
Trailer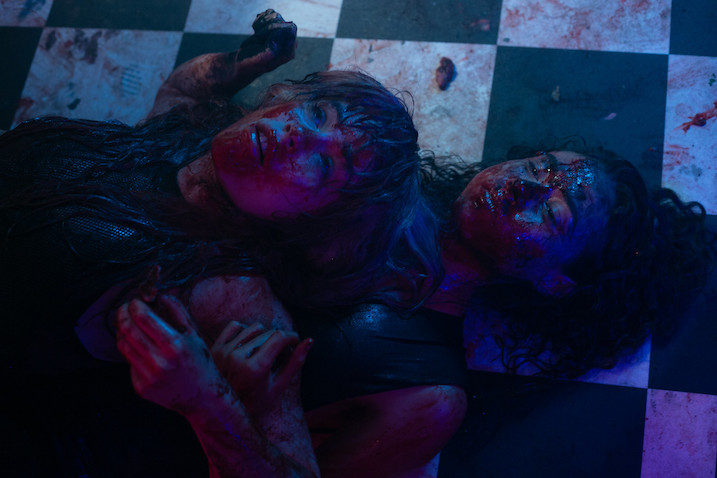 Summary
Bliss was such a blast in Blu-ray horror entertainment! I went and acquired the superior Eureka! Masters of Cinema release and was lucky enough to get one the limited editions that were only limited to 1,000 copies. They are no longer available, but the regular edition is still up there for grabs. Bliss features stellar video, sound, and supplements. I'm looking forward to Joe Bego's next project, but until then, take a bite out of Bliss!
DISCLAIMER: This Region B Blu-ray review was judged and graded using the following HD Premium television set found HERE and Region-Free Blu-ray player HERE.  Make sure to check out all of our Blu-ray reviews archived HERE.  The images used above within the review are not actual Blu-ray screenshots. They are for illustrative purposes only.
Bliss is available on
Blu-ray via Amazon UK