November 9th, 2022 by Brandon Peters
The King is making his debut on 4K Ultra-HD Blu-ray. When Paramount Presents launched a pair of years ago, they did so with the Elvis Presley. Now, he's back with the debut of Blue Hawaii on the format. The new edition features a 4K restoration from the original negative. It comes with a standard Blu-ray, a digital copy and the collectible slip cover packaging that the Paramount Presents line is known for. New extras include a film historian commentary and a scrapbook full of high resolution never before seen or not seen in a long while behind the scenes shots from the film that came straight from the Paramount vault. You can pre-order yourself a copy of this seminal Elvis film on 4K using the paid Amazon Associates link at the end of this review.

Film
After being discharged from the U.S. Army, cool guy Chadwick Gates (Elvis Presley) returns home to Hawaii. Following several years of strict military life, Gates wants nothing more than to hang loose and surf all day. His family pressures him to work for the family pineapple business. Much to the chagrin of his snobby mother (Angela Lansbury), Gates lands a job as a tour guide at the same company where his girlfriend, Maile (Joan Blackman), also works.
Blue Hawaii has Elvis hitting the beaches and bringing some sand and waves to his repertoire. The film has some gorgeous scenery to go with some colorful stylings. The film is pretty to look at as it is to hear.  While not the greatest film in the world, its knows what it is and does very well in the areas it sees as strengths. We dive into the flashy clothes, eye candy beach sequence and lean onto the musical brilliance of Elvis Presley.
Its a rather simple film in its structure and presentation. Blue Hawaii is presented in your prototypical musical format. There's a simple little way it works and you honestly feel like you're watching a local stage play at times even though the film's visuals don't really suggest that at all. Its something in the simplicity of the drama and the showy way its played on paper and in performance. And its a musical where pretty much one person is doing the numbers.
If you're a fan of Rodgers and Hammerstein musicals, Blue Hawaii feels like it folds into that kind of mold. It almost feels like a companion musical to their South Pacific. Elvis is fun to watch, and even if he isn't the world's greatest thespian, the man has an inhuman amount of charisma that radiates off of the screen. And Blue Hawaii will probably be forever notable for giving us "Can't Help Falling In Love", one of Elvis (And let's face it, the history's) most legendary songs.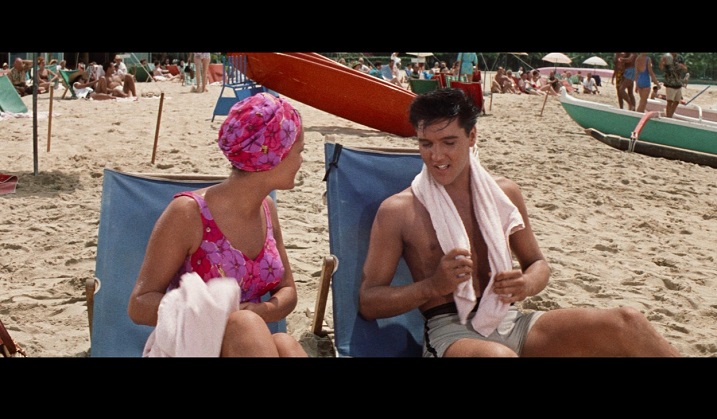 Video
Disclaimer: Screen captures used in the review are taken from the standard Blu-ray included with this release, not 4K UHD Blu-ray disc.
Encoding: HEVC / H.265
Resolution: 4K (2160p)
Aspect Ratio: 2.35:1
Layers: BD-66
Clarity/Detail: For its debut on 4K Ultra-HD Blu-ray, Paramount says this about Blue Hawaii:
For the restoration, the original negative was scanned in 4K/16bit, however the opening title sequence was very grainy because it originally used duped film.  That sequence was completely rebuilt using the original film elements from the Paramount library.  Brand new text overlays were created for a truly spectacular opening sequence befitting this delightful film.
And boy, does this film look absolutely beautiful. Its colorful, and so open with wonderful depth. Details are very strong in this very crisp and luscious image.
Depth: Depth of field is incredibly strong here, with good spacing and an impressively three dimensional looking array when the camera pans around. Scale is well presented here. Motion is smooth and filmic with no issues coming from any rapid movements or action.
Black Levels: Blacks are deep and natural and really provide some great shadow, shade and even pull of the day for night shots with good fervor. Details remain strong even in the darkest corners of the frame. No crushing witnessed.
Color Reproduction: Colors are marvelous here and have a technicolor beauty to them. Reds, blues, greens, purples, yellows, you name it…they pop right up off the screen. The contrast in areas really sets them off in nighttime sequences. They also have a natural look to them and some great saturation that really shows off what a lovely restoration/presentation has been put together here.
Flesh Tones: Skin tones are natural and consistent from the opening number to the last one. Facial features and textures are impressive as you can see make-up, sweat, stubble, scarring, moles and more with ease.
Noise/Artifacts: None
Audio
Audio Format(s): English Restored 5.1 Dolby TrueHD, German 2.0 Mono Dolby Digital, French 2.0 Mono Dolby Digital
Subtitles: English, English SDH, French
Dynamics: There's a brand new 5.1 track here on Blue Hawaii and it sounds wonderful. Its quite loud and playful. The music is well balanced in with the normal dialogue stuff. There's just a really good touch here that sounds of its era with enough modern touch to make it more loud, clean and impactful when you take it in.
Height: N/A
Low Frequency Extension: The bass really hums nicely with the music and also has some accurate impact levels for regular effect sounds in the foley throughout.
Surround Sound Presentation: With this mix there's some really eventful and powerful travel around the room. Its also playful with things like car horns or door knocks feeling like they are really coming from within your home. A lot happens up front but don't sleep on the rear channels as they have great ambiance and some nifty contributions throughout.
Dialogue Reproduction: Vocals are clear and crisp.
Extras
Blue Hawaii in first pressing, comes with a slip cover that folds open to reveal the original poster art for the film. It also comes with the standard Blu-ray disc and a redeemable digital copy. All bonus material found on the standard Blu-ray disc.
Audio Commentary
by Historian James L. Neibaur
Blue Hawaii Photo Scrapbook (HD, 5:29) – Set to some music from the score of the film, this gives a look at the shoot. We see stuff like Elvis arriving places, signing autographs, promo shots and more. All photos are in black and white.
Original Theatrical Trailer (SD, 3:14)
Summary
Blue Hawaii is of the stronger and more memorable efforts from Elvis Presley's film career. Paramount adds it to the 4K wing of the Presents line with smashing success. Their restoration in both the video and audio presentations are absolutely fantastic. There are also some nifty worthwhile extras chipped in here to boot. This is a really nice collector's item to have in any collection.
This is a paid Amazon Associates link