November 13th, 2023 by Brandon Peters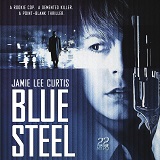 One of the more overlooked films in both the resume of Jamie Lee Curtis and Kathryn Bigelow is that of 1990's police thriller Blue Steel. When it comes to Blu-ray in the United States it is overlooked no more as Lionsgate brings it to its Vestron Video Collector's Series line. They are giving it the works with a load of new bonus features and some cool vault material. Sadly, no new Jamie Lee Curtis or Kathryn Bigelow interviews or commentaries are part of that, though. Blue Steel – Collector's Series arrives on November 14th. You can order yourself a copy (at a wonderful low price) by using the paid Amazon Associates link at the bottom of the review.
.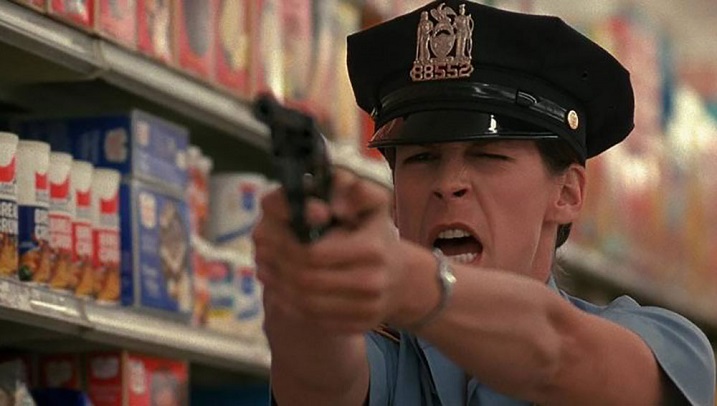 Film
This classic '90s thriller directed by Kathryn Bigelow (Zero Dark Thirty) stars Jamie Lee Curtis as newly minted NYPD officer Megan Turner, who responds to a grocery store robbery – and kills the perpetrator – her first day on the job. But Megan's uncorroborated story of the shooting gets her suspended from active duty when the stickup gun mysteriously vanishes. Enter a charming-but-disturbed commodities trader (Ron Silver), whose obsession with Megan threatens to destroy everything she holds dear, pushing her into a desperate fight to salvage her reputation… and save her own life.
Kathryn Bigelow's police thriller Blue Steel is a film of many underlying themes and big in its stylish appearance, but its also quite enjoyable on a surface level as well. It isn't afraid to lean on some B-level goodies to marry with some legitimately good dramatic sequences and character work. There is a fun cast here that feels both of its time and a unique grouping of people you wouldn't see pairing up for any movies after this one. Sort of a lightning in a bottle experience, the film has only aged well with time and unveiled its merits the further it moved from its initial reception.
Jamie Lee Curtis provides one of her top performances here as officer Megan Turner. Its a whirlwind of growth, challenge and emotion as we see her thrust into such an unthinkable and almost no-win situation. Curtis provides the bravado and bravery to do the heavy action lifting, but also shows strengths in both her vulnerability and character frustrations within. She may have some ideals and methodology unfitting or surprising to today's times, but through this story we still have no problem in finding a connection and finding ourselves easily on her side of the coin.
Blue Steel is definitely a film that has a vision and a voice and that's due to the helming of it by one of our finest in mainstream entertainment directors, Kathryn Bigelow. This is her third film and she has a complete grasp on the whole thing. Its a film that is lovely to look at while also able to convey and emotion and engaging feeling with the audience through its appearance and camera angles and movement throughout. One thing pointed out on a bonus feature that was incredible to me was that many of the sets in the film were build or designed to reflect a gun or part of the gun's look or function. While some may just see a cop thriller with a touch of camp, there is actually a much deeper, thought out work here thanks to having someone with such talent and vision as Bigelow at the helm.
Cop dramas wind up taking a turn into the detective serial killer procedural in the 1990s and it feels like Blue Steel might have been a film bridging things like Vice Squad and Silence of the Lambs. Its not as grime dashed and grindhouse as the former, but it has the touches. There is also the stylish flair of that of a Jonathan Demme here in full force. Blue Steel is a terrific film with plenty to say and a rewarding experience and more appreciation built with every return to it.
Video
Disclaimer: Screen captures used in the review are from promotional images supplied by the studio, not the Blu-ray disc.
Encoding: HEVC / H.265
Resolution: 4K (2160p)
Aspect Ratio: 1.78:1
Layers: BD-66
Clarity/Detail: Blue Steel arrives on Blu-ray in the United States for the first time with a very nice looking transfer. There are no details provided on it and I'm not sure if it is the same as the Via Vision Imprint release from recent years. This forgoes its original aspect ratio to fill the screen, but it does so with a filmic looking image that carries some specs from time to time and a nice layer of rain. Details are pretty strong as you can make out some of the finer details in the crisp image.
Depth:  Depth of field is above average. While there's a big city on display here, its more claustrophobic film by design. Interiors do boast some decent pushback. Movements are fluid and smooth with no issues arising from rapid action scenes causing distortion.
Black Levels: Black levels are pretty impressive here. They are deep, rich and really help bring the image together. Much of this movie is at night or in darker areas and it handles it with easy and carrying on the details no matter how dark the surface or area. No crushing witnessed.
Color Reproduction: Colors are more natural and rustic, boring by design. True to the title, the blues do show strong as does the red blood. Where colors really pop is on display screen and lights.
Flesh Tones: Skin tones are natural and consistent from start to finish. From close up and medium shots you get a lot of finer textures and details like freckles, scars, stubble, moles, lip texture, blemishes and more.
Noise/Artifacts: Clean.
Audio
Format(s): English 2.0 Stereo DTS-HD MA
Subtitles: English, English SDH, Spanish, French
Dynamics: Blue Steel has itself a very loud and engaging 2.o stereo track that really fills the room with limited speaker action. The low end stuff impresses, especially in the score. The depth and layering here is solid with foley effects and like coming across as airy and present. Balance is strong with everything from vocals to music to effects working together and taking center stage when the bigger moment calls for it.
Height: N/A
Low Frequency Extension: N/A
Surround Sound Presentation: N/A
Dialogue Reproduction: Vocals are clear and crisp.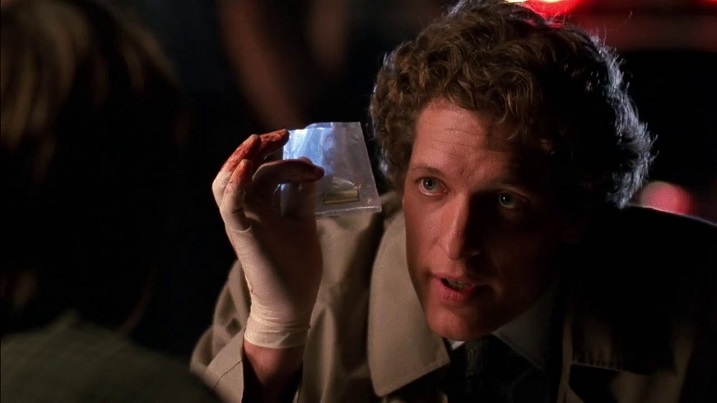 Extras
Blue Steel – Collector's Series comes with a redeemable digital code. While some of the marketing materials are encoded in HD, some of definitely from an SD/VHS source.
Audio Commentary
with Film Historian Alexandra Heller-Nicholas
A Hired Gun With Editor Lee Pacey (HD, 10:36) – Pacey mentions that Kathryn Bigelow is very involved with her process and was with him during the process. He goes over his journey ("Every kid always wants to be a writer or director") as to how he got be where he was, which includes discussing a friend working on the bonkers movie Roar. There are discussions on the lenses in the film and how tough it was because it was all long lenses, and Bigelow was an expert at putting the audience in a situation that was out of control. Pacey also really puts in perspective why there is such an artistic difference in film vs digital that has nothing do with the technology itself.
The Phallic Woman: Deconstructing Blue Steel with Film Historian Professor Jennifer Moorman (HD, 19:34) – Moorman has a fantastic and very engaging analysis of the film from looking at the idea of the gun and the female police officer. We have it reflected from the obviousness of Jamie Lee Curtis and Ron Silver characters, but also a look at Kathryn Bigelow dealing with maybe some of her own challenges as an attractive female director in her field. She brings up a comparison it has to fitting to that of being a slasher film. There are plenty of other topics gone over as well, with societal ideologies and the police as a force of violence and how the film maybe has some misguided moments in its resolution.
Staring Down the Barrel with Production Designer Toby Corbett (HD, 9:01) – "It's all about the gun". He was highly recommended to Kathryn Bigelow after his work on The Prince of Pennsylvania. There are some nifty elements he points out that you wouldn't really pick up on, like the diamond pattern in Jamie Lee Curtis apartment and the pattern on the handle of the gun in the film. And not just that, many of the sets where designed or scout based on the design of a gun. He admires Bigelow for her films feeling like her, but having a unique look and feel. And again, there's a mention of Bigelow favoring long lenses.
A Profound Emotional Response: A Video Essay by Film Historian Chris O'Neill (HD, 12:33) – This audio essay (with clips playing throughout) goes through the plot of the film, reactions of the time and why they may not have been accurate, and includes plenty of quotes and pulls from interviews and articles about the film and its players. It also includes O'Neill's analysis, comparisons and deep dive into the psyche of the film and its creators.
Theatrical Trailer (HD, 1:05)
Japanese Theatrical Trailer (HD, 1:51)
International Video Teaser (HD, :55)
TV Spots (HD, 1:03)
Vintage Promo (HD, 4:38) – This includes some behind the scenes footage as well as some on-set interview snippets from Jamie Lee Curtis and Kathryn Bigelow.
Still Gallery (HD, 8:05)
Summary
I've long been a fan of Blue Steel and its nice to see it not only finally get a Blu-ray release in the United States, but getting the kind of quality treatment it should have. The presentation is terrific from both the audio and video and (barring an interview/commentary from Bigelow or Curtis), these extras are great. With the price it has upon its release, this is an easy Day 1 pickup for fans of the film or even those who are just curious.
This is a paid Amazon Associates link