January 22nd, 2020 by Brandon Peters
I was a bit too young when Body Parts, the latest Scream Factory vintage horror release, came out in theaters to be fully aware of it. I mostly remember the VHS box art and it being a rental house staple. Kind of rightfully so, as the movie didn't really make a squeak at the box office in 1991. However, I was aware of Jeffrey Dahmer, like everyone else, in 1991. Eric Red's Body Parts slightly tied into that apparently as it was required to remove billboards in Wisconsin after the Dahmer's dismembered bodies were found under his home. The film is seeing its first Blu-ray release, thanks again to Scream Factory's recent ability to dive into the Paramount catalog. And this one is loaded with some new interviews to go with the new presentation as well. It'll arrive on January 28, and you can purchase it from Shout Factory's website or by using the Amazon link following the review (Which is a paid Amazon Associates account link).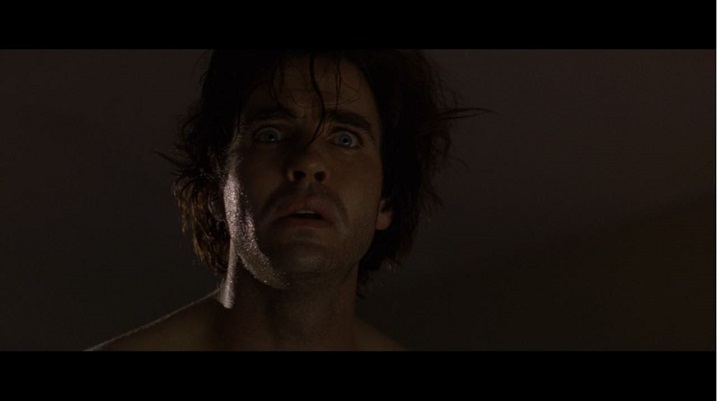 Film
Body Parts is a tale of a medical experiment gone very wrong. Bill Chrushank is a criminal psychologist who loses his arm and nearly his life in a grisly car accident. A daring medical operation follows, in which a donor's arm is successfully grafted onto Bill's body. But after the operation, the arm starts to take on a violent life of its own, striking out against Bill's wife and children. Consumed by fears about his dangerous behavior, Bill is driven to learn the donor's identity – and makes a horrifying discovery that delivers him into a world of unimaginable terror. Written and directed by Eric Red (Cohen & Tate, Bad Moon), this thriller stars Jeff Fahey (Alita: Battle Angel) and Brad Dourif (Child's Play, Graveyard Shift).
At the heart of 1991's Body Parts is a terrific Twilight Zone style premise and hook that finds itself swimming to interesting turns and ideas that don't always see a full realization and maybe leave a little on the table. Overall, that's more of afterthoughts as watching the film is a nifty, thrilling and winding little adventure. If you're one to wax nostalgic on vintage horror, this is a neat little one to check out. It comes from that "doomed" period of the 1990s that was pre-Scream. Eric Red's film is one that probably isn't held at the top of the barrel of the ones that prove the exception to the rule, but it also show the also-rans or lesser seen ones at least brought something interesting to the table and proved to have some fun.
Jeff Fahey headlines a cast that also includes Brad Dourif and Kim Delaney. Dourif is a treat here when he shows up and gives the film a little shot in the arm. In fact, its this section of the film where the plot offers its most interesting aspects. Crafting together a team of people with the "body parts" and coming together to share in their personal changes and experiences. It almost has the sort of making of or is similar to a Final Destination film when all the survivors of whatever they weren't supposed to survive finally group together and discuss what is happening to them. I almost wanted this to be a super team matchup thing and there is a fun bar fight that occurs. This whole thing a weird bit, but works here and is the most fascinating extra bit going on in the film.
One touch that I think Eric Red excels at here is his action sequences. These are quite effective and you feel a bit of the rush or the impact of a chase or destruction. The opening crash that sends us into this spiral is pretty brutal without being overly graphic. Late in the movie there is a terrific car chase with a unique angle. Not to mention some good gunplay happens in this film too. This all feels out of the Maniac Cop 2 playbook and I mean that in a sincere form of high praise.
There is plenty to like and appreciate in Body Parts and it likely didn't get proper due and respect in 1991 upon release.  I'm not saying its some underseen, underappreciated masterpiece, but its a pretty darn enjoyable film and might be just the treat to satisfying your evening with a watch. I don't mean to harp on this comparison again, but I really do think it would pair well as a double feature with Maniac Cop 2 for some reason.
Video
Encoding: MPEG-4 AVC
Resolution: 1080p
Aspect Ratio: 2.40:1
Layers: BD-50
Clarity/Detail: Details of the transfer aren't made apparent for the Blu-ray debut of Body Parts from Scream Factory. However, the image isn't really much to write home about. I'd guess this was just an existing HD master. Its pretty solid, with some accurate sharpness to go along with solid details and textures protruding through. Its not a movie striving on color so it has a more natural "boring normal" look to it. There is a solid presence of grain in the image.
Depth: Solid, just above average foreground/background depth of field relation. Movements are natural and cinematic with no motion distortion issues.
Black Levels: Blacks are pretty well displayed here, with an edge more on the natural side (thanks to being a film source) and don't really have any issues with crushing or masking details.
Color Reproduction:  As mentioned above, the palette of color is the prettiest, but it takes care of the regular stuff (Browns, grays, etc) decently. Blood, as you could predict, gives red a little more of a standout flavor.
Flesh Tones: Skin tones are natural and consistent from start to finish of the film. This pretty much goes by the old rule of the closer shot is to the human, the better and more detail you're going to make out.
Noise/Artifacts: Clean
Audio
Audio Format(s): English 5.1 DTS-HD MA, English 2.0 Stereo DTS-HD MA
Subtitles: English
Dynamics: Body Parts comes with a nice lossless 5.1 mix that is loud and with good clarity to help bring the movie to life. This has a really precise and well balanced mix with good, pronounced but well maintained sound effects that add to the depth of every seen. It really enjoys the score as its quite pronounced when it needs to be and digs deep into the LFE to give it some overall heft.
Height: N/A
Low Frequency Extension: There are some nice bumps and crashes here in this mix, as well as a moment with a heartbeat mixed in that allows the subwoofer to show a range of decent power and restraint.
Surround Sound Presentation: While most of the movie has the audio hanging out up front (With great placement and back and forth sound travel), there are some good touches in the rear channels as well as some good help with onscreen accuracy for things come in from the back.
Dialogue Reproduction: Vocals are plenty clear and crisp with a good prominent stance in quieter moments of the film. There's a slight presence of an analog hiss in moments.
Extras
Audio Commentary
Interview with Eric Red (HD, 52:15) – Red opens with his youth going to movies with his grandmother and being inspired from growing up in 1970s New York. "When you saw a movie with the right Times Square crowd…it was extraordinary…immersive." He's really drawn to audience energy watching a movie to informing his work. "I don't make art or personal films, I make films that are entertainments." Red then takes us through bit by bit on the production of Body Parts, touching on casting, specific people who worked on the film, certain sequences, reshooting the ending and the wide release of the film in 1991.
Interview with Anthony Redman (HD, 22:32) – Redman gives us his bridge to his desire to work on movies, a movie palace that he used to stare out and from recess. "My dad used to take me on Saturday mornings to the theater in my pjs". He knew he was destined. Redman is a pretty candid guy and bluntly, loosely and most of all in a friendly fashion gives us an honest tale of what led his career to Body Parts and his contributions.
Interview with Paul Ben-Victor (HD, 13:40) – His background begins with being a musician. First a drummer then finding an interest in theater. "As soon as I got to high school, I became Mr. Sing". Paul doesn't remember how he landed the gig, but remembers having to send in a tape for audition using Charles Manson as a bit of his inspiration. He doesn't use a cerebral approach to his work but lets the writing move through him. There is then him discussing the director and other parts of his experience in the film.
Interview with Peter Murnik (HD, 17:14) – "I went for the summer in 1985 and never left" as he describes his push to leave New England in the pursuit of harnessing his craft. He talks his up and coming and working on commercials with Michael Bay and David Fincher, with Body Parts being one of his first big movies. Murnik goes through what it was like working with significant players on the film ("When I saw I was in a movie with Brad Dourif, I knew I had made it!") and is a very positive and fun guy to hear describe and talk about the work he does.
Deleted Footage with optional commentary (HD, 10:03) – Source looks to be SD. Includes much more gore.
Trailers (SD, 4:07) 
Image Gallery (HD, 2:44) 
Summary
Body Parts is a nifty little 90s horror thriller with a great hook and some fun action/horror sequences to make for a nice retroactive find. Scream Factory bring's Paramount's 1991 film to Blu-ray for the first time with a solid presentation featuring a nice video transfer and an impressive 5.1 track. The real treasure lies in the extras with four excellent interviews to go along with some cool unused footage from the film. Fans will be happy and some new ones will definitely be found with this Blu-ray release of Body Parts from Scream Factory.
This is a paid Amazon Associates link