November 24th, 2020 by Brandon Peters
During my first year working in DVD quality control, one of the coolest things we worked on were the Warner Bros sets of the Looney Tunes Golden Collection. These things were a master class on the shorts, coming with great bonus material, conversations about racially insensitive material and more. Top to bottom, an entertainment and education in Looney Tunes. They were a hot item too and are now largely out of print. With Blu-ray, Bugs Bunny, Taz, Daffy Duck, Tweety, Wiley E. Coyote and the gang have been quite absent. Now, to celebrate the 80th birthday for Bugs Bunny, the first step has been made. In the Bugs Bunny: 80th Anniversary Collection, 60 original shorts have been restored proper to go with a new documentary, bonus cartoons and much more in this excellent box set from Warner Bros that includes an exclusive Funko Pop. Fans can only hope that maybe they take a character by character approach and a Daffy Duck or Roadrunner set could be on the horizon. This arrives December 1st and can be pre-ordered now from the paid Amazon Associates link below!

Collection
Bugs Bunny first hopped onto the screen in 1940, and he's been a pop-culture icon ever since. Multiple generations have enjoyed the timeless antics of the carrot-munching wise guy who always outsmarts his rivals. Cartoons, movies, TV comics, music, sports and more – this wascally wabbit has done it all. Clever pranks and one-liners are here, along with interviews with today's most renowned animators, historians and superstars. Enjoy the full range of his silly and smart-alecky personality with 60 theatrical shorts, restored and remastered to their original 4×3 aspect ratio, on Blu-ray for the first time. Its just what the doctors – er, doc – ordered.
I was fortunate enough to grow up in an era where Nickelodeon and others were rerunning the Looney Tunes theatrical shorts in the form of a half hour animated programming slot on television. They were always a favorite of mine and I enjoyed Bugs, Daffy and the Roadrunner stuff the most. This collective bunch was a different breed than the Disney characters and Hanna Barbara folk. Looney Tunes basically gave you a variety of jackasses, but jackasses that really focused their menace on bad people. It was was, instantly quotable and drove you to do impressions of the characters.
Revisiting a lot of these shorts for this set instantly brings back that feeling and the humor holds up so well. Now, there's a lot of it that might too dated for kids to get the EXACT frame of reference (There are a LOT of mobster movie/actor nods), but I think the overall narrative and characters still work. There's a sort of ageless wonder that comes with them. I also yearned a lot for the other characters to have their own sets. They do show up here, but an abundance Roadrunner, Tweety & Sylvester or Duck Dodgers cartoons would be a great addition or change of pace.
This set carries a whopping 60 SHORTS and then 10 more modern bonus cartoons. Its quite astounding. They are all short though, the classics ones never lasting over 10 minutes. Here's a look at what you can expect from the release!
Disc #1:
1.Elmer's Candid Camera
2.A Wild Hare
3.Hold the Lion, Please
4.Bugs Bunny Gets the Boid
5.Super-Rabbit
6.Jack-Wabbit and the Beanstalk
7.What's Cookin' Doc?
8.Bugs Bunny and the Three Bears
9.Hare Ribbin
10.The Old Grey Hare
11.Baseball Bugs
12.Hair Raising Hare
13.Racketeer Rabbit
14.Bugs Bunny Rides Again
15.Haredevil Hare
16.Hot Cross Bunny
17.Hare Splitter
18.Knights Must Fall
19.What's Up Doc?
20.8 Ball Bunny
Disc #2:
1.The Rabbit of Seville
2.Rabbit Every Monday
3.Fair Haired Hare
4.Rabbit Fire
5.His Hare Raising Tale
6.Hare Lift
7.Upswept Hare
8.Robot Rabbit
9.Captain Hareblower
10.No Parking Hare
11.Yankee Doodle Bugs
12.Lumber-Jack Rabbit
13.Baby Buggy Bunny
14.Hare Brush
15.This is a Life?
16.Rabbitson Crusoe
17.Napoleon Bunny-Part
18.Half Fare Hare
19.Pikers Peak
20.What's Opera, Doc?
Disc #3:
1.Bugsy and Mugsy
2.Show Biz Bugs
3.Hare-Less Wolf
4.Now, Hare This
5.Knighty Knight Bugs
6.Hare-Abian Nights
7.Backwoods Bunny
8.Wild and Woolly Hare
9.Bonanza Bunny
10.People are Bunny
11.Person to Bunny
12.Rabbit's Feat
13.From Hare to Heir
14.Compressed Hare
15.Prince Violent
16.Shishkabugs
17.The Million Hare
18.The Unmentionables
19.False Hare
20.Blooper Bunny
Video
Encoding: MPEG-4 AVC
Resolution: 1080p
Aspect Ratio: 1.33:1
Layers: BD-50
Clarity/Detail:  These Bugs Bunny-centric Looney Tunes shorts have been beautifully restored for their Blu-ray debut. This high definition look for them features a sharp picture that really gives you a feel of some of the handmade animation luster. The colors and saturation is quite strong. A nice layer of grain remains intact. I can't see fans not being impressed with what Warner Bros has done in this first classic Looney Tunes outing.
Depth:  These flat, 2-D animations have an impressive amount of space and free movements from the characters. Its fluid, smooth and confident with no issues revolving around blurring or jitter as a result of rapid movement.
Black Levels: Blacks are deep and do well in the shading, outlining and overall just adding darkness department. These cartoons don't really offer much in the way of texture to seep through. No crushing witnessed.
Color Reproduction: Colors are quite lovely here and strike well in the very primary assortment. Some of the earliest cartoons have some lovely attention to reds, blues and greens. Overall a strong outing with good restraint.
Flesh Tones: N/A
Noise/Artifacts: Clean.
Audio
Audio Format(s): English 1.0 Mono DTS-HD MA, French 1.0 DTS-HD MA, Portuguese 1.0 DTS-HD MA
Subtitles: English SDH, French, Dutch, Portuguese
Dynamics: This collection of cartoons features an absolutely fresh, clean sounding presentation in its original mono form. Everything feels loose and free and nary is there too much hiss, if even at all. Deep tones are sacrificed, but overall this gets that vintage feels right across quite fine. Its as impressive as the video restoration.
Height: N/A
Low Frequency Extension: N/A
Surround Sound Presentation: N/A
Dialogue Reproduction:  Vocals are at the forefront of the mix and have a nice posture. It handles peaking in the source quite well, and the clarity in each cartoon creates a nice, cleanly dynamic.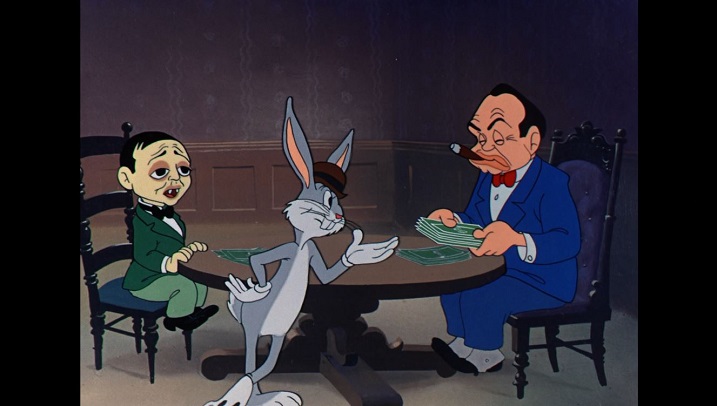 Extras
Bugs Bunny: 80th Anniversary Collection is a 3-Disc set and comes with a redeemable digital code for the episodes. This package also includes a full-size Glitter Diamond Collection Bugs Bunny Funko Pop, an disc guide insert and an introduction letter from animation historian Jerry Beck.
Disc 1
Audio Commentary
Elmer's Candid Camera – by Jerry Beck
A Wild Hare – by Greg Ford
Hold the Lion, Please by Greg Ford
Bugs Bunny Gets the Boid – by Michael Barrier with Bob Clampett
Super-Rabbit – by Paul Dini
What's Cookin' Doc? – by Jerry Beck
Bunny and the Three Bears by Stan Freberg
Hare Ribbin' – by Constantine Nasr
The Old Grey Hare – by Greg Ford
Baseball Bugs – by Eric Goldberg
Hair Raising Hare – by Michael Barrier with Lloyd Turner
Bugs Bunny Rides Again – by Greg Ford
Haredevil Hre – by Michael Barrier with Pete Alvarado
What's Up Doc? – by Greg Ford
8 Ball Bunny – by Jerry Beck
Bugs Bunny's 80th What's Up, Doc-umentary! (HD, 1:01:04) – A feature length documentary featuring the restored footage and a combination of some new interviews and some of the archival ones that have been used in previous featurettes and documentaries. Its a breeze and a very relaxingly informative watch.
Behind The Tunes – Archival featurettes that give a behind the scenes look at different characters and aspects of the original run and its players.
Hare Ribbin' Director's Cut (SD, 8:03)
Forever Befuddled (SD, 3:25)
Bugs: A Rabbit for All Seasonings (SD, 5:39)
Mars Attacks on the Red Planet with My Favorite Martion (SD, 14:49)
Disc 2
Audio Commentary
Rabbit of Seville – by Eric Goldberg
Rabbit Every Monday – by Greg Ford
The Fair Haired Hare – by Constantine Nasr
Rabbit Fire – by Greg Ford with Chuck Jones
Lumber Jack-Rabbit – by Jerry Beck
Baby Buggy Bunny – by Constantine Nasr
What's Opera, Doc? – by Chuck Jones, Michael Maltese and Maurice Noble
What's Opera, Doc? – by Daniel Goldmark
Alternate Audio Programs
Rabbit Fire – Music-Only Track
Baby Buggy Bunny – Music-and-Effects Track
What's Opera, Doc? – Music-Only Track
What's Opera, Doc? – Mel Blanc and Arthur Q. Bryan Vocal Track
Bugs Bunny Looney Tunes All Star 50th Anniversary (SD, 47:31) – A vintage special from 1990 that features a history of Looney Tunes with many notable figures and stars like Bill Murray, Cher, Chevy Chase, David Bowie and more. Its centered around a prestigious art gallery exhibit for the history of Looney Tunes.
Behind the Tunes
A Hunting We Will Go: Chuck Jone's Wabbit Season Twilogy (SD, 9:30)
Bugs Bunny: Aint He a Stinker? (SD, 16:41)
Wagnerian Wabbit: The Making of What's Opera, Doc? (SD, 9:31)
Disc 3
Audio Commentary
Show Biz Bugs – by Greg Ford with Pre-Score Music
Knighty Knight Bugs – by Jerry Beck
Rabbit's Feat – by Greg Ford
From Hare to Heir – by Greg Ford
False Hare – by Jerry Beck
(Blooper) Bunny!: Bugs Bunny's 51st and a 1/2 Anniversary Spectacular – by Greg Ford
Behind the Tunes
Hard Luck Duck (SD, 3:41)
Short Fuse Shootout: The Small Tale of Yosemite Sam (SD, 3:03) 
50 Years of Bugs Bunny in 3 1/2 Minutes (SD, 3:52)
Bonus Looney Tunes Cartoons (HD, 58:12) – These are presented in 1.78:1 with English 2.0 DTS-HD MA audio.
Harm Wrestling
Pest Coaster
Siberian Sam
Big League Beast
Buzzard School
Pool Bunny
Grilled Rabbit
Vincent Van Fudd
Hare Restoration
Plunger/Fishing Pole/Bees/Mini Elmer 
Summary
This is quite the set and quite the debut of Looney Tunes cartoons on Blu-ray. The restorations are marvelous and the bonus content is absolutely terrific. However, this one comes with a pretty hefty price tag considering inside the box is a standard amaray case with 3 discs. You're paying quite the premium for a glittery Funko Pop of Bugs Bunny. Its a great set, but I feel like they are charging double what they should for it.
This is a paid Amazon Associates link