June 22nd, 2020 by Brandon Peters
Warner Archive Collection extends its library in June with the release with a bit of an ambitious film from the glorious year of 1982. David S. Ward's Cannery Row was the bold attempt to pair two novels together, which is a bit of a love story. Personally I've not seen the film before, but after the Blu-ray debut of Urban Cowboy a few weeks ago, I suppose I'm on a Debra Winger kick and was more eager to check this one out. They also tout it as an "atmospheric gem" and I'm excited to see what that's all about. Somebody over at Warner Archive Collection deems it pretty worthy as they gave it a 4K transfer. Unfortunately nothing new or vintage in terms of bonus features is available to fill the disc up, but like many of these older titles now, a fresh transfer and the ability to own it are bonus enough. Cannery Row released on June 9th and is available to order by using our paid Amazon link below or finding it on the WB Shop.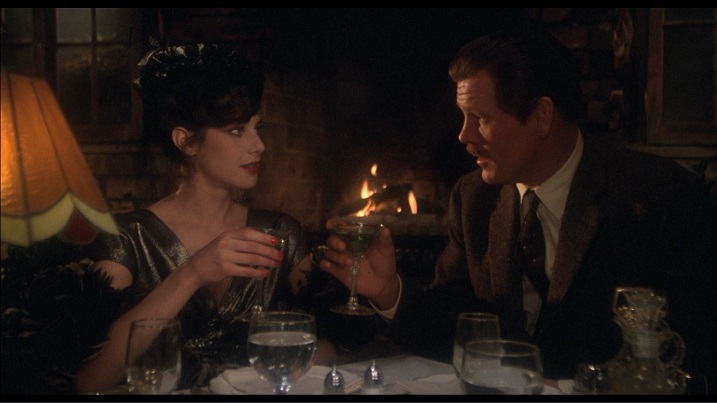 Film
The canneries stand empty now that the sardines have abandoned the waters, but life continues on the Row. Here, you'll find Doc (Nick Nolte), a marine biologist and community mentor; Suzy (Debra Winger), a good-hearted newcomer gone astray; and Mack, Hazel and all the boys working hard at not working. Here, you'll also find the love of a man for a woman, of a writer for a place and of life for more life. Based on works by John Steinbeck and written for the screen and directed by The Sting's David S. Ward, Cannery Row – from its lyrical John Huston narration and saggy blues to its top-drawer performances, waterfront sets and whimsical charm – is an atmospheric gem, one that has its world "spinning in greased grooves."
Cannery Row may not be "good" by the mere end result of how the film overall plays, but its definitely not something I'd instantly rule out as bad either. There are a collection of things that make the film fascinating, but maybe they don't all come together to make this thing work as one solid film. Overall, it may just be the books being adapted or the script in the end that makes this not quite work, but regardless, it is a well made film, has a voice and isn't afraid to stick to its mood and be what it sets out to be.
The first thing that becomes immediately apparent with the film is its gorgeous cinematography. From frame one, it sets the tone to have certain feel and mood to it. There's a bit of a soft touch with the lighting, a nice bit of that polish and warmth that is typically used to harken back to a "good ol days" time. Considering the film takes place in the World War II era, it makes sense that this is what they are trying to evoke visually. But it photographs the town very well, with some pretty lavish production design that allows places and people to have character themselves just by looking at how they are set or dressed.
Nick Nolte and Debra Winger lead this cast of kooky characters that populate this "elseworld" town. Nolte is having a blast, and its always a surprise to remember he wasn't always in such grumpy Gus roles early on. Possibly helping that is the peppy Debra Winger, who illuminates and charms the hell off of every frame she's in. There truly isn't enough 1980s Debra Winger out there, and that's a shame. One of the supporting characters of the town is a wild performance from M. Emmet Walsh as a town vagrant. Its a joy to wash him just ham it up and commit to this goofy personality.
While I can't quite put my finger on exactly what it is, this movie has all these well done working parts, they just aren't producing that singular satisfaction in Cannery Row. Sometimes they're working in tandem, others on their own. I hadn't even mentioned the narration, done my Hollywood legend John Huston. Credit where credit's due though, whether you consider it a good film or a bad one, its at least pretty ambitious and doing the best it seemingly can at all times.
Video
Encoding: MPEG-4 AVC
Resolution: 1080p
Aspect Ratio: 1.85:1
Layers: BD-50
Clarity/Detail:  Cannery Row arrives on Blu-ray with a new 4K transfer from the original camera negative. And it looks absolutely beautiful. It has a nice softer touch inherently present in its lighting scheme. The film's cinematography is an absolute force and translates quite well here with a nice grain structure intact, enabling the frames to showcase a nice bit of depth to go along with some stronger details and textures.
Depth:  By leaving its grain intact, the film has a nice depth of field to it with smooth movements and gestures from the character as you can make out some good spacing in the more well lit moments of the film. Exteriors fare well, showcasing some nice scale. No motion distortions or jitters or other problematic distortions occur.
Black Levels:  Blacks are deep, but still a little slight tint of gray up from a natural look. Details maintain pretty strong on darker hair follicles, shadows, or darkened surfaces. No crushing witnessed.
Color Reproduction:  Colors are more natural with a tad of rustic touch to them. Colors do stand out on fabrics like blue shirts, yellow ties and plenty of the make-up and dresses worn by the brothel women.
Flesh Tones:  Skin tones are natural and keep a consistent appearance from start to finish of the film. Facial features and textures like moles, make-up, stubble, wrinkles and more can be made out in close ups and most medium shots.
Noise/Artifacts: Clean.
Audio
Format(s): English 2.0 Mono DTS-HD MA
Subtitles: English SDH
Dynamics: Cannery Row carries a pretty sufficient and much better than average mono track, likely its original theatrical mix. Vocals are the star of this track, but the score and songs take some nice strides in this well balanced tracking. Effects can impress from time to time but do lack a bit of the low end "oompf" to it. Overall, as satisfying compliment to the film itself.
Height: N/A
Low-Frequency Extension:  N/A
Surround Sound Presentation: N/A
Dialogue Reproduction: Vocals lead the charge on this track and are plenty audible with good depth, clarity and easily carrying the actor diction and mouth sounds.
Extras
Trailer (HD, 3:07)
Summary
Cannery Row is a bit of an odd duck, but its still quite an enjoyable effort even if it doesn't work as a whole.  Warner Archive Collection has given the film a beautiful new transfer and complimentary mono track to accompany it. Unfortunately, the extras hang on to a single trailer and nothing else. But, hey, nowadays, getting the film looking its finest is what matters most and they've done that in spades with this release.
This is a paid Amazon Associates link