August 14th, 2023 by Brandon Peters
Scream Factory brings us an encore of their Child's Play 4K debuts last summer with the remainder of the Chucky series now hitting 4K for the first time. Bride of Chucky, Seed of Chucky, Curse of Chucky and Cult of Chucky will feature some fresh new restorations and transfers to go along with some nifty new bonus features to round this whole thing out. They will all come out on August 29th and can be pre-ordered using the paid Amazon Associates links that will be on all of these reviews at the bottom of the page. This review looks at the incredible comeback feature of our little friend to the end, the surprising and thrilling Curse of Chucky.
/

Film
Originally posted as a part of Naptown Nerd's Chucky Retrospective 9/27/2013.
He's back! From the filmmakers that brought you Chucky comes the terrifying return of the pint-sized doll possessed by the spirit of a notorious serial killer. When a mysterious package arrives at the house of Nica (Fiona Dourif, True Blood), she doesn't give it much thought. However, after her mother's mysterious death, Nica begins to suspect that the talking, red-haired doll her visiting niece has been playing with may be the key to the mounting bloodshed and chaos. The return of America's favorite toy, voiced again by Brad Dourif, is full of blood-splattered thrills and chills!
Chucky has just come back from his longest absence (9 years).  And surprisingly, he's avoided being remade or rebooted.  Creator Don Mancini returns to direct again and this is night and day from his previous effort.  Curse of Chucky is the most delicately and finely directed film in the entire franchise.  This is super low budget, so this film primarily takes place in one location.  But that location is a pretty awesome old gothic house.  Mancini makes the house almost a character of its own as a playground for Chucky.  Chucky's return is a patient one.  They really build on making us wait to see him in action.  This could work really well for someone who's not seen any of the films. With that said, I must warn: the further down the road we get in the film, the more lost a new observer will be.  This film definitely becomes very Saw-like in its connections to the original film and other chapters in the series.  In fact, my only qualm is it might be too much as the end events seem far away from the original story at hand.  To add on that, Curse of Chucky is the Return of the King in terms of slasher as it ends on about 6 different "hook" endings before its finally over.
The main story of the film works quite well.  We get a drama and positioning of all the characters being there and having their own conflict and not just showing up to be hacked up by a doll.  This movie is surprisingly smart in many areas.  Stuff in the script that seems so damn obvious actually turns you on your head and laughs at you for thinking you were smarter than the movie.  They also actually came up with some fun, graphic kills in this one as well.  While graphic, the slayings are "too much" in terms of being over the top.  They're definitely a bit restrained. I really enjoyed the protagonist, Nica played by Brad Dourif's daughter Fiona.  The script really allows you to take her side and root for her through this thing.  It also helps, in terms of having a 'final girl' scenario that she is in a wheelchair.  Most of the films could be groaners in the "it's a doll, how can you lose the battle" aspect.  This time, our heroin is put at a physical disadvantage when it comes to going head-to-head with the Chuckster.
Curse Of Chucky is suprisingly worth the time for fans and nonfans of the series.  If you enjoyed the first film, you're definitely going to like this one.  I think some of the ties to the previous films and the extended upon extended ending are a bit much, but they are fun for fans.  When looking back, it really shouldn't be there and is out of place, but our main story does have a concise conclusion so I'm ok with the rest.  Chucky returns to his stealthy horror roots and does so quite grandly.  The film oddly works as both a stand-alone and as a 6th addition to the series.
Video
Disclaimer: Screen captures used in the review are taken from the standard Blu-ray disc, not the 4K UHD Blu-ray disc.
Encoding: HEVC / H.265
Resolution: 4K (2160p)
Aspect Ratio: 1.78:1
Layers: BD-66
Clarity/Detail: Curse of Chucky boasts 4K master of the unrated version. Considering the film was finished with 2K DI, this is likely an upscale. And despite the specs provided and on the box stating 1.85:1, this picture is clearly 1.78:1. Nonetheless, its a pretty picture and a solid incremental improvement over the standard Blu-ray. Shadows and finer details are a little more resolved and clear to go with a more confident looking image.
Depth:  Depth of field is pretty strong, making the house look quite large and pulling off claustrophobic terror at the same time. Movements are smooth and natural with no issues coming form rapid action causing distortion.
Black Levels: Blacks are where the most improvement is seen. They get very deep, but well saturated and look quite lovely while showcasing even more details and texture in the darker surfaces or darker shadows in the night or lights off rooms. No crushing witnessed.
Color Reproduction: Colors are pretty normal but have some nice pop when contrasting with the dark areas. Red, blues and yellows are strong. The film is more heavily black and blue in its aesthetic and those look good in this mix. Lights, displays and windows from outside with light emanating showcase some of the HDR glow.
Flesh Tones: Skin tones are natural and consistent from start to finish of the film. Facial features and textures are strong, with detail visible from any reasonable distance in the frame.
Noise/Artifacts: Clean
Audio
Audio Format(s): English 5.1 DTS-HD MA, English 2.0 DTS-HD MA
Subtitles: English SDH
Dynamics: This is another loud and rollicking 5.1 track for a Chucky flick. The audio effects are loud, well defined and have some nice depth. This one is balance for best horror jumps or thrilling chase impact. A very engaging track that I believe is probably the same one we had before.
Height: N/A
Low Frequency Extension: The subwoofer hits very well, with glass shattering, car crashing, impaling, rail bursting and more hitting with good power.
Surround Sound Presentation: This is a terrific whirlwind around the room with great attention to traveling around the screen. The rear channels add great unique effects, shot changing tracking and haunting ambiance.
Dialogue Reproduction: Vocals are clear and crisp.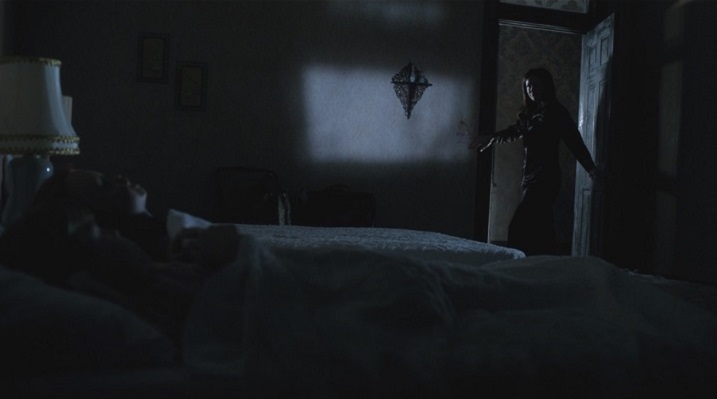 Extras
Curse Of Chucky – Collector's Edition is a 2-disc set that comes with the Blu-ray edition. All bonus materials outside of the commentary are found on the standard Blu-ray disc. The standard Blu-ray also contains the R-Rated Version.
Audio Commentary
with writer/director Don Mancini, special makeup effects artist Tony Gardner and actress Fiona Dourif
Andy's Secret Return – Alex Vincent of Curse of Chucky (HD, 7:03) – Vincent starts where he left off. He mentions thinking he'd be a part of 3, going to see Bride in the theater and then not seeing Seed until he was contacted for Curse. He mentions during his shoot was one of the few days that Brad Dourif was actually on set.
It's Got A Death Curse – Tony Gardner on Curse of Chucky (HD, 7:41) – Gardner says that after Seed, all the props were locked up and they were told there was never going to be another Chucky movie from the studio. So, once again, Chucky had to be created from scratch again. Once again, he's wonderfully detailed and delightful on his comments regarding working on the film as well as its story and the set and mentions the house used in the film had been recently used as a house for a Home Alone sequel.
Twist of Jill – Danielle Bisutti on Curse of Chucky (HD, 13:13) – After giving her thoughts on the series, she then discusses how impressed she was by the script and then dives into her characters mentality and who she represents in real life for an audience. She finds Don Mancini to be like James Wan to her in being "otherworldly" and that Fiona Dourif is such an "outside of the box thinker".
Playing with Dolls: The Making of Curse of Chucky (HD, 15:34)
Living Doll: Bringing Chucky to Life (HD, 8:35)
Voodoo Doll: The Chucky Legacy (HD, 7:08)
Storyboard Comparisons (HD, 25:18)
Deleted Scenes (HD, 6:19)
Gag Reel (HD, 1:27)
TV Spot (HD, :33)
Trailer (HD, 1:15)
Summary
Curse of Chucky is one of the most impressively crafted, not just horror, but direct to video films we've ever seen. Don Mancini puts on a mastery clinic in his single location thriller that feels right at home with all the theatrical releases in this fresh clean start-ish feature. Scream Factory's release feature a very nice transfer and some nifty new interviews to compliment the original extras. This is one of the best Chucky films, period, so pick it up!
This is a paid Amazon Associates link