January 17th, 2023 by Brandon Peters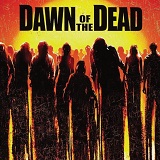 Back in 2017, Scream Factory unleashed a pretty stacked 2-disc edition of Zack Snyder and James Gunn's retread through the mall zombie epic Dawn of the Dead. That edition had 2 cuts of the film and discs full and full of new material and archival features. Now, its come time for them to give it the 4K Ultra-HD upgrade. This time around, only the video transfer is going to be new. They've polished up the Unrated cut of the film with a new 4K scan from the original negative (2K for the insert footage). Dawn of the Dead (2004) will release at the very end of January on the 31st. Be sure to get your pre-order in using the paid Amazon Associates link that will be there when you scroll to the bottom of this review.
.

Film
Originally published 10/19/2017
When her young daughter is turned into a zombie and attacks her father, Ana just manages to escape, only to realize her entire Milwaukee neighborhood has been overrun by the walking dead. After being questioned by cautious policeman Kenneth, Ana joins him and a small group that gravitates to the local shopping mall as a bastion of safety. Once they convince suspicious security guards that they are not contaminated, the group bands together to fight the undead hordes.
Following on the heels of the zombie rebirth with 28 Days Later (Eff off, you know it counts), Snyder's take on Dawn of the Dead took the genre and modernized it even further, becoming quite the hit and becoming a breakout success for both he and writer James Gunn.  It was sacrilege to remake the George Romero classic, but damnit, they were going to do it anyway. And what they came out with created a fanbase of its own. Many different loads of them, those who were newbies and just hadn't seen anything like it, the hardcore fans who realized both could exist, and then ones who found it better than the original.
What helps this film right from the start is a big time correct decision by James Gunn. He only uses the premise of the original, but writes a completely original movie and uses completely original characters around it. This approach should be used to most remakes as its really allows one to see it as its own with very little comparison. Gunn and Synder's film is moreso a knock off of Dawn of the Dead as it is a remake. The studio wants the IP, of course, but this could be called Mall Of The Dead and people probably would've been less apprehensive of the whole "remake" thing. But once they saw it, I'm sure those worries went away. Yes, I know, there a probably still haters out there. Good fore you, hope you've found something you do enjoy.
This film is high octane and action packed. Snyder's film may look slick, but its dirty, ugly and pulse poundingly intense from start to finish. Its as much of an action film as it is a horror one.  Snyder show's he's very stylish and instense and isn't afraid to go to crazy, unpredictable places. Your heart will be racing throughout this movie. And the opening sequence with Sarah Polley attacked in her home, leading to a vehicluar escape with videogame-like angles to shoot it, is an ALL-TIME great prologue no matter what genre.
I still prefer the original Dawn of the Dead. For me, I've been with that movie since I was a kid, but I can wholeheartedly tell you that Snyder's film is a great companion and modern update and really…its own thing. This is the easiest "They can both exist. You can love both" situations in film history. This one also has a great cast, especially Ty Burrell stealing scenes right and left. My one sour point is that Sarah Polley didn't take off and become a huge acting star after this. But, she has become an important director and that may matter more when all is said and done. Anywho, Zack Snyder's Dawn of the Dead rocks, and was the Friday the 13th to 28 Days Later's Halloween in terms of resurrecting the zombie genre. A genre that is still kicking today after being 6 feet under for a little over a decade.
Video
Disclaimer: Screen captures used in the review are from the standard Blu-ray, not from the 4K UHD Blu-ray disc.
Encoding: HEVC / H.265
Resolution: 4K (2160p)
Aspect Ratio: 2.35:1
Layers: BD-66
Clarity/Detail: Dawn of the Dead features a new 4K scan from the original negative with inserts from the 2K digital intermediate for the unrated footage. And it looks pretty impressive. The black of course are improved which helps contrast with the colors to give them a bit more luster. In addition to finer details being more visible, there is also a more pronounced layer of grain in the image.
Depth:  Depth of field is quite strong with a good sense of scale and pushback on display. Camera wide angle lensing also proved more effective. Movements are filmic and smooth with no issues from any motion distortion.
Black Levels: Blacks are deep and natural and really keep a pretty, darkened image. Shadows, night and dark room sequences are much more refined and still handsomely display finer textures, details and pattern in even the darkest corners. No crushing witnessed.
Color Reproduction: Colors are quite strong, give it a filter or contrast pop. Green is a pretty dominant color with reds and blues also standing out. HDR comes in and helps display lights, spotlights, fire and more glow.
Flesh Tones: Skin tones are natural and consistent from start to finish. Facial features and textures are discernible from any given distance in the from showcasing freckles, wrinkles, dried blood, bruising, blemishes, make-up, zombie face and more with ease.
Noise/Artifacts: Clean.
Audio
Audio Format(s): English 5.1 DTS-HD MA, English 2.0 DTS-HD MA
Subtitles: English
Dynamics: I'm not sure as there were no notes in the press release or on the packaging, but I think the audio here is the same that was available on the Blu-ray release. That said, its very good as its loud, full of crazy action, with a balanced mix that gets gunfire and zombie rage all sorts of in your face in your living room (Or whereever it is you're watching).
Height: N/A
Low Frequency Extension: Gunfire, explosions, music beats, intense stings, growls, crashing and more rumble your subwoofer with great delight.
Surround Sound Presentation: This mix has a good sense of travel back and forth up front. The back speakers get involved too, but they really excel in some delicious zombie ambiance that haunts both the outside and the halls of the mall.
Dialogue Reproduction: Vocals are loud, crisp and clear.
Extras
Dawn of the Dead (2004) – Collector's Edition is a 3-Disc set. It features 2 versions of the film. The Unrated Version is featured on the 4K disc and the standard Blu-ray Disc 2, Theatrical on standard Blu-ray Disc 1. Aside from the commentary, all bonus features are found on the standard Blu-ray discs.
BLU-RAY Disc 1: Theatrical Version
Take a Chance on Me (HD, 15:28) – An interview with actor Ty Burrell.  He talks about how he knew the film was special when shooting and that he was in disbelief as he auditioned as just a filler. He's got a lot of praise for Zack Snyder and a good group of people, with many "play"-like sequences. Burrell says he prefers running zombies, but also says that they went for a more action movie approach than social commentary. And toward the end he unveils plans for a sequel that never happened.
Gunn for Hire (HD, 9:26) – An interview with writer James Gunn. A fan of the original, he was given a call to write and pitch this reimagining but he didn't really pitch, just gave a single idea. Gunn says he was only interested in taking the premise of the original, but making a completely different movie. Death threats and petitions came his way when the news came of him remaking the film because of writing Scooby Doo movies.
Punk, Rock & Zombie (HD, 23:10) – An interview with actor Jake Weber.  The actor talks how he and Ty Burrell read together for the opposite parts they'd end up getting. He relishes in being able to craft his own character and play a sort of normal guy. Not normally a horror person, he does have a fond memory of working on Wendago. He calls it a rock n roll movie and that he's done with horror films after it because he doesn't think he'd ever be a part of a better one.
Killing Time at the Mall: The Special Effects of Dawn of the Dead (HD, 25:36) – An interview with special makeup effects artists David Anderson and Heather Langenkamp Anderson. The couple (Yes, that's Nancy from Elm St), talks approaching a remake when they weren't a thing and how they used war footage and trauma victim footage to get their ideas. They were given a heavy amount of pressure to succeed. This goes over their timeline, the craft, individual zombies and includes home video footage of the shop and behind the scenes of putting all the effects and makeup together.
Deleted Scenes with Optional Commentary from Zack Snyder and Producer Eric Newman (SD, 11:30) – There is a spelling error on this screen calling him "Zach" Snyder.
Theatrical Trailer (HD, 2:34)
Photo Gallery (HD, 8:12)
BLU-RAY Disc 2: Unrated Version
Audio Commentary
With Director Zack Snyder and Producer Eric Newman
Zack Snyder Intro (SD, 1:18)
Splitting Headaches: Anatomy of Exploding Heads Featurette (SD, 5:36)
Attack of the Living Dead Featurette (SD, 7:24)
Raising The Dead Featurette (SD, 7:54)
Andy's Lost Tape Featurette (SD, 16:22)
Special Report: Zombie Invasion Featurette (SD, 21:05)
Undead And Loving It: A Mockumentary (SD, 5:09)
Drawing The Dead Featurette (SD, 2:48)
Storyboard Comparisons (SD, 5:51)
Summary
Dawn of the Dead's 2004 iteration is may not be of the astute nature the original comes with, but on the other side of the field its one of the best horror action films we've ever had. Scream Factory updates its previous collector's edition with a brand new transfer. It keeps the previous audio and boat load of extras intact. Its 6 years later, so I'm sure its easily a time for an upgrade when the price you like comes floating around.
This is a paid Amazon Associates link