March 19th, 2023 by Brandon Peters
A film that has oddly avoided being upgraded to Blu-ray all these years is 1981's fantasy epic, Dragonslayer. Known for its terrific ILM effects, the film didn't quite hit Star Wars numbers and has been relegated to cult classic in its lifetime. Now, 42 years later, Paramount is putting it out in a brand new 4K Ultra-HD edition with a restoration on both sight and sound that will be of worth great waiting for the fans. It also features a documentary on the film as well as a commentary with the director and Guillermo del Toro and screen tests. Dragonslayer will be releasing on March 21st in regular and collectible steelbook editions. Whether or not you want the full MacNicol, you can use the paid Amazon associates link following the review to secure yourself a copy of this sure collector's item for physical media enthusiasts.

Film
Set in sixth-century England, an ill-tempered, fire-breathing creature—ominously known as Vermithrax Pejorative—terrorizes its citizens until a young sorcerer's apprentice named Galen (Peter MacNicol) is reluctantly tasked with confronting the beast. For Galen to succeed, it will take more than magic to defeat the dragon.
After the success Star Wars, Raiders of the Lost Ark and The Empire Strikes Back, the first half of the 1980s found studios chasing after that bit of that George Lucas aura. Star Wars-sploitation was certainly an era. Ranging in various forms or quality (In story or production) from things like Star Crash to Krull, everyone either wanted to make the money Star Wars did, showcase the technical advances of filmmaking or both. As much as space movies were the go-to knock off, so was the rise of the fantasy film, as the Lucas space opera was very much in the realm of with quests, swords and sorcery in the galaxy far, far away. And before Conan The Barbarian would stake a claim in cultural acceptance, we were given Dragonslayer the year before.
Rather than trying to beat them, Dragonslayer decided to join them. Matthew Robbins and company brought in Industrial Light and Magic (ILM) to produce a living, breathing dragon for their fantasy film. With that and other effects that crew put forth here, they pulled off the work that quite possibly actually does capture that effects magic lightning that everyone believes Star Wars caught in a botte. Their dragon here and scenes with and around do not disappoint at all. It feels like a real creature down to the tough. It interacts with actors in a most believable fashion. They touch, attack and engage it in a way that makes you believe, through the wonders of stop motion advances as well as puppetry and animatronics. Nothing about it screams dated or "I can see the strings!"
And the expertise does not stop there. The ILM stuff can only go to a certain degree, some other factors need to pair up to make it cross the finish line. Quite possibly the co-MVP of the film is cinematographer Derek Vanlint. This guy comes in having shot Alien. Vanlint is able to light and shoot the dragon in such ways to make us buy in and believe. But it doesn't stop there, this world feels both real and of some fantasy place. Even sequences of just wandering the valleys, mountains and forests look grand and also of some magical world in a book. Its very Tolkein but lacks that phony CGI/digital color correction sheen that aren't bad necessarily, but this adds some heft in that we know this is an actual place. There are elaborate sets for caverns and castles here that just look and feel in a way that your imagination can run off with for your non-visual senses.
Sure, I've talked about mostly technical stuff with Dragonslayer, but that's a key selling point on the movie. It is such a damn well made blockbuster movie that the score for it starts at a 3 and can only go up from there when it comes to story and performances. This is a very cool, end of an era/end of times type tale where we are dealing with the twilight of both the dragon and the sorcerer. We are made to build up not a slew of dragons but just one big, nasty fire breathing, scaled demon. You have performances that get you to buy into the places and events thanks to a mix of some veterans and newcomers. Peter MacNicol and Caitlin, both in their first film, not only display solid chemistry but also feel like storybook characters coming to life. They commit and bring a believability to this tale.
This Dragonslayer film was a blind spot for me and I'm a purveyor of post Star Wars knock offs and fantasy films from the early 1980s. And this one hit a high echelon that I didn't think was possible here. One that actually got close to a quality that Star Wars was pulling off in this field of make good big budgeted, competent, high quality genre films. A film in that field that I don't need to make excuses for or say "yeah, but" (like my beloved Krull). Dragonslayer just is a damn fine fantasy blockbuster film that has the power to whisk you away into this world with great locations, sets, characters and a magnificent dragon that makes the world all come together.
Video
Disclaimer: Screen captures used in the review are provided courtesy of Paramount Home Entertainment, not the 4K UHD Blu-ray disc.
Encoding: HEVC / H.265
Resolution: 4K (2160p)
Aspect Ratio: 2.35:1
Layers: BD-100
Clarity/Detail:  Dragonslayer debuts from Paramount with a pretty stunning 4K transfer. This is a magnificent restoration with a care that you normally see given to much more esteemed classics. Its quite crisp, with plenty of detail and looks wonderfully filmic. Colors are very lovely and there's a nice scope of depth here on display. I don't think you could have asked for a better transfer on this (Or really any movie you buy, its that good).
Depth: Depth of field is plenty strong and shows plenty of good pushback in the interior scenes, giving plenty of space to the area in frame. The scale on display here is quite grand and translated very well here. Motions are smooth and filmic with no issues of distortion from rapid actions or camera movements.
Black Levels: Blacks are at a deep and natural level. Great work done here with shadows and nighttime sequences. Even in the darkest corners, patterns, textures and fine details still protrude through. No crushing witnessed.
Color Reproduction: Colors are bold and natural here. The palette on display here really does well with browns and greens. Contrast on nighttime helps to provide a nice HDR glow to fire, torches, dragon breath and the like.
Flesh Tones: Skin tones are natural and consistent from start to finish of the film. Facial features and textures can be made out pretty clear form any reasonable distance in the frame.
Noise/Artifacts: Clean.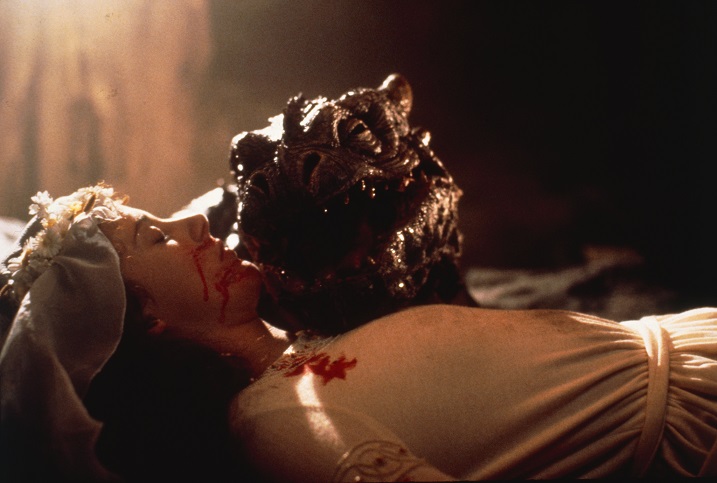 Audio
Audio Format(s): English Dolby Atmos
Subtitles: English SDH, French, Spanish
Dynamics: Dragonslayer comes with a wonderfully effective and imagined Dolby Atmos track. This thing is no slouch and has a great balance of vocals/effects/score. There's some nice layering and depth to go with a few playful volume settings. This mix has been done in the better interests of the film and isn't whacky or off-putting.
Height: From above you get debris, echoes, dragon wing flapping, destruction and more.
Low Frequency Extension:  The subwoofer comes in good through some attacks, crashes, rocks crumbing down, dragon roaring, fire roaring and giving a deeper hum to the score.
Surround Sound Presentation: This mix is playful and really knows the full layout of the room. Rolling sound travel is felt and pulsates to the front and back and side to side with good force. There's terrific ambiance built around every environment and a good tracking of when a shot changes and things are now off screen but still present in the scene.
Dialogue Reproduction: Vocals are clear and crisp.
Extras
Dragonslayer comes with a redeemable digital code.
Audio Commentary
By Director Matthew Robbins & Guillermo del Toro
The Slayer of All Dragons (HD, 1:03:24) –  This is a rather deep dive journey into the production of Dragonslayer, a majority of it being from the ILM special effects angle of the film with bringing the dragon to life. Director Matthew Robbins and ILM legends Phil Tippett and Dennis Muren guide us through this incredible journey that features a lot of production design, sketh work, behind the scenes footage and photos as well as plenty of documented ILM stuff in the form of photos and videos. If you enjoyed the documentary from last year that was on Disney+, The 5-part "Slayer of Dragons" is a fantastic extension. The parts are titled:
Welcome To Cragganmore
A Long Way To Urland
Vermithrax Pejorative
Into The Lake Of Fire
The Final Battle
Original Theatrical Trailer (HD, 1:58)
Screen Tests (HD, 15:42) – This is an interesting series of tests for some actors and hair/costume ideas. Peter MacNicol and Caitlin Clarke appear here in their roles. But, we are treated to actor William Squire reading for Ulrich and actress Maureen Teefy reading for Valerian. There are multiple scenes shown here.
Summary
Dragonslayer is retroactively a breath of fresh air in the annals of blockbuster cinema. It captures all that sort of wonder and magic of the movies you ask for when seeing fantasy film, and holds up remarkably in doing so. Paramount's 4K Ultra-HD Blu-ray release is a marvel in looking and sounding absolutely stunning. The extras featured here are a nice well rounded lot that are super informative and engaging. I'd be hard pressed to think a better edition will ever come out (though possible). Dragonslayer's 4K debut is easily one of the best releases so far this year.
This is a paid Amazon Associates link