January 11th, 2022 by Brandon Peters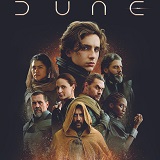 Cleaning house with Why So Blu's 2021 Top Ten lists, Dune might just be the one film we all strongly agreed on here at the site. And we are not alone in our love for one of the most impressive spectacles of the theater-going experience in the last year. Spoiling my review ahead, it absolutely winds up translating here to 4K Ultra-HD Blu-ray which is another bit of Denis Villeneuve's impressive talents, whether it be his preference to how people view the film or not (Which, I argue most of these "MUST BE SEEN IN THE THEATER TYPES" strictly are meaning for your first time and if that's the best available offering). You can now own the film on the current best way to view it, 4K Ultra-HD Blu-ray, having released on January 11th. It comes with a quaking Atmos tracks and some solid extras to fill out the experience. If you so please and haven't done so yet, you can order Dune using the paid Amazon Associates link following the review.

Film
A mythic and emotionally charged hero's journey, Dune tells the story of Paul Atreides, a brilliant and gifted young man born into a great destiny beyond his understanding, who must travel to the most dangerous planet in the universe to ensure the future of his family and his people. As malevolent forces explode into conflict over the planet's exclusive supply of the most precious resource in existence—a commodity capable of unlocking humanity's greatest potential—only those who can conquer their fear will survive.
Frank Herbert's seminal science fiction novel of the 20th century is one forever celebrated and recommended, but one deemed too challenging to translate to another medium. In the last 38 years both television and film took a stab at it, but none of them coming outright as legendary or as influential as the book, despite cult followings. Denis Villeneuve's attempt at roughly the first half of the novel has managed to do the impossible, in making the extremely dense Dune more accessible and welcoming as it ever has been. This isn't meant to be a snide remark, but if you aren't drawn in by this adaptation of Dune, then the source material likely isn't your thing, it is likely never going to be in any presentation by any given creator.
Villenueve was the perfect current filmmaker and of a few generations to have the most success with the property (Especially following Blade Runner 2049) and he pulled it off and then some. Dune is one of the most impressive looking science fiction/fantasy blockbuster films to come our way in a very long time. There's the obvious dynamite cinematography and grand sense of scale that leave one speechless, even on the smallest of screens. He has the crutch of a star filled cast of terrific actors, but he even gets such a strong, devoted performance from each of them that brings the characters to life in ways we've not seen and been yearning for. It's especially true in Jason Momoa's Duncan Idaho, which lights up the screen and for the first time showcases why this supporting character was so incredibly popular when the book was originally published.
Another impressive aspect in the whole look of the film that assists strongly in the scale coming to life is the overall master craft design going on from all fields both physical and digital. We are swimming in a sea of wealth in terms of science fiction and fantasy genre films and television with good productions values year in and year out. What Dune achieves is somehow managing to stand out, looking fresh and trailblazing by either introducing new looks/concepts or just adding a cracking spin to them. The costuming and make-up here are marvelous and look so genuine, so believable, this world feels like its actually going on somewhere out there in the universe far from here. The set design hold some restraint in minimal strokes but yet says so much with  closer look.
There's a lot of debate and back and forth on digital's place in film. And the honest answer is that if its good, you don't notice it or it may blow you away. Denis Villeneuve's Dune is of both minds there. The film looks like it didn't rush out or just present you with a "here, this is what we have at deadline." The spacecrafts and monuments feel real to the touch. They also look like they carry weight and expand and confirm the scale of what you are watching. You know them, you can have a sense of them and therefore you understand the sense of being "lived in" with the characters. The digital design work should not go overlooked as "that's just what movies do" as its an elite step above anything else swimming in this same pool. You seem them come and go year in and year out. Yet, Dune looks wondrous, imaginative, big and lifelike though your brain knows what the eyes see is largely not present. You can't say that for the majority of films using the technology to tell their stories.
Dune's latest adaptation has finally found the visionary to unlock the wonder and majesty found in Frank Herbert's novel that has captivated generation after generation. Sure, its hero's journey is something that has been done countless times since then, but that's not the key to any film when it comes to it. It's the "how" that is most important. And Dune's "how" is one of the most impressive films of 2021 and one that will continue to grow and find following just as its novel has. Once complete with its completing half, it could stand with Peter Jackson's Lord of the Rings trilogy as a pretty stunning achievement in taking a beloved and highly regarded genre novel and giving it and ultimate adaptation that is both satisfying of the page and satisfying for the screen.
Video
Disclaimer: Screen captures used in the review are taken from the standard Blu-ray disc, not the 4K UHD Blu-ray disc.
Encoding: HEVC / H.265
Resolution: 4K (2160p)
Aspect Ratio: 2.39:1
Layers: BD-100
Clarity/Detail: Dune arrives on 4K Ultra-HD Blu-ray a native 4K title and looks tremendous. The film plays at a constant 2:39:1 aspect ratio, Warner Bros opting not to include resized IMAX footage in the presentation. Nonetheless, I'm not really sure it matters as the film is still a stunner and feels every bit as big as the scale intends. It plays big, wide and with a range like that of something of a space David Lean or galactic John Ford. The image is crisp and ripe with loads of details in every corner of the frame. Its well saturated and sharp with a fantastic color palette on display. One of the most impressive aspects of this transfer is how it handles and beautifully displays that of sand and fog used quite prevalently. This is as perfect an image as one could have hoped for.
Depth:  As I already stated, the scale here in the transfer is outstanding thanks to a wonderful depth of field with good pushback, spacing and confident camera movements abound. Motion is natural and smooth with no issues regarding any sort of motion distortion in any of the more heavily actioned scenes.
Black Levels: Blacks are natural and expertly handled. There's a lot of darkness and shadow and fog not only looking lovely but well saturated and finding no issues in keeping information like texture and patterns intact. No crushing witnessed.
Color Reproduction: There's a beautiful slightly cold, slightly washed out aesthetic going on with the timing of the film. It showcases beautiful greens and some nice reds. A lot of its great work is finding the beauty in the browns and grays in the mix, making them pretty bold and pronounced. HDR is utilized well with lasers, explosions, blued eyes and other places a glow can add a touch.
Flesh Tones: Skin tones are slightly cold and consistent from start to finish of the film. Facial textures and details are very strong and easily discernible and to the touch from any given distance in the frame.
Noise/Artifacts: Clean.
Audio
Audio Format(s): English Dolby Atmos, English 5.1 Dolby Digital, English Descriptive Audio (US), English Descriptive Audio (UK), French 5.1 Dolby Digital, German Dolby Atmos, German 5.1 Dolby Digital, German Descriptive Audio, Italian Dolby Atmos, Italian 5.1 Dolby Digital, Spanish (Castilian) 5.1 Dolby Digital, Spanish (Latin American) 5.1 Dolby Digital, Hindi 5.1 Dolby Digital
Subtitles: English SDH, French, German SDH, Italian SDH, Spanish (Castilian), Cantonese, Mandarin (Traditional), Korean, Spanish (Latin American), Danish, Finnish, Greek, Norwegian, Swedish
Dynamics: Dune's Atmos track is the anti-Disney Atmos track. This sucker is LOUD from the jump. It rumbles, shakes and pumps your room like a loud tank crushing through your living space. Its accurately and playfully mixed through the channels for the maximum immersion into Herbert's world. You'll easily be rocked by one of the best Atmos tracks around.
Height: Lots of fun from above. From Sardaukar striking from above, thopters cruising through, sanding raining down and more you get quite the ceiling channel experience with this one.
Low Frequency Extension: Your subwoofer is gonna need a beer after its done with this one. Its a deep and booming display with explosions, engines, clashing of swords, blaster fire, ships cruising, worms wrangling and more shaking the room like a bully looking for its lunch money.
Surround Sound Presentation: Every single channel in this mix is utilized to its fullest degree. The traveling sound rolls through the room with great power. Unique sounds and room ambiance are creative, mindful and present.
Dialogue Reproduction: Vocals are clear and crisp, a natural part of any environment and plenty clean and audible no matter the intensity. The impact of "the voice" is shrieking and effective.
Extras
Dune comes with the standard Blu-ray edition and a redeemable digital code. All bonus materials are found on the standard Blu-ray disc.
The Royal Houses (HD, 8:12) – "These stories are dense and felt. Its the kinda thing that makes me want to act" says Timothee Chalamet as the featurette introduces us to the characters involved in Dune from House Atreides, House Harkonnen and the Fremen.
Film Books (HD, 10:27) – Short instructional/educational videos on the people and spice from the film
House Atreides
House Harkonnen
The Bene Gesserit
The Fremen
The Spice Melange
Inside Dune (HD, 12:24) – Some featurettes that focus on a few of the action oriented scenes in the film.
The Training Room
The Spice Harvester
The Sardaukar Battle
Building the Ancient Future (HD, 6:26) – This featurette showcases the production design on the film and has the actors thankful and inspired from being able to live in these world. Villeneuve preaches that his films need to build as much as possible.
My Desert, My Dune (HD, 4:50) – More production design, but focused on the desert and how to make it and the machinery, ships and buildings work and feel right for that environment as well as a focus on what the color schematic would be.
Constructing the Ornithopters (HD, 5:38) – Villenueve and company discuss these transportation devices, how insect-like they are and how to interpret them from the book and feel practical.
Designing the Sandworm (HD, 5:40) – Ah, yes, here's the must have "How they did the worm" featurette. You pass, Dune 4K!
Beware the Baron (HD, 5:00) – This one shows us bringing the Baron to life and Skarsgard's work in the film.
Wardrobe from Another World (HD, 2:52) – A costume design featurette that showcases Denis desire to not make something run of the mill and have it be more psychological. Lots of medieval references were used in coming up with inspirations.
A New Soundscape (HD, 11:12) – "In Dune, rhythm is everything." This one takes a look at the sound design and progressive nature of Denis Villenueve's filmmaking
Summary
One of the year's absolute best film's, Denis Villeneuve's adaptation of Frank Herbet's Dune dazzles as much on 4K Ultra-HD Blu-ray as it did in the theater. It proves an immaculate presentation both with a top of the line video transfer and Atmos track that will still be one of year's best 11 months from now. The extras, while kinda brief and promotional feeling are more than solid, and knowing this film will likely warrant future editions with potentially more bonus features down the road, this'll do good for now. This is an instant pickup for pretty much anyone likely reading this.
This is a paid Amazon Associates link