February 2nd, 2021 by Brandon Peters
Paramount Presents continues to dig into the studio's history from all eras and fill in the missing gaps of their Blu-ray catalog. Elizabethtown, Cameron Crowe's 2005 effort, is a surprising film to be lacking. It came out the year before Blu-ray/HD-DVD launched, which feels like it would have made the film a candidate for an upgrade. Being a recent romantic dramedy to showcase the new format seemed like a good spot for Elizabethtown. But alas, here we are 16 years later and the film is finally making its debut on Blu-ray, as HD-DVD failed to catch on and we now have a new 4K Ultra-HD Blu-ray format that is roughly 5 years old. Crazy to think about. Just me? Well, Paramount Presents has given the film a 4K restoration as well as a new interview with Cameron Crowe for its debut onto Blu-ray. It arrives just in time for Valentine's Day, hitting (probably virtual) shelves on February 9th! You can pre-order using the paid Amazon Associates link following the review.

Film
Aspiring young shoe designer Drew Baylor (Orlando Bloom) gets fired from his high-profile job after the failure of his latest project. To make matters worse, his girlfriend, Ellen (Jessica Biel), leaves him, and he becomes suicidal. Drew's morbid plans are interrupted by the news of his father's death, and he is called back to his Kentucky hometown. On his flight home, he meets the lovely Claire (Kirsten Dunst), a sunny flight attendant who tries to help him embrace life once again.
When I first saw Elizabethtown back in 2005, care for it I did not. Cameron Crowe has made some absolute gems in his career, so no matter what, I'm always optimistic going into one of his films. And back when this came out, he was riding pretty high. Though I wasn't fond of it and hadn't seen it since, I was very much looking forward to revisiting it, seeing it has been about 16 years and I'm a much different person and further along in my film journey/studies/knowledge than I was then.
To my delight, I indeed enjoyed it decently enough this time around. Perhaps its my age and experiences that maybe brought me closer to the wavelength of the journey that Crowe is asking the audience to take. No, its not perfect, and I feel its a bit of a clunky journey through what could have been a simpler narrative that shies away from tackling some strong conflict. For instance, Susan Sarandon's character might have been more interesting in having to face her dead husband's family rather than some off tone comedic asides.
The film gets the usual Cameron Crowe musical choices and ques down like normal. And there are moments spectacularly amplified by a nostalgic tie to a song how it sweeps in to a moment. He even humorously finds his way to make the tired Lynyrd Skynyrd classic "Free Bird" a perfect choice to use in the film. During the finale, it feels like the ultimate dream moment for Crowe, to just let loose and shower a montage of moments with a playlist of songs. And its effective.
What Crowe taps into here that maybe will get overlooked as people obsess over the value of Kirsten Dunst's character (Which he touches on his feelings of that criticism in the new extras), is an interesting way of dealing with a paternal passing. Orlando Bloom is showered with such large moments in his life competing with the grief of losing his father and facing the career failure which he is moments away from having to face as a reality. And even when he has the chance to be alone and contemplate it all, he does whatever he can to put it off and meet someone else. Its also interesting that we wonder throughout the film which devastation is weighing on him heavier. And to his credit, Bloom plays it terrifically to where he's never clearly showing his hand.
Elizabethtown does have a lot more value than I gave it credit for back when it first arrived. I'm not saying its some overlooked masterwork that's ripe for redicsovery. But perhaps its one that was too harshly judged upon arrival and we should take a look back and realize that it was actually just fine. Maybe its a "I wish they made stuff like this" or "I want a great Cameron Crowe film again" combination of desires, but I was very welcome to Elizabethtown this time around. Maybe you will be too.
Video
Encoding: MPEG-4 AVC
Resolution: 1080p
Aspect Ratio: 1.85:1
Layers: BD-50
Clarity/Detail: Elizabethtown debuts on Blu-ray promoting a brand new 4K master. And it definitely serves it well as the film has nice clean but film cinematic appearance to it. Details are fresh, crisp and showcase all sorts of texture and patterns. Its a rather dark looking film by design but handles it in such a more naturalistic way. This is definitely a very good transfer and makes Kentucky look pretty beautiful when captured in the film.
Depth:  There is quite a nice depth of field in the film and showcased well here. There are plenty of moments to take in whether it be in the outdoors with a spread of trees or in the hotel with pillars staggered and showing pushback. Scale is quite well established too, from big open ballrooms to the open road. Movements are cinematic and smooth and feature no distortions caused by rapid movement.
Black Levels: Blacks are a highlight of this transfer as this really gets these things as close to natural levels as the format allows. And there are many tones and shades featured here. Even the darkest depths contain fine texture and patterns. No crushing witnessed.
Color Reproduction:  The film has a rather blue look to it, but fabrics, upholstery and such keep a more natural but bold touch to it. Greens really pop, especially with grass and trees. There are some beautiful natural elements that come through when looking at the more nature-esque scenescapes.
Flesh Tones: Skin tones are natural and consistent from start to finish of the film. Facial features and textures are easily distinct and visible from any reasonable distance in the frame.
Noise/Artifacts: Clean
Audio
Audio Format(s): English 5.1 DTS-HD MA, English Audio Description
Subtitles: English, English SDH
Dynamics: Elizabethtown has a pretty solid 5.1 track that doesn't really go wild, but enhances and compliments the storytelling in the film. Its a balanced track, never drowning out another aspect of vocals, effects or music having them step on each other. The highlights are the needle drops in the film where the music just takes over and sounds crisp and develops a good feel.
Height: N/A
Low Frequency Extension: Not a real booming movie, but the subwoofer comes in with a pretty solid, standard bump in places it needs too; music, fire, doors slamming, etc.
Surround Sound Presentation:  The surround speakers are a good compliment to any interior in the room. In a crowded Kentucky house overflowing with people it does an adequate job of letting you know of all the action. Ditto the crazy wedding weekend going on at the hotel. Sound also feels in concert when music takes over in the film. Travel is accurate to what's onscreen as well.
Dialogue Reproduction:  Vocals are clear and crisp and the narration features some really good diction and focus.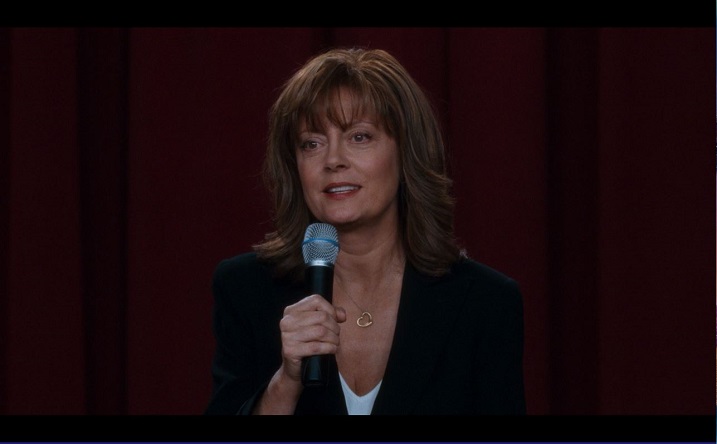 Extras
Elizabethtown, in first pressing, comes with a slip cover that folds open to reveal the original poster art for the film. It also comes with a redeemable digital copy.
Filmmaker Focus: Cameron Crowe on Elizabethtown (HD, 6:22) – Cameron Crowe reflects on the film, how it was a film for his dad (who grew up in Kentucky) and being about meeting people you only meet because somebody dies. He also has some great analysis on Orlando Bloom and Kirsten Dunst and where they were at the time.
Deleted & Extended Scenes (HD, 23:49) – Includes an introduction by Cameron Crowe and he talks about an early cut they sent to the Toronto International Film Festival.
On The Road To Elizabethtown (SD, 13:49) – A making-of featurette ported over from the DVD release.
The Music of Elizabethtown (SD, 5:32) – Cameron Crowe talks about the music used in the film. Another vintage featurette.
"Meet The Crew" Featurette (SD, 2:35) – A little music set montage of behind the scenes footage that points out some of the crew members.
"Training Wheels" Featurette (SD, 2:21) – Set to some rough demo music, it looks to be screen tests for the main characters in the film as well as some videotape run throughs of scenes.
Photo Gallery By Neal Preston
Behind the Scenes
Mercury
Drew Baylor
Mitch, Hollie, Drew and Heather: The Baylors
Claire Colburn
Drew & Claire
Kentucky
The Memorial
The Funeral
The Road Trip
Trailers and TV Spots (HD/SD, 5:17)
Summary
Whether the passage of time, the change of the cinematic landscape or myself softening in old age, my distance from Elizabethtown was kind as I enjoyed returning to it for this review. Paramount Presents welcomes it into the label with a terrific looking 4K mastered image and some nice new contributions from Cameron Crowe on the extras. Crowe collectors will want to pick it up, and I urge others curious to give the film another shot to do so.
This is a paid Amazon Associates link