September 18th, 2021 by Brandon Peters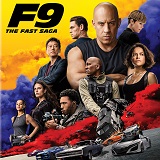 The Fast and Furious "saga" has been the best and biggest film franchise that isn't Marvel. Working in its own world and continuity, eliciting spinoffs now even. F9: The Fast Saga was delayed last year only to become the surefire big movie of the summer this year when it finally dropped. It brought back fan favorite Sung Kang from the auto garage afterlife and swapped Dwayne Johnson for John Cena in terms of former wrestler turned actor star quality. You'll be able to add the film to your collection when it jumps onto the 4K Ultra-HD Blu-ray format, which includes a Director's Cut of the film and some terrific extras. You can pre-order using the paid Amazon Associates link that follows the review below to ensure yourself a fine copy of this disc when it arrives September 21st.
.

Film
Dom Toretto is living the quiet life off the grid with Letty and his son, but they know that danger always lurks just over the peaceful horizon. This time, that threat forces Dom to confront the sins of his past to save those he loves most. His crew soon comes together to stop a world-shattering plot by the most skilled assassin and high-performance driver they've ever encountered — Dom's forsaken brother.
Dom and the family are back, but most importantly so is director Justin Lin. The Fast and Furious franchise wouldn't be what it is and has been now, largely if it weren't for his talent. Lin has a knack for seamlessly blending death defying action stunts with modern CGI trickery. All the while he's not afraid to have fun, get silly and have his tongue firmly planted in his cheek. We're laughing and cheering together with Lin, and its so much fun to do so.
Right from the jump, Lin gives us one of his most ambitious set pieces yet that was a big highlight of the film's trailer. Beyond the big elaborate over the top pieces, Lin scales back and takes the car stuff back to its roots. As a surprise to anyone seeing it for the first time, the film deals in a lot of flashbacks. We get a big sequence involving stock car racing to open the film. Its an aspect that's not yet been tackled in series about cars and originated with street racing. There is also a flashback involving the original street racing we knew early on in the series that gave it the original draw. The variety on display in one film is quite impressive, offers a nice change up, and gives F9 its own identity among a pack of 10 films and counting.
These films have become quite long and overloaded with plot and mythology. F9 is no different in that regard. Its chocked full of a lot of retcons and trying to find any possible moment it can to bring back a character from a previous film. But, that's what we tend to love about these films as fans. Ultimately, this is where a lot of people are going to draw the line, but its quite full in this one juggling flashbacks upon flashbacks and as well as the current storyline that is going on. However, with someone like Lin as opposed to the last film's F. Gary Gray, there's a sense of glee and an understanding of how to put it all together.
At this point with the Fast saga, it is what it is. You either are a big fan or have been and this is just par for the course. Or you came in because they were popular and had some (admittedly) top flight entries but now you realize you might have just been coming back because everybody else did. And that's fine too. But, F9 delivers all the good you've come to expect from this franchise all along the way, while continuing to push the limits and ridiculousness of its car-centric action pieces, reality be damned. And for that, F9 is a welcome return for Justin Lin and a rather fun time and bounce back after Fate of the Furious and Hobbs and Shaw.
Video
Disclaimer: Screen captures used in the review are not taken from the 4K UHD Blu-ray disc.
Encoding: HEVC / H.265
Resolution: 4K (2160p)
Aspect Ratio: 2.39:1
Layers: BD-100
Clarity/Detail: While it may have been shot with higher resolution cameras, F9: The Fast Saga was finished with a 2K digital intermediate, making its debut on 4K Ultra-HD Blu-ray an upscale. However, that won't matter to your eyes as it looks pretty lovely. There's lots of great color, contrast and black levels to go with an wonderfully detailed and textured image.
Depth:  Some great depth of field on display here through a jungle and even just the old race track. Great, confident camera movements give a real nice sense of a big scale while also layering the objects and such with terrific pushback. Movements are smooth and natural.
Black Levels:  Blacks are deep and rich hitting more natural levels. The contrast they provide adds an extra sharpness and polish to the image. No crushing witnessed.
Color Reproduction: Colors have that nice, vivid tropical appeal to them. The city streets and mansion courtyard look beautiful as well. Colors are well saturated and there's a nice HDR pop with car lights, fire, display lights and more.
Flesh Tones: Skin tones are natural and consistent from start to finish of the film. Facial information and texture is quite detailed and every little pore visible from any reasonable distance in the frame.
Noise/Artifacts: Clean.
Audio
Audio Format(s): English Dolby Atmos, Spanish 7.1 Dolby Audio, French 7.1 Dolby Audio
Subtitles: English SDH, Spanish, French
Dynamics: In a change of pace, F9: The Fast Saga opts for the Dolby Atmos track instead of DTS:X like the previous films. No matter, its plenty full and complete engaging as it engulfs your viewing area. This is a well balanced mix with plenty of depth and strong booming presence with loud and crisp action. There are some nice touches and layering to make this a plenty fun experience and have you right in the middle of the action be it a jungle full of land mines, alongside a magnetized truck, at the race track or even in space.
Height: From above you get helicopters, planes, debris, Cena ziplining and other nifty additives that fill out the room and bring it to life.
Low Frequency Extension: Engine roaring, gun blasts big and small, crashing, explosions and more really give the subwoofer a grand boom and pound.
Surround Sound Presentation: The room here is well mapped out in this movie and always present. Rolling sound is pretty powerful and accurate. Every environment really has nice touches to keep it feeling part of the room at all times.
Dialogue Reproduction: Vocals are clear and crisp. They are impressively mixed within the action scenes as both present and part of the loud crushing and crashing abound.
Extras
F9: The Fast Saga comes with the standard Blu-ray edition and a redeemable digital code of the film.
Audio Commentary
With Producer/Co-Writer/Director Justin Lin
Gag Reel (HD, 3:34)
F9: All In (HD, 45:23) – A 9-part "Making Of". The cast and crew welcome Justin Lin back and discuss getting people back together, pushing what they can do and the scope of the whole film. Very informative, lots of interviews, on-set footage and showing how things were pulled off, rehearsed, etc.
Practically Fast (4K, 7:52) – This one showcases the practical stunt work on the film.
Shifting Priorities (HD, 3:59) – Dominic Toretto's history and his change as outlaw turned father is the focus of this featurette. Goes over the younger versions and the father character.
Justice For Han (4K, 3:37) – Highlights the return of Han and keep it a secret. It also touches on how people have died and not stayed dead in the series.
A Day On Set With Justin Lin (HD, 10:00) – Staring at 4:30 AM with the director, he talks about how he sleeps 3 hours a night, yet still is excited for every day. Its sort of a diary and follows him around along with interviews from cast members.
John Cena: Supercar Superfan (HD, 4:36) – John Cena takes us around the cars that are parked outside the mansion in the scene where Dom crashes the party.
Summary
F9: The Fast Saga continues to deliver the big car action sequences, pushing boundaries in celebration of the return of director Justin Lin. No, we're far from trying to best Fast Five, but its still a lot of fun to catch up with Dom and the Fam. Universal's 4K Ultra-HD Blu-ray debut for the film features a gorgeous looking upscale of the film with a good, engaging Atmos track. Extras prove to be a lot of fun and nicely informative. Definitely grab it, though as usual with these movies it surely this will wind up being on sale soon during the Black Friday madness or not too long after.
This is a paid Amazon Associates link