November 6th, 2023 by Brandon Peters
Feels weird to be so far into the life cycle of 4K Ultra-HD Blu-ray and we are just now getting to the Coen Bros' Fargo. And that its being put out by Shout! Studios to boot. But, that's also a good thing, as they are gonna take a little more care than it being an also ran. Its an update of their previous release on the format, carrying over extras and audio to go with the new 4K transfer from the original negative that was overseen by Roger A. Deakins (the GOAT!). Its for release on November 7th. You can order yourself a copy (why the heck wouldn't, ya?) by using the paid Amazon Associate link at the bottom of this review.
.
Film
Jerry Lundegaard (William H. Macy) is a car salesman in Minneapolis who has gotten himself into debt and is so desperate for money that he hires two thugs (Steve Buscemi), (Peter Stormare) to kidnap his own wife. Jerry will collect the ransom from her wealthy father (Harve Presnell), paying the thugs a small portion and keeping the rest to satisfy his debts. The scheme collapses when the thugs shoot a state trooper.
Now known as having a well revered television iteration that is approaching its fifth season this month, Fargo the film was a bit of a phenomenon back in 1996. It managed to hit the pop culture lexicon quite swimming, mainly behind the accent of the residents in the movie, the pregnant sheriff and the shocking finale that featured human bodies being tossed into a wood chipper. 1996 featured other pop culture Academy Awards darlings that same year too as it was the "Show me the money!" year as well. Though, the big prize went to that of The English Patient.
One of the fun things to revel at here with Fargo and its cast, is that its a nice gathering of some of the biggest names in the 90s indie scene at the time. You've got Steve Buscemi, France McDormand, William H. Macy, Peter Stormare and others putting in some of their most memorable turns. Most of which had worked with or would worth with the Coen brothers again. Casting is typically what makes their films sing, and this one is no different.
Another MVP of the Coens who puts in some fantastic work in Fargo is that of cinematographer Roger Deakins. In Fargo, they actually capture a true midwestern feel in terms of what a house or a local business would look like. Fargo is a really unsexy film and that's very much an appeal of it. Its very rustic and conservative. It adds some of the most authenticity ever captured for a midwest film. That's not to say he's not doing anything marvelous. There are some wonderfully framed shots and some terrific execution. There's a scene from overhead where William H. Macy heads to his car in a parking lot that is absolutely brilliant. And when his character spots Buscemi outside her house approaching to break in, its completely terrifying.
Fargo does follow the bread and butter type of film the Coens excel at, which is a more Americana take on the Hitchcock caper. But, what also works here and helps engage and build more suspense is the lack of mystery in it all with the kidnapping and such. The Coens play from the Columbo playbook (or Poker Face for you youngins), in which we see how the crime plays out and add our detective into it all after the first act. We then see fallout from the criminals and the investigation of the detective. And McDormand does a hell of a job filling in the Peter Faulk shoes, absolutely deserving of her first of many mantle decorations in this role.
If you're discussing and making a list of the essential films of the 1990s, Fargo must be in the chat. Its finely, tuned and still some of the Coens' best work. The performances are top notch as they blend together suspense and humor. You really can't get much better than a film like this. You're seeing some of the greatest writer/directors of all time, best cinematography of all time and some of the best actors of all time firing on all cylinders.
Video
Disclaimer: Screen captures used in the review are from promotional images supplied by the studio, not the 4K UHD Blu-ray disc.
Encoding: HEVC / H.265
Resolution: 4K (2160p)
Aspect Ratio: 1.85:1
Layers: BD-66
Clarity/Detail: Fargo's 4K Ultra-HD Blu-ray features a new 4K restoration from the original camera negative supervised by director of photography Roger A. Deakins. And holy shit, this is absolutely marvelous to look at. This is a pristine, clean image with a nice layer of grain, showcasing loads of depth and the finest details imaginable. Its hard to imagine the film looking more perfect than this.
Depth: Depth of field is very strong here with great pushback, separation of actor and environment, and spaciousness galore to go around. Every room feels big and three dimensional and the outdoor sequences showcase a load of scale. Movements are cinematic and smooth.
Black Levels: Blacks are deep and natural with fantastic work with shadows and nighttime sequences. Patterns, textures and fine details like hair follicles or scuffs on a surface showcase on the darker corners of the frame. No crushing witnessed.
Color Reproduction: Colors are mostly rustic and natural. The palette features plenty of browns, grays and the like, but with a bold flavor to them. HDR helps in the area of display screens, car lights and more with a good glow.
Flesh Tones: Skin tones are natural and consistent from start to finish of the film. The facial information on the textures and the like are clear as day. Its impressive.
Noise/Artifacts: Clean
Audio
Audio Format(s): English 5.1 DTS-HD MA, English 2.0 Stereo DTS-HD MA, Spanish 2.0 Stereo DTS-HD MA, French 2.0 Stereo DTS-HD MA
Subtitles: English SDH
Dynamics: Fargo retains the 5.1 track on the previous releases of the film on standard Blu-ray. And that's absolutely fine. This track has a lot of space, great ambiance and is plenty impactful on its volume distribution for terrific engagement.
Height: N/A
Low Frequency Extension: The subwoofer helps out with good roaring engines, woodchippers, gunfire, slamming, crashing, glass smashing and more.
Surround Sound Presentation: The rear channels pull off some invested ambiance and also unique sounds as well as tracking off screen activity with good presence. Sound travel is accurate to onscreen activity with some decent oompf when its heavier.
Dialogue Reproduction:  Vocals are crisp and clear.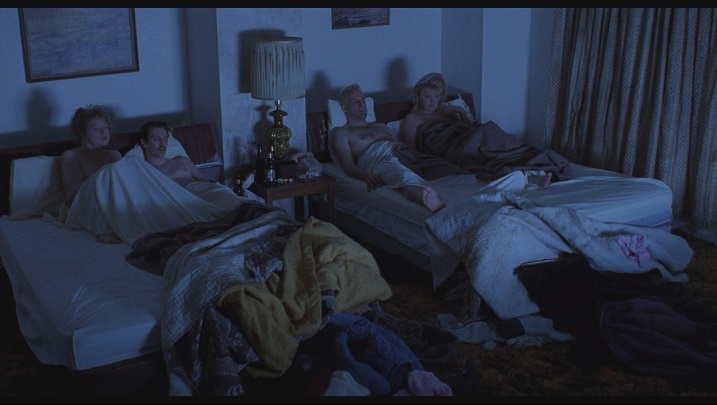 Extras
Fargo – Collector's Edition comes with the standard Blu-ray edition. All extras are found on the standard Blu-ray disc. While many of the bonus features are encoded in HD, they are upconverted from an SD source.
Audio Commentary
with Director of Photography Roger A. Deakins
Minnesota Nice Featurette (HD, 27:48)
Interview with Coen Brothers and Frances McDormand (HD, 20:32)
Theatrical Trailer (HD, 1:58)
TV Spot (HD, :33)
American Cinematographer Article (HD, 15:57)
Still Photo Gallery (HD, 5:57)
Summary
Fargo is about as perfect as a film can get and its crazy that its only one of the Coens' perfect films. This was a can't miss, everybody has to see it film back when it count and now its a can't miss, everybody needs to buy it 4K Ultra-HD Blu-ray. The new transfer is spectacular and they've carried over the extras and the terrific 5.1 track. Grab this Collector's Edition on day 1.
This is a paid Amazon Associates link