December 22nd, 2022 by Brandon Peters
David Gordon Green's alternate timeline of what comes after John Carpenter's 1977 Halloween found its conclusion this past fall. The trilogy as a whole found itself a smashing success since 2018, raking in almost half a billion on merely 60 million for all three movies. The final piece, Halloween Ends will be arriving for 4K Ultra-HD Blu-ray purchase on December 27th. So you can spend your holiday money on a movie for a different holiday. It features plenty of featurettes, deleted scenes and a commentary with a lot of people involved. You can pre-order it if you want, and hopefully it comes on the release date. And if you're extra cool, you'll use the paid Amazon Associates link below.
.

Film
Four years after her last encounter with masked killer Michael Myers, Laurie Strode is living with her granddaughter and trying to finish her memoir. Myers hasn't been seen since, and Laurie finally decides to liberate herself from rage and fear and embrace life. However, when a young man stands accused of murdering a boy that he was babysitting, it ignites a cascade of violence and terror that forces Laurie to confront the evil she can't control.
When the movie arrived this past October, I had the delight of sharing my thoughts on the film on Out Now With Aaron & Abe with Aaron Neuwirth and Peter Paras. I rather loved this conversation (I had seen the movie twice at this time). And I rather stand by my thoughts still. Have a listen if you have the time.
Video
Disclaimer: Screen captures used in the review are from the standard Blu-ray, not from the 4K UHD Blu-ray disc.
Encoding: HEVC / H.265
Resolution: 4K (2160p)
Aspect Ratio: 2.39:1
Layers: BD-100
Clarity/Detail: Halloween Ends comes to 4K Ultra-HD Blu-ray with roughly the same quality as the previous 2 films, though this one has a rather more 70s look and feel to its aesthetic (Could be the editing and camera work too). It has terrific color saturation, depth, sharpness and detail on display throughout the film.
Depth: Depth of field is pretty impressive with good pushback and scale on display throughout the film. Movements are cinematic and smooth with no issues from any sort of quick camera movements or character actions causing a jitter or blur.
Black Levels: Black levels are at natural levels and really feel a character of their own. Shadows, darkness and such have a beauty all their own. No information lost and no crushing witnessed.
Color Reproduction: Colors pop pretty well contrasting to the darkness on display. Displays really glow with lights and such on signs and cars. Clothing colors and such look pretty bold.
Flesh Tones: Skin tones are natural and consistent from start to finish. Facial features and textures are pretty clear from really any distance in the frame. Cuts, scrapes, bruises, dried blood/dirt all come through with fascinating information.
Noise/Artifacts: Clean.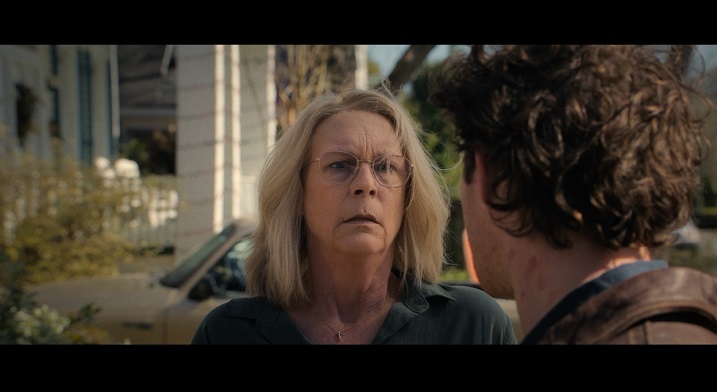 Audio
Audio Format(s): English Dolby Atmos, Spanish 7.1 Dolby Digital, French 5.1 Dolby Digital
Subtitles: English SDH, Spanish, French
Dynamics:  Halloween Ends comes with a pretty thundering Atmos track. It really loves Carpenter's score. But it finds an excellence in its balance between effects and vocals as well. It excels in the layering and depth and really brings the quietest rooms in a house full to life. A terrific way to go out here for the series!
Height: From above you get some nice ambiance additions as well as the music and score or when a character swoops over the camera or something is clearly coming from above.
Low Frequency Extension: There's a big boom from the subwoofer when it comes to Carpenter's score. All impalements, engines, smashes, punches and more have some good force.
Surround Sound Presentation: There's plenty of fun around the room with both creepy ambiance as well as some nice unique jumps coming from the rear and side channels. Sound travel rolls around the room with some nice loads of force.
Dialogue Reproduction: Vocals are clear and crisp.
Extras
Halloween Ends comes with the standard Blu-ray version and a redeemable digital code.
Audio Commentary
with Co-Writer/Director David Gordon Green, Actors Andi Matichak and Rohan Campbell, Co-Producer/First Assistant Director Atilla Salh Yücer, and Production Assistant Hugo Garza
Deleted and Extended Scenes (4K, 7:06)
Final Girl (4K, 4:40) – A tribute to working with Jamie Lee Curtis, her legacy on this franchise and herself coming to terms with it being her final go at it. Jamie gets pretty emotional in the end.
No Place Like Haddonfield (4K, 7:49) – This one talks about the vibe and culture of Haddonfield in the film from some of the characters to places visited in the movie.
Gag Reel (4K, 2:45)
Ending Halloween (4K, 8:26) – A featurette going over the idea and inspirations for coming up with this story and what would be the way to put a cap on this version of the branching timeline for the Halloween films.
A Different Threat (4K, 5:43) – All about Corey. This talks about the new addition to Haddonfield, the actor who played him and how this works as the final piece of closure to the Michael Myers story.
The Visions Of Terror (4K, 5:47) – Here we take a look at the people doing props, costuming and set design for the film.
Twisted Deaths (4K, 5:02) – A detailed look at the radio station kills as well as the big one at the junkyard.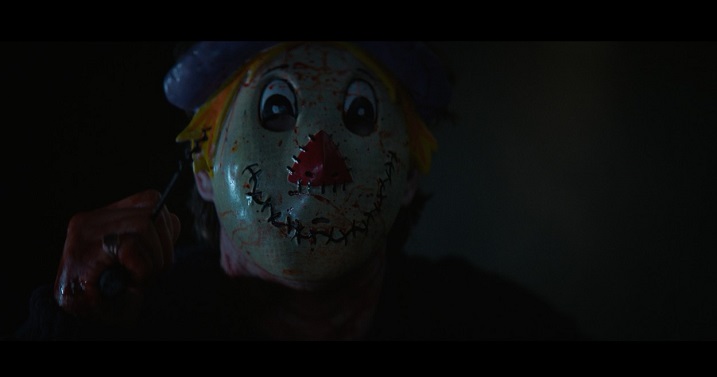 Summary
Halloween Ends is the perfect example of movie you weren't expecting, didn't know you wanted and then rather enjoy and appreciate what you have in the end. This is the kind of different and experimental avenues I praise a series of "Guy in mask stabs people" that I've loved for most of my life for doing. The 4K release features some top notch picture and audio quality and there's plenty of fluffy extras with some nutritious info but nothing too deep. Definitely pick it up, perhaps a big deluxe version is in a Scream Factory future someday.
This is a paid Amazon Associates link