July 24th, 2021 by Brandon Peters
Coming to you on Blu-ray July 20th is the modern slasher film, Initiation (I don't know how to make the exclamation point upside down). The film is the product of director, co-writer and co-producer John Berdado. Its based off of his short film Dembanger, which was also the original title of this film. It was set to be a South By Southwest premiere film, but the pandemic had other plans for it and wound up premiering at the Screamfest Horror Film Festival last year. For those at home, its been available via streaming rental/purchase since May, but now finds itself with a Blu-ray that has some neat little bonus features to accompany the release. You can own Initiation (And its Day 1 is a rather decent price for a new movie) by using the paid Amazon Associates link that follows the review.
.

Film
During a university's pledge week, the carefree partying turns deadly serious when a star athlete is found impaled in his dorm. The murder ignites a spree of sinister social-media messages, sweeping the students and police into a race against time to uncover the truth behind the school's dark secrets…and the horrifying meaning of a recurring symbol: a single exclamation mark.
Initiation boldly sets out to be a slasher film that ABOUT something. Not hidden, not "Oooh, I pulled this from the film" type thing. It has an agenda and spends time flushing out and building its characters before mayhem ensues. There's a clear #MeToo influence that weighs heavy over things. And they really get all of that material right.
There's a push and pull with this. You're going to be waiting a while for the killing to start. I'll argue that's not going to matter, because you're going to actually find yourself invested in the drama of what's happening with these college kids and the university. Maybe I'm wrong and you're bored like "kill somebody please". But, it wasn't for a long time that I questioned whether this was going to turn into a slasher movie or not and realizing I wasn't bothered.
When it does get to the killings, it really doesn't disappoint. There's plenty of blood, plenty of good practical effect work that'll have you saying "ouch" plenty. There are also plenty of clever sets and staging using good camera angles and colors. I particularly liked a kill that happened in a bathroom style that was noticeably bright white tile.
This latest little slasher here in Initiation is pretty solid, but just winds up being an average view despite all the good things it wants to do. Initiation is very worthy of a theatrical release. It also should have been a bigger project. The filmmakers did awesome with what they had, but to their credit, this is a really nice script and people should have been outbidding each other to make it. However, I think Initiation is an easy recommend.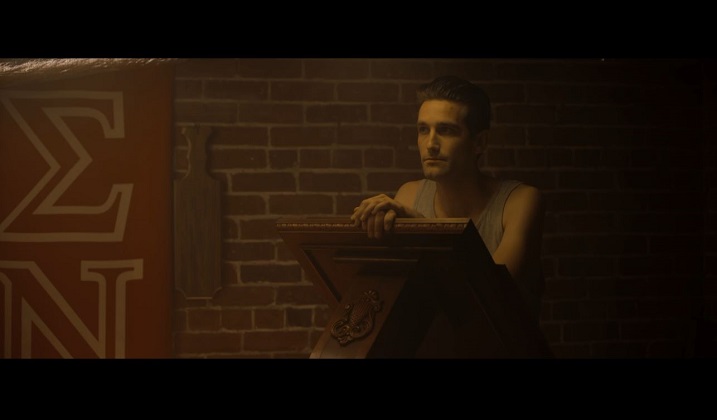 Video
Encoding: MPEG-4 AVC
Resolution: 1080p
Aspect Ratio: 2.39:1
Layers: BD-50
Clarity/Detail: Initiation comes to Blu-ray in what you could call a pretty standard digital picture in HD. Its vivid with really nice colors and strong lighting. The image is crisp and sharp with easy to discern details and textures. While it doesn't really impress, it does more than just get the job done.
Depth:  Depth is solid. Movements are natural with no issues regarding motion distortion.
Black Levels: Blacks are deep and inky. Unfortunately they do run into a bit of crush that is too be kinda expected with an HD digitally shot film. Mostly noticeable during a couple camera pans/dollies when going through a dark hall.
Color Reproduction: Colors are pretty strong and vivid like the picture. Blood is so bold and pops well that its beautiful. Whites also come across really lovely, too.
Flesh Tones: Skin tones are natural and consistent from start to finish of the film. Facial features and textures can be made out from any reasonable distance in the frame.
Noise/Artifacts: Clean
Audio
Audio Format(s): English 5.1 DTS-HD MA
Subtitles: English SDH, Spanish
Dynamics: Initiation has a pretty awesome and loud 5.1 mix. There's some good layering and depth on display as effects have a little heightened reality to them. There's a good balance of the vocals, music and effects here that is pretty engaging and plays good into the volume of the mix.
Height: N/A
Low Frequency Extension: Some good boom from the subwoofer on music used in the film. smashing, impaling, punches, gunshots and more.
Surround Sound Presentation: Sound does have some clever and playful additions and really knows how to utilize the rear channels in terms of unique sounds and traveling ones. There's a good build here and its well thought out.
Dialogue Reproduction: Vocals are clear and crisp.
Extras
Initiation comes with a redeemable digital code of the film.
Hidden Secrets: Surviving Initiation (HD, 30:07) – A retrospective on the film with interviews both regular and zoom style. The director shares that Scream was his favorite horror movie and it really made an impact on him at 10 years old. So, he wanted to make an updated Scream with Facebook. This is a pretty extensive Making Of that has great in depth interviews, behind the scenes footage, photos and storyboards.
The Final Twist: Postproduction (HD, 6:36) – This featurette goes over how they pull off the effect of people using their phones in the film. Its quite impressive and clever both what went into and how they approached it.
Summary
Initiation is a rock solid effort in setting about to be a slasher that has something to say. Lionsgate brings it to Blu-ray with some pretty solid treatment. Video and audio are about what you'd be wanting when it comes to a more independently done film on digital. There's a terrific making of documentary and a postproduction featurette that really fill this release nicely. Slasher fans are probably going to lean into this one easily but others may want to rent or stream it first.
This is a paid Amazon Associates link