December 7th, 2019 by Brandon Peters
Two years ago, the 2017 adaptation of the legendary Stephen King novel It became a complete phenomenon. Setting the film world on fire from the launch of its trailer, It (2017) opened to an absurd amount of money for an R-rated horror film and surged its way, with strong legs to become a complete box office champion. It wouldn't last too long, however, as another famous clown knocked off Pennywise from that pedestal this year. This same year that brought the follow up promised at the end credits of the first film, It: Chapter Two. The second film didn't fare as well the second time around and merely became just another "hit movie". The adult focused adventure seemed to come and go from the conversation before September was even over. Andy Muschietti's film does arrive on 4K Ultra-HD Blu-ray just in time be be a part of your Holiday conversation though, arriving on December 10th. You can add IT to your Stephen King collection by using the paid Amazon linkage below.

Film
Twenty-seven years after the Losers Club defeated Pennywise (Bill Skarsgård), he has returned to terrorize the town of Derry once more. Now adults, the Losers have long since gone their separate ways. However, people are disappearing again, so Mike (Isaiah Mustafa), the only one of the group to remain in their hometown, calls the others home. Damaged by the experiences of their past, they must each conquer their deepest fears to destroy Pennywise once and for  all…putting them directly in the path of the shape-shifting clown that has become deadlier than ever.
It: Chapter Two is a bit of an overconfident victory lap following the huge success of the first film. I can't argue as that movie was a phenomenon and its totally earned. Regardless of my own self being merely "Okay"on it, I can step outside my own mind and realize I was in the slim minority as most people LOVED it. However, the second time around here, the Derry adventures contain some terrific horror sequences, outstanding performances with great cast chemistry but unlike the first it can't seem to string it all together or pace it accordingly to make the lengthy runtime not feel like the lengthy runtime it is.
The big attraction this time around was seeing the older iterations of the kids from the original and WHO they cast to play them. Jessica Chastain as Beverly was a thing even before the movie released. All the press hub bub during promotions and early reviews was about how damn good Bill Hader was in the movie. NEWSFLASH: He always fantastic in EVERYTHING. Sorry it took til seeing It: Chapter Two for people to be introduced to him. I don't want to take away from his performance here, as he's possibly the best thing in the film, but…watch Barry. Watch Trainwreck. Watch Superbad. Go back and watch his years on SNL. You've got some catching up to do.
Hader aside, the other members are pretty outstanding as well, truly feeling like they captured the spirit and essence of the children in the first film. Said children are back here too, via flashbacks, so firsthand you can see the films excellent casing in play. They did do some de-aging processing on the children as well as tinkered the pitch on their voices as those actors were two years older than when they shot the first film. This was mentioned prior to the film's release, which knowing that, you can really see how odd and obvious some of them look. And a lot of their dialogue sounds slightly sped up to sound younger. I wonder had they kepted hush about it, and just let it play, that my mind wouldn't have been aware and it wouldn't have been so obvious. But, alas, it is what it is.
I touched before, but this movie is pretty bloated. Yes, its long, but length is never a matter when you're a great movie (See recently, The Irishman). The film has a plot issue in the middle where each of our leads is left to wander of on their own sort of solo adventure. Now, I'm not against this, but we pretty much see all of them, and each adventure is pretty lonely, lengthy and then ends, only to restart and stop again. One of the strengths of It and the cast of this film as well, is when they are all together and sparring off or working together. By themselves, its less interesting and becomes pretty tedious.
Once again the "horror stuff" in this film I'm halvsies on like I was the first time. Bill Skarsgard is excellent again as Pennywise. What happens here is a sort of hybrid of effective, well produced things done mix with cheap modern horror movie tactics. In all honesty, I think the direction and editing of the horror elements work much better in this one on a technical level, but still suffer a lot of the issues I had with the first movie. It: Chapter Two also has a problem with being afraid to leave some tension or dread. Muschietti's film is constantly cutting it with bad jokes left and right. Its a real kick to the just and puts a viewer with an awkward feel and mindset. Not that humor isn't allowed in a horror, but the choices made with it in this one are quite odd.
It: Chapter Two earned its victory lap, but this time its just too much. "You'll bloat, too" was a common phrase heard regarding it, and its not wrong at all. And its probably not good for someone like me who only saw the first film as a 3 to 3.5 star film overall. BUT, I think the film does have some highs, its just buried within itself and its excessive runtime. On a case by case basis, there are some really good scenarios in play, but all together and topped on with a really long finale, It is a bit too much.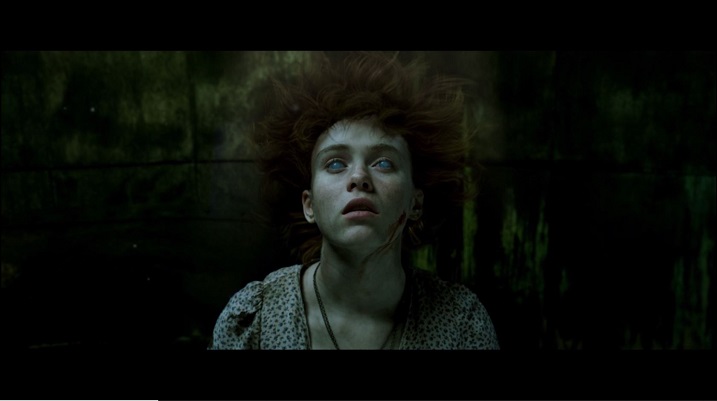 Video
Encoding: HEVC / H.265
Resolution: 4K (2160p)
Aspect Ratio: 2.39:1
Layers: BD-100
Clarity/Detail:  It: Chapter Two was shot at 2.8 K and 3.4K but arrives as a 4K upscale as it may have been finished with 2K intermediate. Either way, from the moment this thing starts, it looks frickin' INCREDIBLE. This might just be one of the best images I've seen on the format. I'm not typically impressed by modern movies looking good like they should, but It: Chapter Two really is a standout. The clarity, sharpness, three dimensional look that is ripe with detail is a real marvel of the format. Colors are full with a gorgeous palette to show off with a haunting beauty of natural blacks. This image really is something special and event the film's biggest detractors are going to be enjoying this once in a technical presentation aspect if anything else.
Depth:  This film looks almost like you're watching something in a future three dimensional way with out the glasses. Characters are full well rounded and very loose in every environment. Camera movements and character movements are 360 degrees of smooth, natural moving wonder. Zero issues occur with motion distortion or blur or any of that sort of nonsense.
Black Levels: Blacks are very natural and extremely well saturated. The under the bleachers scene is a go-to, to get the gist and scope of how well they've done here. Details typically remain full intact and are not consumed by any dark shadows or darkened clothing/hair color/surfaces. No crushing witnessed.
Color Reproduction: The colors here are a thing of beauty, from natural to popping vibrant hues. Reds of course are the start but there are bright lights, flashes of interesting fabrics and more. The Chinese restaurant our characters dine at in the opening act is a thing of beauty and true standout to show the power of this presentation.
Flesh Tones: Skin tones are natural and consistent throughout the film. Skin looks quite full, flush and touchable. Facial features are distinct, and window like from most distances as you can pick out make-up strokes, stubble, bruising, wrinkles, lip texture and more with great clarity and ease.
Noise/Artifacts: Clean.
Audio
Format(s): English Dolby Atmos, English 5.1 Dolby Digital, English Descriptive Audio (US & UK), French 5.1 Dolby Digital, Spanish 5.1 Dolby Digital, Portuguese 5.1 Dolby Digital, Italian 5.1 DTS-HD MA, Spanish (Latin America) 5.1 Dolby Digital, Hindu 5.1 Dolby Digital, Tamil 5.1 Dolby Digital, Telugu 5.1 Dolby Digital, Thai 5.1 Dolby Digital
Subtitles: English SDH, French, Italian SDH, Spanish (Castilian),  Spanish (Latin America), Portuguese, Thai, Chinese, Korean
Dynamics: It: Chapter Two comes with an oddly light Atmos mixture. Its not Disney AtMOUSE-like, but I feel like this one needed a little more power to it. The default volume is a bit lower of a setting that normal, so I did have to turn it up a bit. The mix is a pretty active one, with terrific layering and nuances throughout. Its loose, and plays around the room as it should and provides great environments with nice haunting atmospheres.
Height: Plenty to go on here, its very active anytime something naturally is occurring above and there are some terrific instances of the audio traveling above from another place in the room.
Low Frequency Extension: Its really likes to vibrate through with some solid strength in tow. In addition to obvious actionable sound effects, the score cheats by getting buzzy as well.
Surround Sound Presentation: This Atmos mix is quite playful with unique sounds, placements and spooking up a room as well as gracefully pulling off some naturally rolling moments to travel through the viewing space.
Dialogue Reproduction: Vocals are clear and crisp with pretty good attention to diction and mouth sounds. Pennywise voice proves plenty crazy and haunting when the mix wants to have some fun with it
Extras
It: Chapter Two is a 3-disc set containing the 2-Disc standard Blu-ray and a digital copy code (Movies Anywhere). Aside from the commentary, all bonus material is relegated to the standard Blu-ray Disc 2.
4K UHD
Audio Commentary
By Director Andy Muschietti
Blu-ray Disc 2
The Summers of IT – Led by Andy Muschietti and Barbara Muschietti, along with some cast interviews (And Stephen King pops up, too), this is a pretty in depth and personal look at making the both It films. Each film receives its own segment. In addition to the background of the film, preparation, interviews and inspirations, we get some behind the scenes footage, conceptual art and screen tests.
Chapter One: You'll Float Too (HD, 35:38)
Chapter Two: It Ends (HD, 39:30)
Pennywise Lives Again (HD, 9:55) – This featurette focuses on Bill Skarsgard's work on the film, returning to the character having not played him in two years.  This features video of mo-cap test effects and behind the scenes footage.
This Meeting of the Losers' Club Has Officially Begun (HD, 8:12) – Explores the casting process and wishlists of going from the kids to the adults and the relationships between the older actors and their younger counterparts through a letter.
Finding The Deadlights (HD, 6:18) – Stephen King discusses It being his desire to try and focus on adults trying to recapture childhood or never leaving aspects behind.
Summary
It: Chapter Two serves up some solid horror moments with a great cast, but overall its a long slog and totally bloated. But, lets push that to the side. This 4K Ultra-HD looks AMAZING! The picture quality ranks up there with some of the best I've ever had the pleasure of seeing with my own eyes on the format. The Atmos track is pretty loud and jumpy, perfect for the film. There are a nice wealth of  worthwhile extras to complete this set and make it a worthwhile release for fans of the film and home theater enthusiasts.