February 27th, 2020 by Aaron Neuwirth
I consider myself a fan of Kevin Smith. He made a couple of films in the 90s that I consider some of my favorites and has since spent time delivering his unique voice in a variety of ways, including more features, podcasts, and in public forums. With Jay and Silent Bob Reboot, the prospect of watching Smith once again utilize two of his most popular characters in a story that's both nostalgic and a commentary on today's culture (Hollywood and otherwise) seemed like a fun way for the writer/director to stretch a bit with ideas relevant today blended with the fun of the old. Alas, for all the good faith found in the cast Smith has assembled, I can't say I found much to latch onto.
–
Film:
The film's premise is relatively straightforward, as it is structured as a reboot/remake/sequel to Jay and Silent Bob Strike Back. That's a good gag in theory because Smith has the kind of characters that could totally fit into the meta void that is Hollywood's reliance on old IP. With that in mind, the story finds Jay (Jason Mewes) and Silent Bob (Kevin Smith) learning of plans to reboot the Bluntman and Chronic movie that was originally inspired by them. For various reasons, Jay and Bob are now determined to stop this from happening, leading to a cross-country mission that will lead to reunions and discoveries.
The impressive cast features many Smith regulars and returning cast members, including Jason Lee, Brian O'Halloran, Jennifer Schwalbach Smith, Rosario Dawson, Craig Robinson, Justin Long, Shannon Elizabeth, Joey Lauren Adams, Adam Brody, Ralph Garman, Diedrich Bader, and Matt Damon. There's even time for Harley Quinn Smith, Joe Manganiello, Frankie Shaw, Aparna Brielle, Kate Micucci, Melissa Benoist, Val Kilmer, Jason Biggs, James Van Der Beek, Fred Armisen, Molly Shannon, and Tommy Chong. Yes, this is a stacked list of cast members, and according to the making-of features, everyone had a good time making the movie. But at what cost?
Not that anything was at stake here, but I found a lot of faults in how unfunny and somewhat lazy everything felt. Understandably, Smith would be the first to note he's not the most ambitious director (though Red State and even Tusk had a lot to offer from a visual standpoint). That said, his dialogue has never been much of a concern. With Jay and Silent Bob Reboot, however, outside of some nice monologues and a few dialogue exchanges, I couldn't get over how little effort there seemed to be in constructing a stronger rhythm for either the stoner-based jokes or the satirical side of things.
The most evident aspect of this film is watching Smith contend with how things have changed thanks to some life events including his time as a father, his thoughts on the industry now versus how it was when he started, and his own brush with death (side note: film aside, I am nothing but proud of how Smith was able to not only talk about how close he was to death related to his heart but that he's absolutely turned it all around from a health standpoint). It's because of this viewpoint, that there's a lot to like about scenes with Jason Lee's Brodie pointing out how Hollywood has shifted, as well as scenes related to the dramatic dynamic involving Smith's daughter as Jay's daughter Millennium.
I will even give credit to what may be the funniest scene in a Smith film I've seen in years, where his Silent Bob delivers a monologue lifted out of the best scene of a very specific movie. That almost had me back on track with what Jay and Silent Bob reboot was going for, and yet, I couldn't get over how off-key this film felt. Either it's me getting too old to see the same schtick (looking at Adam Sandler's Netflix resume), or Smith had too much of a hard time juggling all the cast members he had assembled.
There's one key cameo from Ben Affleck (widely publicized as a rekindling of an estranged friendship) that is designed to be a centerpiece of the film. The way it's performed and what Affleck, as Holden McNeil, has to say is worth hearing. And yet, in the context of the film, it doesn't quite land with the impact intended. It speaks to the film as a whole, where having the reliability of a game cast only goes so far, if the intent is to simply rehash the old ways, with the bare minimum of effort put into the ways that advance things forward.
I get how fans of the View Askewniverse will be pleased by merely seeing "old friends" again, but not unlike The Rise of Skywalker, how far does that go if the results seem designed to purely suggest it only works because you remember it from the last time? I'd be more than happy to have another film with these people and see a story worth telling. As it stands, with a screenplay bereft of much humor or competence, this is more a frustrating experience than anything else.
Video:
Encoding: MPEG-4 AVC
Resolution: 1080p
Aspect Ratio: 2.39:1
Clarity/Detail: While shot on a relatively small budget, this digitally shot film comes across well enough. There's some softness to be found in many of the driving scenes relying on green-screened backgrounds. The muted coloring of the feature also speaks to an attempt to hide a lack of much style, but that doesn't mean there's a lack of clarity. Details come through well when it comes to environments and costumes.
Depth: Depth of field is captured well here, with a level of dimensionality that comes across effectively.
Black Levels: Shadow and black levels are terrific throughout. When the film heads indoors or takes on its many nighttime sequences, we get a chance to see how strong these areas of the film are thanks to a lack of crush.
Color Reproduction: Colors look great. While scenes are having a bit of a washed-out quality at times, you can see what is needed in the form of production design and other little moments that shine. Costumes, in particular, are given the chance to pop with color.
Flesh Tones: Character detail is strong enough.
Noise/Artifacts: Clean.
Audio:
Audio Format(s): English DTS-HD Master Audio 5.1
Subtitles: English SDH, Spanish
Dynamics: The lossless track presented here does plenty to highlight all of the specific choices that keep us with the characters, tracking the rapid-fire dialogue. Score and other elements are important, but it's all handled quite appropriately for the film we are watching, which is reflected well in this audio track.
Low-Frequency Extension: There are some good moments to bring life to the LFE channel. They mainly involve soundtrack bits or some sequences involving car rides, and they play well.
Surround Sound Presentation: The film is front and center-focused, but you have plenty to go on as far as the surrounding atmosphere. The balance is great, as you are never at a loss for what's taking place.
Dialogue Reproduction: Everyone is heard loud and clear.
Extras:
As one who considers Kevin Smith (and friends) commentaries to be among the best, it's disappointing to not only not have one here among the extras, but a lack of Smith himself, outside of his appearance as the interviewer on some of the extras. Still, there is a long list of cast interviews to enjoy.
Features Include:
Cast Interviews (HD, 58:47) – Nearly everyone who participated in the film gets a chance to speak about their experience with the history of this series, as well as on this latest adventure.
Kevin & Jay Interview Cast and Crew (HD, 29:44) – The title makes this pretty self-explanatory, but there is some fun stuff here.
Bloopers (HD, 9:37)
Hair Reel (HD, 1:43) – Some time spent on the wigs provided for Jay and Bob.
Digital HD Copy of the Film
Summary: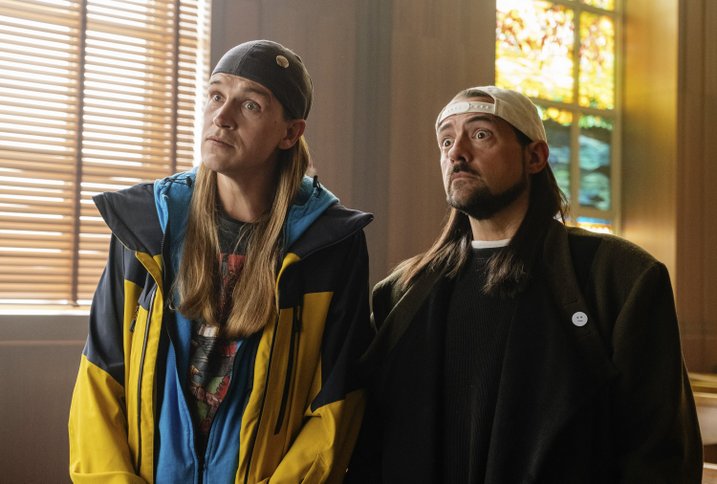 With a comedy, the mileage may vary, but Jay and Silent Bob Reboot sadly isn't a return to glory for Kevin Smith. Yes, the cult appeal is strong with this one, but it falls far more in line with the quality of Yoga Hosers and Tusk than with what once found the filmmaker fame. The technical presentation is good enough, and while there's no commentary, enjoy the insight found in the special features. Even as a fan, it's hard for me to say "snoogens" for this one.
Order Your Copy Here: