April 16th, 2021 by Brandon Peters
This felt inevitable after Warner Archive Collection released the original Josie and the Pussycats complete series a few months back as they've been going down, restoring and releasing their Hanna Barbera line. Josie and the Pussycats in Outer Space was a sequel/spin-off/rebranding of the show that took off in 1972. Unfortunately it didn't last too long, but did indeed keep Josie and her Pussycats going for another year. Warner Archive has restored this to go along with the original series on your shelf. A nice two disc set, but includes no extras this time around. They released it on April 13th. So, you can go ahead and order yourself a copy using the paid Amazon Associates link following the review. Amazon, which is now sort of the main hub for all things Warner Archive Collection. Let's just hope this sub-label of Warner Bros home video keeps alive as they do some of the very best work in the business these days!

Series
Rock stars Josie and the Pussycats are out of this world…literally! When the bumbling Alexandra accidentally launches Josie and the gang into outer space, they travel through the galaxy searching for a path back to Earth. Along the way, they meet cat people, robot monsters, evil dictators, space pirates and plenty of strange creatures, including their new companion Bleep, voiced by Hanna-Barbera legend Don Messick. Fortunately, everyone's a fan of Josie and the Pussycats, including aliens! Rocket through the universe with your favorite superstars as they save the day, sing some songs and have a hip-happenin' good time that hits all the right notes!
When Josie and the Pussycats returned in 1972 for another year, Hanna Barbera took to it to shake things up a bit. Like all good horror villains have done, they shot them into space. They rebranded the series Josie and the Pussycats in Outer Space and whisked away with a more cosmic view. Gone were earthbound hijinx and humanoid villainery, in were the ships, fantastical planets and inventive aliens to encounter week to week.
Its a bit of a welcome change and allows the show to be a bit more crazy with some ease. Aesthetically, the artists obviously are able to stretch and have a little more fun and challenge in their work. Having a cartoon about a band with original songs is nifty and unique enough, but having them be intergalactic really takes it to a fun new level. Let Scooby Doo and the other Mystery Machine passengers take care of all the mysterious potentially paranormal but not on Earth, Josie and the Pussycats would go beyond the beyond and beyond.
Space would be the last stand for the series, however. After 16 episodes, the show was not asked to create any further episodes. It did rerun this season again during the next year or 2, but Josie and the Pussycats as a series headliner was effectively over. Their memory stayed fond, and in 2001 evolved into a live action form for a movie. A movie that doesn't have Blu-ray yet. YET! Could it's debut possibly be around the corner soon? Here's hoping!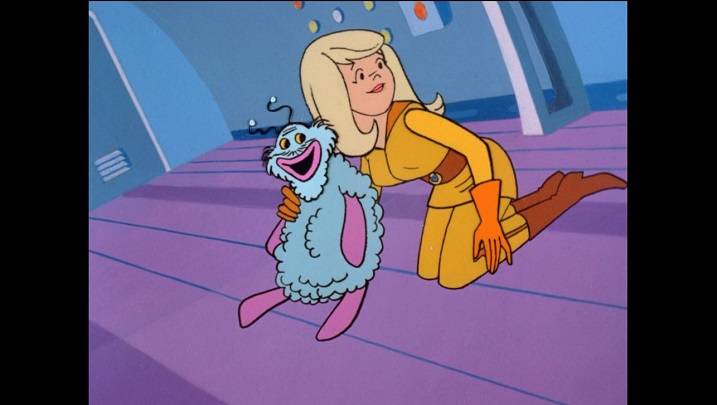 Episodes
This release contains all episode from the entire series run of Jose and the Pussycats in Outer Space.
Video
Encoding: MPEG-4 AVC
Resolution: 1080p
Aspect Ratio: 1.33:1
Layers: BD-50
Clarity/Detail: Jose and the Pussycats in Outer Space is easily a mirror comparison to the other series, and the restoration and transfer is up to par with the previous Hanna-Barbara releases of Space Ghost and Dino Boy and The Flintstones on Blu-ray. Those shows feature a nice, old hand drawn animation. Warner Archive Collection's presentation of Josie and the Pussycats is as crisp and razor sharp as you could ask for. You can see the strokes from drawing or coloring as well as a the nice details, shades and textures where it is not just a flat color.
Depth:  Yes, this is flat 2D animation, but with its motions and fluidity, it make for a nice clean appearance despite not offering much in the distance and third dimension department.
Black Levels: Blacks are deep and quite strong with good shading and strong outlines to the characters. When possible, there are textures and such in darker areas, but its mostly using blacks for shading and dimensions on the actual characters and planet surfaces. No crushing witnessed.
Color Reproduction: Colors are pretty flat, with a more primary display in its palette. However, they are quite thick and bold with a full appearance. This show features a more various palette and really pops more with colors than the other releases as its a bit more extravagant with its usage.
Flesh Tones: N/A
Noise/Artifacts: Clean.
Audio
Audio Format(s): English 2.0 Mono DTS-HD MA
Subtitles: English SDH
Dynamics: Josie and the Pussycats in Outer Space features a solid mono track, with plenty of space to breath and display clarity. Effects now have a nice depth and there is good layering creating the environments. Vocals, effects and music all balance and work in tandem quite well. Songs sound really nice and resonate well in this mixture. This is pretty much the best you could ask for in terms of the sound quality for the original mono track of the series.
Height: N/A
Low Frequency Extension: N/A
Surround Sound Presentation: N/A
Dialogue Reproduction: Vocals are clear and have good attention and clarity to the actors' dictions and vocal inflections.
Extras
Jose and the Pussycats In Outer Space: The Complete Series is a 2-Disc set and features no supplemental material.
Summary
Josie and the Pussycats in Outer Space may change the scenery and trajectory for its stories, but it still delivers similar goods and that Hanna Barbera charm. Warner Archive Collection's Blu-ay release is a the natural twin of the previous release, with terrific audio and video to present as you jam with the Pussycats. It stinks that there are no bonus materials, but the restoration and Blu-ray release alone aren't for nothing.
This is a paid Amazon Associates link