January 18th, 2022 by Brandon Peters
Celebrating 30 years in 2022 is the directorial debut of Ernest R. Dickerson, Juice. The film also gave us the break outs of Tupac Shakur and Omar Epps while boasting a killer soundtrack and gut punching coming of age story that found itself among a pack of films covering similar territory in the early 90s. Paramount is celebrating this milestone with the 4K Ultra-HD Blu-ray debut of the film. Released on January 11, this new release carries over everything from the 25th anniversary and displays the film's 4K transfer proper. No Blu-ray disc comes with it but a redeemable digital code is included. You can order yourself a copy of Juice – 30th Anniversary Edition by using the paid Amazon Associates link that follows the review.
.

Film
Four Harlem friends — Bishop (Tupac Shakur), Q (Omar Epps), Steel (Jermaine Hopkins) and Raheem (Khalil Kain) — dabble in petty crime, but they decide to go big by knocking off a convenience store. Bishop, the magnetic leader of the group, has the gun. But Q has different aspirations. He wants to be a DJ and happens to have a gig the night of the robbery. Unfortunately for him, Bishop isn't willing to take no for answer in a game where everything's for keeps.
Juice gets rolled into a group of films that came out all around the same time. Its often lumped with New Jack City, Boyz n The Hood and Menace II Society.  The films shined a new light on a different coming of age life in America, opening the door to showing a side it had largely overlooked in cinema and giving representation to those overlooked audiences. While giving a look into a lifestyle, it also acts as a pretty tense hybrid of character drama and thriller at the same time.
Ernest R. Dickerson makes the jump from making a name for himself as Spike Lee's cinematographer to director with this feature. Dickerson showcases a familiarity with his collaborator in terms of the voice of this film and the look and punch of the characters. However, he takes things to another level in terms of an action prowess and demonstrating levels of suspense not yet adventured into at the time with the canon of Spike Lee. There's in particular a scene of Omar Epps and Tupac escaping police on foot through the alleys and up a stairwell that has you wincing and biting your nails as you just about see an officer get a hand on them multiple times. Its expert level stuff and really Dickerson flaunting his vision and chops through shooting and post work.
The film is also notable for launching icon Tupac Shakur into a plane of being not just a talented musician, but a multi-quadrant one who could act for film as well. Tupac comes off as neither youthful in his candor, nor inexperienced. Its a role someone with his inexperience could have sullied up the movie with, but Tupac absolutely slays. One of the reasons we are probably still talking about Juice is just how outstanding he is. Shakur is scary as hell by the end of this. You get to slowly see his decent into madness and his hunger for power grow in a unique fashion as the film wages on.
Even today, Juice is still a pretty intense gut punch. It has some funny stuff in it (The hold up in the first act, while never a laugh to the characters in the film, plays in an out of left filed kind of funny), some endearing stuff and some terrifying stuff. Much of the film is definitely time capsuled and there's a period-centric vibe/attitude toward the events and characters, but its cored through-line is still effective and very much thrives.
Video
Disclaimer: Screen captures used in the review are taken from the standard Blu-ray disc, not the 4K UHD Blu-ray disc.
Encoding: HEVC / H.265
Resolution: 4K (2160p)
Aspect Ratio: 1.78:1
Layers: BD-66
Clarity/Detail: Juice arrives this time on an anniversary with a 4K Ultra-HD Blu-ray presentation. This one is a nice little upgrade from a rather impressive transfer before. Details come on stronger with better handling of black levels and the color popping. Depth improves as well as the sharpness of the image. Its a pretty decent upgrade, though not a humongous jump in quality.
Depth:  Depth of field is really good here, with nice spacing and scale on display. Cinematography is rather intimate for most of it, showcasing some good foreground to background separation. There are some rooftop sequences that hint at a larger scale nicely. Movement is natural and smooth with no issues revolving around any sort of distortions.
Black Levels: Blacks are rich and natural, handled very well in the transfer. Information has a good shading and layers to carry many tints on display. No crushing witnessed.
Color Reproduction: Colors really come on strong and much of the actors' apparel in the film really has a nice vivid pop to it. Lots of the more natural stuff like the pavement, wood panels and more have a very nice lifelike rustic touch to them as well. Many of the lights and display screens carry some extra bump with the HDR glow.
Flesh Tones: Skin tones are natural and consistent from start to finish of the film. They feel full and carry plenty of easily discernible information and texture.
Noise/Artifacts: Clean.
Audio
Audio Format(s): English 5.1 DTS-HD MA
Subtitles: English, English SDH, French
Dynamics: Juice holds onto its 5.1 lossless audio from the previous edition that didn't really turn heads much 5 years ago. Its not awful, but hangs out around the average landscape with "I guess it could have been worse" as one of its pros. Its volumes placement and mixing between vocals, effects and music is where  much of the issue lies with the emphasis carrying a little much on the music to the detriment of the other fields.
Height: N/A
Low Frequency Extension: There's an effective enough boom here form the music and the loud gunshots to feel a good rumble throughout the viewing space to accurate levels.
Surround Sound Presentation: This is a front heavy track with a lot of music taking up the rear channels to go along with some mindful ambiance. Nothing too crazy, but travel and volume placement is accurate.
Dialogue Reproduction: Vocals are mostly clear, but tend to drown into a quieter more muffled state when the music seems to be taken over. And not just in club moments, some of your average dialogue sequences seem to prefer the presence of the music rather than the conversation of the character.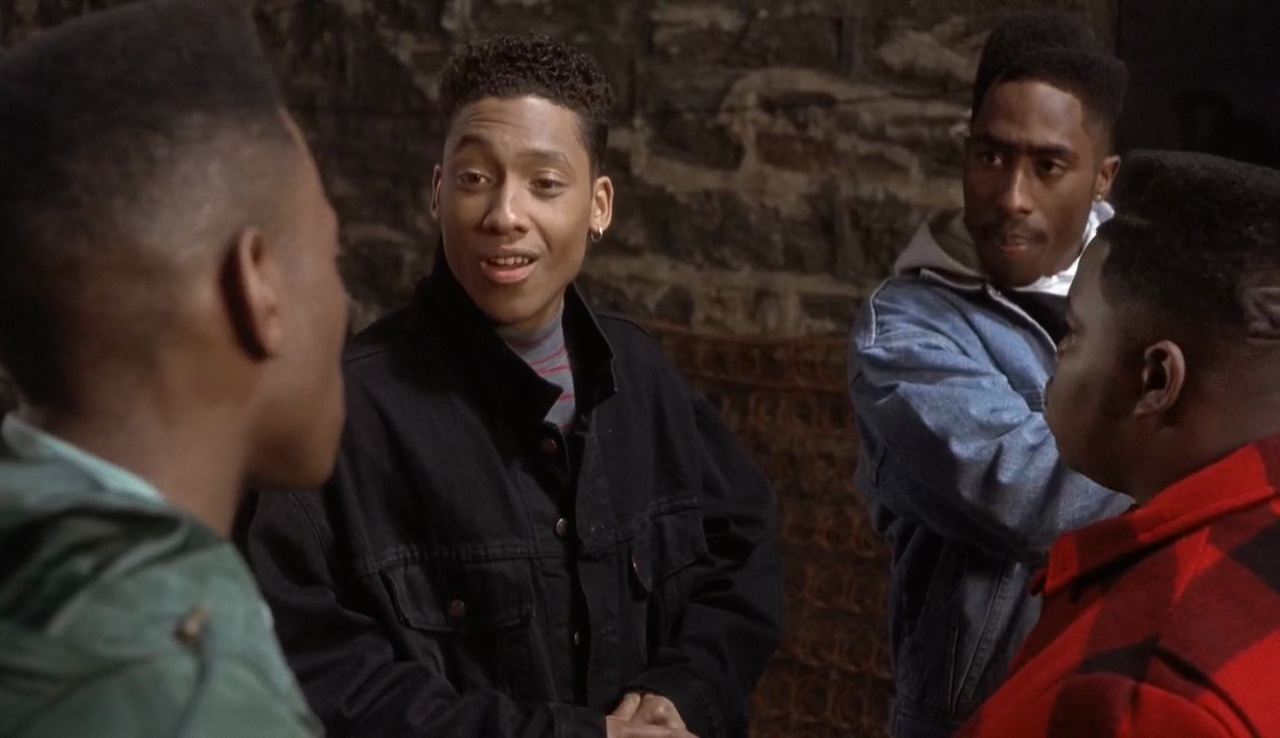 Extras
Juice – 30th Anniversary Edition comes with a redeemable digital code. All extras are carried over from the 25th Anniversary Blu-ray release.
Audio Commentary
With Director Ernest R. Dickerson
You've Got Juice Now (HD, 19:12)
The Wrecking Crew (HD, 22:44)
Sip the Juice: The Music (HD, 12:51)
Stay in the Scene: The Interview (HD, 22:43)
Summary
Juice remains a seminal dark coming of age tale and terrific 90s teen-ish thriller full of style, character and charisma. Paramount is celebrating the film's 30th anniversary pretty much the same way it did the 25th. All extras and audio remain the same for this disc, the sole difference is its 4K transfer now can be seen in its proper presentation. Its looks pretty popping, but for those who own the 25th anniversary Blu-ray, you may want to hang on til there's a good sale price before the upgrade.
This is a paid Amazon Associates link