January 16th, 2020 by Brandon Peters
Scream Factory is wasting no time with the Paramount catalog being open and delivering the goods right off the bat. Obvious choices like April Fool's Day and Escape From LA headline the new territory, but 1971's Let's Scare Jessica To Death is another obvious no-brainer choice. Perhaps you've not heard of it, but the film has had a healthy life as a cult classic, always under the scope of re-analyzing and constant discovery. Now, that discovery can be found on the glorious Blu-ray format. Reverend Entertainment provides some brand new extras to pad out the release, including an interview with the composer, historian Kim Newman and a commentary with the film's director, John Hancock. There is even a featurette that toggles back and forth between the visual locations of the film and what they look like now. The cult classic psychological vampire movie is now up for pre-order (You can use our paid link at the bottom if you choose), arriving January 28th.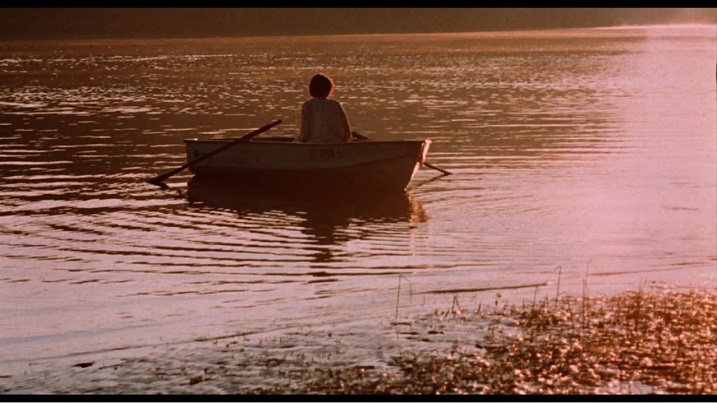 Film
Jessica (Zohra Lampert, The Exorcist III) has been released from an institution after suffering a nervous breakdown and seeks the tranquility of a secluded home in Connecticut to help make her recovery complete. But instead of a restful recuperation with her husband and close friend in the New England countryside, Jessica soon finds herself falling into a swirling vortex of madness and the supernatural. Even more unsettling is that the entire region seems to be under the influence of a mysterious woman who has been living in the supposedly empty house. Jessica's fear and dread only intensify when she discovers that the "undead" girl, Emily, tragically drowned long ago, on her wedding day. Is she back to take vengeance?
Let's Scare Jessica To Death, while truly a piece abstract/arthouse slower burn horror, is one of the earliest films utilizing color to be a moody horror film. Prior to this one, most I can recall are black and white. Jessica is all about a certain mood. Its a film that isn't trusting of its vision, feels like its keeping a secret and finds a constant paranoia in every setting. Complemented with some inner thoughts and monologue, without it, the film truly has an eye, tone and direction as given from its lead character who is suffering from some psychological setbacks after being recently released from an institution. Zohra Lampert is an essential piece for the film as much of this working relies on her performance. She's a generous actor, never commanding, letting her costars manage scenes. But, she's absolutely wondrously naive on the outside, but looking to her eyes, they are almost a performance themselves in conveying someone putting on a facade and hiding their true feelings and nightmarish reality.
Easily discussed following the film, and many have analyzed, whether the events of the film truly happened as we saw them or if this is a manifestation of the narrator's troubled mind. Either side of the pendulum swing you wind up on really doesn't matter, as you still feel everything in front of you, with the "twist" type ending only proving more interesting in discussion and further re-watches. John Hancock has set up some absolutely gorgeous cinematography in capturing this countryside, Victorian home and giving us a truly haunted sense of loneliness. Every scene could just be a normal day, or it could see some sort of apparition occurring. Its an uncomfortable silence.
Jessica reminds me a lot of a film that came nine years earlier, 1962's Carnival of Souls. Both find a woman relocating for a fresh start after having to overcome some persona trauma, only to see odd visions, feel followed and have monsters coming for her for reasons she cannot fathom. And where an organ score enhances mood there, we have early electronic synth experiments evoking that effect as well. While Ghouls are the focus of Carnival, Jessica serves up a rather unique and ambiguous vampire story. Heck, mood and mental health are so essential to this movie, you almost forget its a vampire film. But it is, and its one of the most unique you'll ever check out, complete with some outstanding and spooky looking moments, highlighted by the pale rising Emily (In a wedding dress) from the lake.
You know if you're the type of person Let's Scare Jessica To Death is for. If you're wanting to let a film just take the wheel and slowly and calculatedly play with purely your feelings and letting your mind wander around a plot, its complete something to check out. Traditional vampires or "Boo!" horror fans probably aren't going to take much from this. There is a reason why the film has "Cult" status. Its unabashedly no for everyone. But, it remains an important piece in and of itself and a nice stepping stone in getting to the heart of the 1970s decade of horror.
Video
Encoding: MPEG-4 AVC
Resolution: 1080p
Aspect Ratio: 1.85:1
Layers: BD-50
Clarity/Detail: There are not any details regarding the transfer of the film, but once can assume it was done at 2K. And Let's Scare Jessica To Death is an absolute beauty to look at. Its pretty stunning seeing the clarity and well retained grain structure offering a lot of depth and detail to the image of this 1971 film. It looks so fresh, clean and new with every frame. Its a strong, bold image with admirable sharpness and look that could quite possibly be better than if you saw a print at a theater in the 1970s.
Depth: With the grain kept as much intact, the distancing and pushback of the background and foreground are quite apparently. Characters move in and out of frame quite freely with a nice loose quality. No motion distortions were noticed during any sequence with rapid movements or action.
Black Levels: Blacks are quite deep and flirt as close to natural as you can get with standard Blu-ray. There are no issues with crushing that I found on my viewing. Details lost in the darkness and shadows are of the sort that were intended to be. Its rich and quite haunting. There is one day for night scene in the movie and its handled with some good tints and retains plenty of the details. As do majority of the dark hair follicles, clothing patterns/texture and surfaces.
Color Reproduction: Colors are quite bold, full and well saturated in this image. There are good spots, like the glorious looking bed sheets Jessica sleeps upon sporting some blues, greens and whites. Greens are pretty strong an both appear emerald-like and weathered and washed out. This also handles the sun sets and rises with a nice expert wave of translating them effectively to the screen.
Flesh Tones: Skin tones are natural and are consistent from start to finish of the film. There is a pretty weak point, and I don't know if this has to do with the original elements/lighting conditions, during the scene where Emily and Jessica's husband hook up with some odd and inconsistent coloring and a little flicker. Facial textures and details appear pretty clear as day from any reasonable distance and are just as impressive as anything else in the transfer.
Noise/Artifacts: Clean
Audio
Audio Format(s): English 2.o Mono DTS-HD MA
Subtitles: English
Dynamics: Let's Scare Jessica To Death comes with what is assumed to be the original mono mix for its first time on the Blu-ray format. This is a pretty effectively mixed track that has a nice spot for its dialogue and foley sound effects. It gives the score a little bit of an edge to bring the mood to full effect. Its mostly in regards to the synthesized portion of the score where this is most apparent. But it is indeed welcome and makes the experience that much better.
Height: N/A
Low Frequency Extension: N/A
Surround Sound Presentation: N/A
Dialogue Reproduction: Vocals are clear and crisp. There are some poor ADR moments in the film, and with the clarity of this track only become a bit more apparent. The inner monologue voice overs in the film are actually mixed quite well and effectively with the dialogue to where there isn't much of a jump when one occurs. It actually helps in making the voices come across in an are they/aren't they real presentation.
Extras
Audio Commentary
With Writer/Director John Hancock and Producer Bill Badalato
Art Saved My Life: Composer Orville Stoeber on Let's Scare Jessica To Death (HD, 16:25) – Stoeber opens with his learning of music through family singalongs before going into working with director Hancock and experimenting with synth in the score for an "unearthly" feel. He mentions that he landed a new guitar when recording the score, but found he was kinda ripped off with the whole process. When it came to the film opening, he didn't realize it and doesn't remember seeing it for the first time he saw it due to it being a rough period of his life (Divorce, addiction). "If you can find creativity in your life, then you've found life." "The dark places are for us to bring the light out."
Scare Tactics: Reflections on a Seventies Horror Classic with Film Historian Kim Newman (HD, 23:44) – Newman (No strangers to horror Blu-ray bonus features) proclaims Let's Scare Jessica To Death to be his favorite horror film. He likens it to being in a league of horror with Whatever Happened To Baby Jane and shares his analysis of it as a unique vampire film. There are many anecdotes and touches on horror of the time the film came out and conveys appreciation for the mood, writing, patience and execution of the film.
She Walks These Hills: Let's Scare Jessica To Death Locations Then and Now (HD, 6:49) – This little montage, set to some music from the film passes back and forth between clip and newly shot footage of these Connecticut locations.
Theatrical Trailer (SD, 2:58)
TV Spot (SD, :55)
Radio Spot (HD, 1:03)
Still Gallery (HD, 4:39)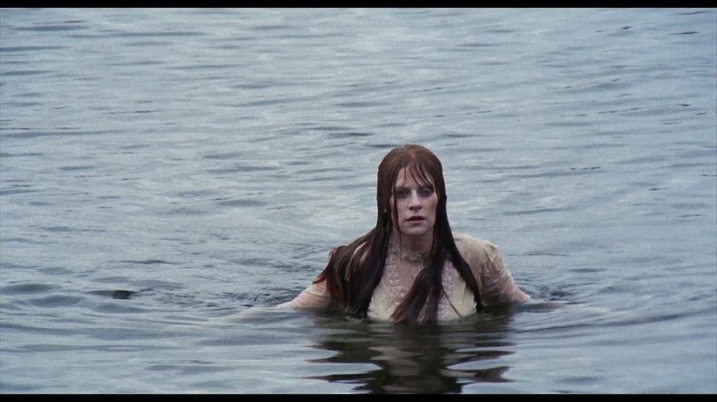 Summary
Let's Scare Jessica To Death is a moody, patience and thought provoking film still almost 50 years since its release in 1971. Scream Factory has put out a rather brilliant looking and sounding new Blu-ray for the film that will likely remain the definitive presentation of the revered classic. There are a pair of very good, inspiring interviews to go along with a good commentary from director John Hancock. If you're a fan of the film, its likely never getting better than this Blu-ray.
This is a pad Amazon Associates link