January 26th, 2020 by Brandon Peters
Despite not being all too popular, Disney's Maleficent still wrangled up three quartets of a billion dollars back in 2014 and Angelina Jolie's look and take on the character became visually iconic instantly. A sequel was pretty much just playing with (Mouse) house money and it was a go. Seen as a disappointment at the box office, Maleficent: Mistress of Evil was liked by (Online accounted for) audiences more and wound up still crossing half a billion dollars worldwide. Forbes' Scott Mendelson would refer to this as Angelina Jolie's second "Tomb Raider trap", or may she was clearly taking it back or telling others to simply get off of her palace lawn. Doubtful it is that we will see Maleficent: Season of the Witch any time soon, as I'm sure Disney will take the money and run with this one. Thankfully Disney still sees the correct path of bringing Maleficent: Mistress of Evil to home video with a 4K Ultra-HD Blu-ray release, available now (Link below is from a paid Amazon Associates account).

Film
Maleficent travels to a grand old castle to celebrate young Aurora's upcoming wedding to Prince Phillip. While there, she meets Aurora's future mother-in-law — a conniving queen who hatches a devious plot to destroy the land's fairies. Hoping to stop her, Maleficent joins forces with a seasoned warrior and a group of outcasts to battle the queen and her powerful army.
One easy and readily noticeable step up from the its predecessor, Maleficent: Mistress of Evil looks like its visual effects were completed in time for the release of the film. One of the my eye-opening shortcomings of the first film was how poor the CGI work was on that film, feeling unfinished or like a throwback relic of the late 1990s/early 2000s. Fear not, here they are full and mostly modern looking. Its very fantasy and cartoon-like in may places, but stronger and pronounced like it desires that look. And it melds with the live action pretty seamlessly throughout.
Storywise, we get something very fresh and expansive, giving us a film I didn't realize I had wanted. Maleficent: Mistress of Evil has its hand full steep in fantasy and fairytale while exploring and dipping into other fantasy staples like taking lighter-hearted lessons from the battles in Lord of the Rings to a kid-friendly cutthroat political power plays in Game of Thrones. The film makes the most of its two hours whether its steeped in betrayal, introducing characters, building mythology or having an all out fantasy slugfest in the sky. This sequel isn't amazing by any means, but its quality entertainment for the two hours spent with it.
Angelina Jolie shines here in a more comedic fashion when she's able to take over the scenes. It almost feels like she sits as backdrop for a while, handing the film over to Chiwetel Ejiofor for the middle section. Michelle Pfeiffer EASILY chews a lot of scenery here and is quite enjoyable vile as the evil future mother in-law. Ed Skrein pretty much gives you what you ask for when you cast Ed Skrein. The rest of the returning cast pretty much pick up business as usual, though the trio of fairies prove to be a little less important this time around and all miniature animated figures the whole film.
Maleficient: Mistress of Evil was a much more enjoyable and engaging experience than it's predecessor. That wasn't hard considering the previous one seemed to stop at "Doesn't Angelina Jolie look awesome as this character?" while adding a pretty boring typical "rape/revenge" backstory and giving us paint-by-numbers Sleeping Beauty again. Granted, that's the point of that film, this sequel was far more interesting because it was fresh. Because of the interesting ways it complimented the original. Because of the freedom it was able to have with the material. For all these boring Disney retreads, those awarded sequels may get to prove worth by being better films. Maleficent: Mistress of Evil is potentially the first step in that direction.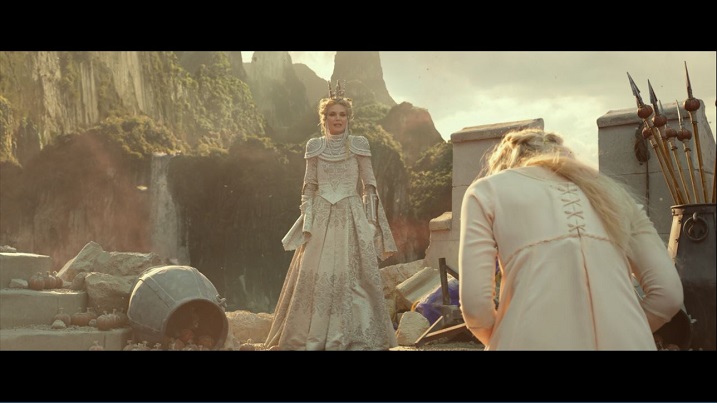 Video
Screen captures displayed in this review are from the Blu-ray disc included in this set.
Encoding: HEVC / H.265
Resolution: 4K (2160p)
Aspect Ratio: 2.39:1
Layers: BD-50
Clarity/Detail: While the film was shot at 8K resolution, like usual with Disney, it was finished at a 2K digital intermediate, killing the purpose of shooting it in the resolution in the first place. Maleficient: Mistress of Evil is another upscaled 4K title, but it still manages to look quite pretty, with some added texture and definition from the standard Blu-ray presentation. There is an added punch to the color hear as well. Its nice massive leap in upgrading formats, but it is a quite noticeable refinement of the lesser quality disc, making it the preferable method of visual splendor.
Depth: Being heavily reliant on CGI character, effects and sets allows the film to work with a bit of a more natural three dimensional appearance. Movements are smooth, natural and contain no issues with motion blurring or jutter during any of the intense action sequence or animations.
Black Levels: Black are a big time improvement over the Blu-ray disc (As per usual). They take on a deeper, natural look and give the image a much richer quality. No crushing occurs and details remain refined and texture in event he darkest corners of the frame.
Color Reproduction:  The world of Maleficient is a colorful one in both its poppy fairy aesthetic and gothic creatures of the night look. Many of the the powdery explosions, magical beams and burst and fabrics that flashes all get a nice kick from the HDR abilities of the 4K Ultra-HD format.
Flesh Tones: Skin tones are natural and consistent from the opening number to the final rolling credit. Facial features and textures are plenty apparent, most notably seeing how the make-up effects impressive keep from with the cheekbones, rugged skin and war paint. In addition, blemishes, gashes and bruising also comes on quite natural.
Noise/Artifacts: Clean.
Audio
Audio Format(s): English Dolby Atmos, English 2.0 Descriptive Audio, French 7.1 Dolby Digital Plus, French (Canada) 5.1 Dolby Digital, Spanish 7.1 Dolby Digital, Italian 7.1 Dolby Digital Plus, German 7.1 Dolby Digital Plus, Japanese 7.1 Dolby Digital Plus
Subtitles: English SDH, French, French (Canada), Spanish, Italian, German, Japanese, Norwegian, Swedish,
Dynamics: Maleficent:Mistress of Evil comes with your standard Disney lowered volume Dolby Atmos track.  Once turned up to an appropriate level, it does fair quite well. It is pretty intricately woven, layered and has a nice understanding of the environments both inside and out. The Atmos track also has a real nice touch of intensity on the lower frequency sounds which (In that regard) felt like one of the best Disney has had to offer.
Height: Thanks to winged warriors and a battle in the skies in the film, the ceiling channels bode very well and are active frequently for the whole film. It also handles and treats to little fun, and unexpected moments as well.
Low-Frequency Extension: With the appropriate volume set, this one really pounces and crashes to some wonderful degrees. There is even a sequence where a gust of magical whatnot rises and really has the sub giving a nice compliment to the action but not become too pronounced or overbearing.
Surround Sound Presentation: This Atmos track has no probably whipping around the room with a natural rolling motion while also capturing the essence of any room or shot to shot interactions with ease.
Dialogue Reproduction: Vocals are plenty clear and crisp, able to feel a part of any action light or small and never too low or too overbearing in the scene.
Extras
Maleficient: Mistress of Evil comes with Blu-ray edition and a Movies Anywhere digital code. All bonus features are found on the standard Blu-ray disc.
Origins of the Fey (HD, 3:02) – Angelina Jolie ponders what exactly is Maleficent and where did she come from and who are her people and what are they.
Aurora's Wedding (HD, 2:31) – Elle Fanning talks about the wedding at the end and how it meant a lot to her and felt like a "true wedding".
If You Had Wings (HD, 4:15) – This featurette goes over the visual effects and stunts to make the characters fly. Angelina Jolie talks as we see behind the scenes footage and shot to screen comparisons.
Maleficent: Mistress of Evil VFX Reel (HD, 2:11) – The producer talks over the magic of digital visual effects as we see a lot of before and after shots.
Extended Scenes (HD, 3:41) 
Outtakes (HD, 1:55)
"You Can't Stop The Girl" Performed By Bebe Rexha (HD, 2:43)
Summary
Maleficent: Mistress of Evil is indeed a better film than the prior effort, but of the solid three star matinee tentpole feature variety. Disney's 4K Ultra-HD Blu-ray presentation of the film brings a pretty looking transfer that is a nice bump up from the standard Blu-ray release. Audio suffers from Disney's low default volume, but once adjusted handles very well. Extras are pretty light and dull, the most disappointing aspect of this release. If you're looking for the best possible way to watch or own the film, this easily wins out as the highest quality option over Blu-ray or any streaming platform.
This is a paid Amazon Associates link