September 29th, 2022 by Brandon Peters
For October this year, Warner Archive Collection has a pair of classic horror treats that have long been sought after by collectors. One of which is the 1935 film Mark of the Vampire. A brief look at it and one might think its some unknown Universal Classic Monsters Dracula film. Despite being directed by Tod Browning, starring Lionel Atwill and having Bela Lugosi play a vampire dressed count-like, it is not. Nonetheless, all the hallmarks are there. The film will come with a commentary track featuring Stephen Jones and Kim Newman, a cartoon and a short film both from 1935. The release date for Mark of the Vampire is October 11th. You can order a copy to have around them by using the paid Amazon Associates link that follows the review at the bottom of the page.
.
Film
In a remote village in Central Europe, a nobleman's body is found drained of its blood and two punctures on his neck-the Mark of the Vampire. An ancient terror, a horror that won't die haunts the village: the long undead Count Mora (Bela Lugosi) and his daughter Luna (Carroll Borland), rule the night. But the vampires have not fed on the people of the village for a very long time. Now, with the help of an expert in the occult, Professor Zelen (Lionel Barrymore) and a local Baron (Jean Hersholt), police inspector Neumann (Lionel Atwill) unearth a mystery far stranger and more terrifying than anyone could have imagined!
Tod Browning and Bela Lugosi return to the art of vampire movies with Mark of the Vampire. It's definitely one of the best not-Dracula, but kind Dracula movies ever made. In fact, this movie you could honestly put the title Dracula's Daughter on it and it would work just as well (Though I do quite enjoy Universal's proper film with that title, just making an observation). There's clearly less money and resource this time around for Browning, but he's almost able to completely pull off a convincing effort that this could be an actual Universal Classic Monsters film.
Browning is a master of creating traditionally spooky sets, whether it be a home with open windows and curtains or a foggy graveyard lit by lantern in the night. With this film he also has some success in puppets and visual effects that look incredibly impressive and almost seem impossible by 1935 standards. Sure, at times you can easily see how they did this, but for the most part they fit like clockwork into the film. There's many a flight, transformation or fake bat that just work incredibly well. Browning also knows how to cobweb a set and age up some props to make you dream of getting the chance of visiting these haunted castles and homes one day.
Lugosi is one of Browning's biggest assets and he's pretty much doing Dracula again, but he's so effective at it. This is probably what is being asked of him and he's delivering. There's almost an effort to make him a bit more intense and vicious in his appearance than the traditional count. His looks can be a bit nastier and blood splatter is added to his temple. There's a female accomplice with him and she's an absolute treat. She's is creepy and weird in her own way and dressed in white as opposed to black. Together they make quite an effective pair.
Even with its conclusion, Mark of the Vampire feels a lot like a "lost" or "missing" classic horror tale of vampires. Because this is more about the ride than it is its finish. Its not brought up a lot with the other classic lot (Yes, I know, its not Universal), but it absolutely should be. Its a nice footnote with having Browning, Lugosi, Atwill and vampires involved. Sort of like a recommendation "If you loved Dracula, you CAN'T miss out on Mark of the Vampire". The film is really that good an really one that needs to be reassessed and sought out by fans of horror history.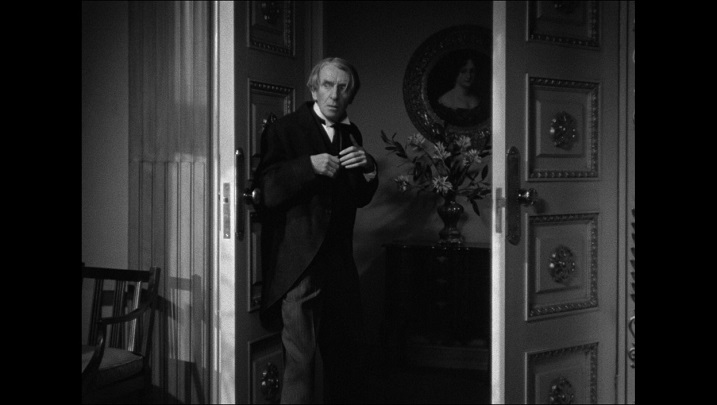 Video
Encoding: MPEG-4 AVC
Resolution: 1080p
Aspect Ratio: 1.37:1
Layers: BD-50
Clarity/Detail: Mark of the Vampire debuts on Blu-ray with a new 1080p HD master from 4K scan of original nitrate camera negative. And it is yet another master stroke in film preservation/restoration from those over at Warner Archive Collection. This thing looks healthy and young. A nice layer of grain keeps the detail and depth intact here. It has a rather crisp image with details rampant and clear as day with a good saturation of the black levels to spooky degrees of ultimate effectiveness.
Depth:  Depth of field here may catch you by surprise as this is a very claustrophobic movie with lots of shot on sets interior scenes. But said sets showcase lots of pushback and three dimensional zest to them. Movement is filmic and smooth with no issues of blur or jitter coming from rapid action or camera movements.
Black Levels: Blacks are absolutely gorgeous and almost at natural levels. Deep and moody, but able to still showcase lots of texture, pattern and details.  No crushing witnessed.
Color Reproduction: N/A
Flesh Tones: Skin tones are white/gray and consistent from start to finish of the film. Facial features and textures impress from most distances, including most medium shots and some far ones.
Noise/Artifacts: None
Audio
Format(s): English 2.0 Mono DTS-HD MA
Subtitles: English SDH
Dynamics: Mark of the Vampire comes with a pretty authentic sounding mono track. There is a some heavy analog hiss in spots, but its not only to be expected, its a hair charming and doesn't distract at all. A little light on the low end, it is well balanced and features some decent layering and depth for some effective moments in the film.
Height: N/A
Low Frequency Extension: N/A
Surround Sound Presentation: N/A
Dialogue Reproduction: Vocals are clear and crisp with a bit of a analog hiss that can get heavier in certain moments.
Extras
Audio Commentary
by Kim Newman and Stephen Jones
A Thrill for Thelma (HD, 18:00) – A 1935 MGM short.
The Calico Drago (HD, 7:57) – A 1935 MGM cartoon. 
Theatrical Trailer (HD, 2:00)
Summary
Mark of the Vampire is a great not-Dracula Dracula movie from the master who brought us the original Universal Classic Monster flick. Warner Archive Collection's debut of the film on Blu-ray looks to perfection and has a solid audio track that sounds very of its time. Extras are appreciated with the critic/historian commentary and a pair of shorts to from the same year the film came out. Classic horror lovers have to grab this one!
This is a paid Amazon Associates link