September 13th, 2022 by Brandon Peters
Taking the summer 2022 movie season by storm, the world came together to watch the trip of a lifetime as Mrs. Harris Goes To Paris. Dr. Strange can go to the Multiverse, Tom Cruise to the Danger Zone, but the true thrills came from Harris taking on Paris. Kidding aside, the delightful dramedy (it REALLY is, check it out!) arrived on Blu-ray on September 6th. The release comes with a redeemable digital code. Special features on it include deleted and extended scenes as well as the all important gag reel. You can order yourself a copy at a really good price currently, by using the paid Amazon Associates link that follows the review.
.
.

Film
Mrs. Harris Goes to Paris tells a humorously heartwarming tale about a London housecleaner Ada Harris (Manville) who thinks her lonely life might turn around if she can become the owner of a Christian Dior gown. Saying goodbye to her friends like Archie (Isaacs) won't be easy, and neither will be winning over elite people in Paris from Madame Colbert (Huppert) to idealistic accountant André (Bravo). But Ada's irrepressible charm just might end up saving the whole House of Dior in this uplifting story of how an ordinary woman becomes an extraordinary inspiration by daring to follow her dreams.
Mrs. Harris Goes To Paris is a delightful little feel good film that doesn't just rest on charms and fluff, it does things well in many other fields of its craft. The film has a nice weeble and wobble and bop that feels plenty at home with its title character as she finds herself integrating among people in a new country servicing her. It has the hallmarks of an endearing drama, elegance of a European period piece and fun of a romantic comedy.
Anthony Fabian's film is a period piece, but its vibe and look has a very throwback feel to it. It evokes many of film of Hollywood and Europe's past. Beyond just the costumes and accuracy its in the way this film walks around, the character cadences and the tone that feels infectious throughout every setting of the movie. Nobody is going to mistake it for an older film, but there are times watching it where you almost feel like you're watching one.
I don't know that Mrs. Harris Goes To Paris is one of those year end list toppers, but damn if it isn't one that puts you in a pretty terrific mood after seeing it. There's an honesty and authenticity to the characters in it and the film really can just continually to warm your heart and make you glow a little throughout. Its the kind of movie that'll hit the spot if you need it to. A high quality piece of comfort food to take in on an afternoon.
Video
Encoding: MPEG-4 AVC
Resolution: 1080p
Aspect Ratio: 2.39:1
Layers: BD-50
Clarity/Detail: Mrs. Harris Goes To Paris debuts on Blu-ray with a beautiful looking transfer. Its a crisp, sharp image that radiates in gorgeous colors and details about. Your eyes are going to love this image as you take in the finer points of all the textures and patterns that are so clear and well documented in the frame.
Depth:  Depth of field is actually quite impressive and this film actually showcases some nice scale. Some of the interiors are marvelous, big and look to have a nice deep push back feeling to them. Movements are natural and smooth with zero distortion issues.
Black Levels: Blacks are rich, deep and lacking in that normal digital gay look. They feature some excellent looking shadows as well as nighttime sequences. No information is hidden, all textures and patterns clearly visible. No crushing witnessed.
Color Reproduction: This has a really pretty color palette on display throughout the film. Colors are well saturated and have a nice bold pop to them. From clothing, to upholstery, wallpaper, balloons and more its a charmer on the eyes.
Flesh Tones: Skin tones are natural and consistent from start to finish. Facial features and texture are visible and easily discernible from any reasonable distance in the frame.
Noise/Artifacts: None
Audio
Format(s): English 5.1 DTS-HD MA, Spanish 5.1 DTS, French 5.1 DTS
Subtitles: English SDH, Spanish, French
Dynamics: Mrs Harris Goes To Paris has itself a fine little 5.1 mix that more than gets the job done for the film. From quieter moments hearing her trim up planets to louder places like a dog race, the thing is balanced and layered to good effect. It never tries to be more than it is and always is on point and engaging. There's an eloquence to the design here and its a real pleasure on the ears.
Height: N/A
Low Frequency Extension: The lower end comes in and helps add bump and rumble to some sound effects and lovingly helps hum the film's score.
Surround Sound Presentation: There's a lot up front here in the mix but the rear channels do bring up some nice ambiance and unique contributions from time to time. Sound travel is accurate and has some nice, careful force for the movements around the room.
Dialogue Reproduction: Vocals are clear and crisp.
Extras
Mrs. Harris Goes To Paris comes with a redeemable digital code.
Deleted And Extended Scenes (HD, 4:24)
Gag Reel (HD, 5:14)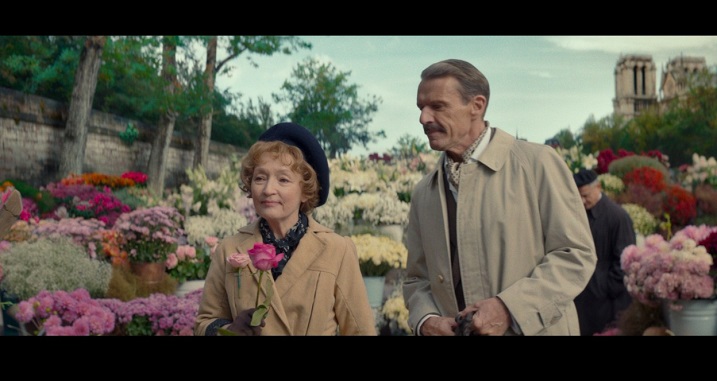 Summary
Mrs. Harris goes to Paris is a joy and delight to check out. It arrives on Blu-ray with a pretty top notch presentation in both the audio and video department for standard Blu-ray. The extras don't offer much but it does add a couple scenes and a couple laughs. Currently it sits at a pretty easy price point for those interested.
This is a paid Amazon Associates link