June 22nd, 2021 by Brandon Peters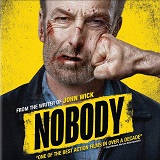 Action flicks are in a rather good place nowadays. We seem to have moved into an era with relatively solid directors. Films that aren't reliant on post production shaky cam or ones that know how to appropriately utilize the tactic for good effect. John Wick being the current mainstream posterchild for big action greatness, anything with someone associated is going to garner attention. Now comes Nobody from the guy who wrote John Wick. This pandemic blockbuster hit theaters and did a decent global haul considering the low budget and environment it came out it. Its also a perfect picture for the drive-in during this time. Now its coming to glorious 4K Ultra-HD Blu-ray, where I'm sure more people are going to see and fall for this little gem. It arrives on June 22! You can order it using the paid Amazon Associates link below.

Film
Hutch Mansell fails to defend himself or his family when two thieves break into his suburban home one night. The aftermath of the incident soon strikes a match to his long-simmering rage. In a barrage of fists, gunfire and squealing tires, Hutch must now save his wife and son from a dangerous adversary — and ensure that he will never be underestimated again.
Bob Odenkirk, action star. Not something you'd have said or imagined prior to Nobody and that's surely the point here. But, what CAN'T this man do? His chops began with comedy and being an absolute ace in that field, giving us the amazing Mr. Show. But, Breaking Bad really had a impact on this guy's career. Surely, he was brought in for some comedic touches, but it became more intense and dramatic. That led him to leading his own spin off in one of the best dramas on television in Better Call Saul. He's become a hell of a performer. So, much that his cameo in Greta Gerwig's Little Women was a huge audience reaction moment a few years ago.
And he absolutely works here in convincing fashion. This falls in the realm of action movies not unlike John Wick or The Raid (or check out The Night Comes For Us on Netflix – you're welcome) where we witness our hero pushed to their limits. How much of a beating can they take? How much more can they exert and how do they heal themselves to go and take some more? And no, this isn't just some John Wick retread, Odenkirk is given his own type with his own style and inventiveness in these fights. Witness the finale, which is pretty fun and creative.
The film is cast with some fun people all around and those you either don't see much or haven't seen in a while. Christopher Lloyd is a complete treat in the film in a role he's both perfect at and one you've not seen him in before. Connie Nielsen provides some really good weight here to pull focus in on the first act. The RZA relishes in this kind of movie, so he knows how to play this well and has a presence even when all his part is required to do is to provide phone vocals. And for good measure, genre vet Michael Ironside is fun to see just taking up frames once in a while.  Odenkirk bounces off of them and others with unique flavor and heft every time they are around.
And that's not to mention that the action in this film is fantastic. While giving you some of the choreography, gore, cuts and camera movements we are sort of used to over the last 5 or 6 years, there is still room for some ingenuity and unique additions for the film to call its own. One great factor is that this film doesn't mess around. Its 90 minutes. It gets in and it gets out. Its paced wonderfully and feels like you are getting more than your money's worth as a LOT happens in the film. Buckle in, cuz Nobody is a fast, fun and calculated ride that doesn't forget to have some fun with character and add humor to its painful punches.
Video
Disclaimer: Screen captures used in the review are taken from the standard Blu-ray disc, not the 4K UHD Blu-ray disc.
Encoding: HEVC / H.265
Resolution: 4K (2160p)
Aspect Ratio: 2.39:1
Layers: BD-66
Clarity/Detail: Nobody arrives on 4K Ultra-HD with a pretty darn pleasing transfer. Its a crisp, sharp image with great details easily protruding through. Its a dark film but the image handles it with some ease. There is a sort of grainy look to it, though I'm pretty sure this was shot digital. But, it gives the film a sorta feel and character which is nice. Overall, you'll enjoy watching the blood splatter and bullets fire in this terrific picture.
Depth:  This is a pretty intimately shot film. That set, the depth of field is still pretty good, especially in scenes like the bus fight where you have bars in the front, people fighting in the middle and the windows and outside the windows going on. Movements are smooth, natural and feature no distortion issues from the rapid character movements, camera swings and cuts.
Black Levels:  This is a really dark movie. Lots of night, lots of low lit interiors. But this disc handles it with natural and accurate blacks that feature great shading, tints and such that allow for all details, patterns and textures to still maintain a high effectiveness. No crushing witnessed.
Color Reproduction:  This isn't the most colorful of films, and rather dark, but the contrast helps to pronounce some of the colors. Car lights, fire, signs, digital displays and such give off some nice glow with the HDR.
Flesh Tones:  Skin tones are natural and consistent from start to finish. Facial features and textures like stubble, pores, dried blood, make-up, bruising, wrinkles and more are clear as day from any reasonable distance.
Noise/Artifacts: Clean.
Audio
Audio Format(s): English Dolby Atmos, Spanish 7.1 Dolby Audio, French 5.1 Dolby Audio
Subtitles: English SDH, Spanish, French
Dynamics: Yeah, this one has a pretty kickass Atmos track to watch the asses on screen being kicked. This one comes through with some nice power as well as environment building. Effects are plenty well layered and feature good depth for some lifelike feelings to the more natural contributions. Its a plenty balanced track and I don't think you'll find much to disappoint here.
Height: From above you get some bullets whizzing, club music, overhead punches and lots of other stuff as it plays according to the camera's perspective quite well.
Low Frequency Extension:  Kicks, punches, glass shatter, explosions, gunfire, doors slamming and all sorts of booming things rock the subwoofer as it hits plenty hard.
Surround Sound Presentation:  Plenty of fun is had with the Atmos speaker set up. Sound travels at a fast rate, jumping around, keeping up with the cuts and camera swings moving at a quick pace. The rolling effects gives them some power while also these same speakers maintain a good ambiance and fill out quiet moments just as wonderfully.
Dialogue Reproduction:  Vocals are clear and crisp.
Extras
Nobody comes with the standard Blu-ray and a redeemable digital code for the film.
Audio Commentary
with actor/producer Bob Odenkirk and director Ilya Naishuller
with director Ilya Naishuller
Deleted Scenes (4K, 4:58)
Hutch Hits Hard (4K, 3:52) – Featurette about training Bob Odenkirk for the film and how to effective utilize him in action sequences.
Breaking Down The Action (4K, 19:07) – An in depth look at 4 action sequences for the film with staging, execution, rehearsal and thoughts on how they were intended to play. "Bus Fight", "Home Invasion", "Car Chase", "Tool and Die".
Just A Nobody (4K, 12:53) – A quick making of for the film.
Summary
Nobody just flat out rocks and is such a quick watch, I imagine fans will just have it on repeat for a while. Odenkirk and company are all fantastic here in this "unlikely action hero kicks everyone's ass" film. The specs are terrific, with a wonderful experience in both the audio and visual departments. Extras aren't much, but they are pretty solid and fun, and you get not one but TWO commentary tracks. Definitely pick this one up when it hits the right price for you.
This is a paid Amazon Associates link