October 25th, 2021 by Brandon Peters
It has been rather nice to see M. Night Shyamalan come back into the fold and shake the stigma of him being a has-been filmmaker. Having some well reviewed hits will tend to do that. Moving on from his Unbreakable series, he now sets sights for where his career can now go. First stop is Old, about a magic beach that rapidly ages people. The film was a rather solid hit at the box office this past summer. This high concept horror tale arrived on 4K Ultra-HD Blu-ray back on October 19th. It comes with an Atmos track and a nice collection of featurettes and deleted scenes. You can order yourself a copy of the film by using the paid Amazon Associates link that follows the review. It also helps out the site.
.

Film
Visionary filmmaker M. Night Shyamalan unveils a chilling, mysterious new thriller about a family on a tropical holiday who discover that the secluded beach where they are relaxing for a few hours is somehow causing them to age rapidly … reducing their entire lives into a single day.
Old is a great idea and fun concept, but M. Night Shyamalan's script does quite service what's going on or get it there to be a nice, memorable thriller. I'm a fan a big concepts like this, and from the standpoint of the idea and some of the details and how it plays out, I'm more than rather fine with the film. Its in the overall delivery and dialogue for the film that it practically sinks the film even before it can really start to swim.
The dialogue in the film flirts with being borderline dreadful. Its almost all in service of the plot and almost nothing to being an actual human. There are bizarre deliveries with odd details that feel out of place for someone to say in response to something, but because you're watching a movie, you know its going to be a factor. It all plays rather forced and awkward and makes it really tough to settle in and just let the movie do its thing. Its almost as if Shyamalan wasn't sure this idea was going to work or worried too much that it would go over the heads of audiences.
Which it becomes a shame. Shyamalan showcases a lot of good technical prowess here and manages to pull some nice performances from the cast who is tasked with trying to make this dialogue both natural and believable. The way he covers the beach, the water and the surroundings as if it is its own character is quite admirable. The film is fun to look at and is really well put together in terms of technical fashion, just merely hampered by script.
M Night Shyamalan's Old is definitely not a terrible time at the movies. Its an interesting enough and intriguing enough premise to give it the runtime. The journey is just a clunky one when its people just talking to people. Especially in the random "normal" scenes. I wish the film would have pulled this off, but hey, I dig Night's big swings and I hope to see more of this from him next time and the time after that and after that.
Video
Disclaimer: Screen captures used in the review are taken from the standard Blu-ray disc, not the 4K UHD Blu-ray disc.
Encoding: HEVC / H.265
Resolution: 4K (2160p)
Aspect Ratio: 2.39:1
Layers: BD-100
Clarity/Detail: Old arrives on 4K Ultra-HD Blu-ray format as a nature 4K title. Beach or tropical set movies tend to be some that really lend themselves to looking lovely with ease. Old is no different. It has a crisp, vivid and vibrant image that is rampant with lots of texture and detail to the spec of sand.
Depth:  Solid depth of field on display in the film. A good sense of scale is brought upon on the beach. Be it outside and grand on in the cavernous walkaways, there's a nice sense of space. Movements are smooth and natural.
Black Levels: Blacks are natural and really do well with shadow and contrast to bring out some good color. Differing shades help keep texture and information intact. No crushing witnessed.
Color Reproduction: Colors really burst off here, from the blue of the ocean to the swimwear fabrics and umbrellas. There's a nice bit of greens as well and the sand color is expertly displayed. HDR helps give some things some extra pop and saturation in all the right places.
Flesh Tones: Skin tones are natural and consistent from start to finish of the film. Every little facial texture and detail is like looking through widow. Sweat, dirt, sand, stubble, make-up lines, wrinkles, blemishes are all clear as day.
Noise/Artifacts: Clean.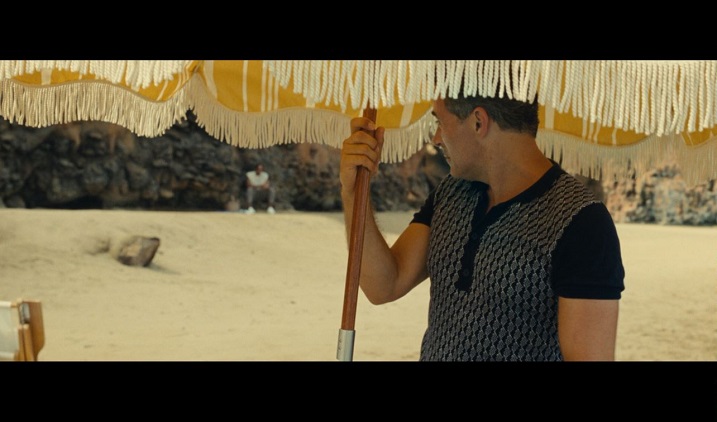 Audio
Audio Format(s): English Dolby Atmos, Spanish 7.1 Dolby Audio, French 5.1 Dolby Audio
Subtitles: English SDH, Spanish, French
Dynamics: Old features a rather awesome Atmos track that really heightens the enjoyment of watching the film. Its a very engaging mix with the track flourishing through every speaker channel with a good sense of place and theatrical effect. The mix features great layering and depth going hand in hand with a solid balance of vocals/music/effects as they play together.
Height: From above you have helicopters, birds, debris, people high up from low camera angles and a lot more. Its quite neatly played and not just limited to matching onscreen.
Low Frequency Extension: Some nice booms here with waves crashing, engines roaring, helicopters and stings in the music with solid force.
Surround Sound Presentation: This mix has a lot of fun with the speaker interplay and contributions. Unique things with all sorts of volumes loud and small happen from rear and side channels for great effects. Its a lively interplay and sound travel with force that really bring this to life and make you part of the action.
Dialogue Reproduction: Vocals are clear and crisp.
Extras
Old comes with the standard Blu-ray edition and a redeemable digital code for the film.
Deleted Scenes (4K, 8:16)
Shyamalan Family Business (4K, 8:06) – This featurette focuses on M. Night Shyamalan's daughter who was the second unit director on the film and also how his daughters influenced and contributed to the movie.
All The Beach Is A Stage (4K, 9:37) – This piece focuses on how they utilized the beach shot for the movie. From story, to camera work, to performances, they really lay it all out.
Nightmares In Paradise (4K, 7:27) – A shooting locations featurette.
A Family In The Moment (4K, 6:18) – Not to spoil, but this one looks at shooting some of the cast's final scene together and how tied they were to it emotionally.
Summary
I really wanted to enjoy Old and to have it be terrific, but its script seems to fail it while Shyamalan and company excel in almost all other areas. This 4K Ultra-HD Blu-ray presentation provides an outstanding presentation in both audio and video. Extras are a nice collection of scenes and featurettes to make a rather solid package for a newer film.
This is a paid Amazon Associates link