October 5th, 2020 by Aaron Neuwirth
What once was gone, now is found. Jean-Luc Godard's Pierrot le Fou was one of the Criterion Collection's first Blu-ray releases in 2009 before the rights were lost to StudioCanal. That initial release may be a collector's item, but for those who want to see the film with a deluxe Criterion treatment, this re-release brings back the experimental French New Wave film with a new 2K digital restoration for all to view and enjoy. It may still be a confounding effort for some, but it looks excellent seeing this 60s film that was far ahead of its time.
–
Film:
Trying to summarize the plot is as challenging to do adequately as it is meaningless. Still, the story boils down to a married, wealthy, and very bored man, Ferdinand (Jean-Paul Belmondo), running away from his life with a babysitter, Marianne Renoir (Anna Karina). We learn multiple things over time, including the fact that these two were once in a relationship together, and that she is currently on the run from arms dealers she has betrayed. However, much of the film is focused on leaving the bourgeois world and embracing life in different ways.
It is easy to see why this film, Godard's tenth, served as an influence to so many filmmakers. It features a collection of ideas put together in an overly complicated yet underplayed storyline, which a high focus on stylization. Yes, there's social commentary regarding consumerist and art culture, but the film itself plays like a piece of pop-art. The blend of crime and comedy, along with some surrealist touches, fourth-wall-breaking, and even some comic-book aesthetics, led to a film informing the continued ways filmmakers could challenge themselves to stray from the norm.
Of course, the film is not without substance either. One can see political statements being made in how certain scenes play out, let alone gain an appreciation for the films Godard was inspired by in making this one. There also needs to be actors who can perform on the same wavelength. It has been said this film was heavily improvised, due to a lack of a script, although Karina has denied this. I have no doubt there was an experimental approach to the filmmaking, no matter how planned out things were, but what rings true are the attempts to push ideas in a new direction for cinema.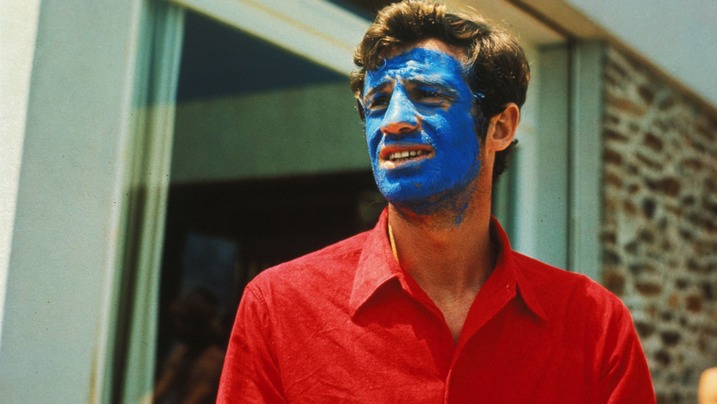 Unsurprisingly, the counterculture and continued popularity of New Wave filmmaking led to other films utilizing a similar setup. Think of Bonnie & Clyde, The Graduate, Badlands, among others. These are all films taking a romantic pairing and letting them roam free or at least try to break free from the more conservative bounds they've been pushed toward by their parents or the system. Those films all have directors unwilling to compromise for a specific vision as well.
Pierrot le Fou is not the first film of its kind, but a great example of one working hard to test the limits of its audience by obscuring its objectives enough for a viewer to want to pay more attention. As a result, you have a thought out film that is alive with color, performances, camerawork, and more. Early in the movie, Ferdinand approaches American director Sam Fuller, asking what cinema is. Fuller describes it as one-word emotions that can be put on display. Pierrot le Fou is accomplishing this. It has a unique way of going that route, in an effort to have viewers partake in some deeper thought, but it is a film, one that literally throws fireworks at the screen.
Video:
Encoding: MPEG-4 AVC
Resolution: 1080p
Aspect Ratio: 2.25:1
Details: This new digital transfer was created in 2K resolution from the 35mm original camera negative at Scanlab in Saint-Cloud, France. A previous digital master approved by cinematographer Raoul Coutard was used as a color reference. The original monaural soundtrack was remastered from a 35mm optical soundtrack positive using Avid's Pro Tools and iZotope RX.
Clarity/Detail: I'm sure there's someone with a more detail-oriented eye with me who could really see the difference between this release and the initial Criterion release back in 2009, but I can't imagine it being anything more than negligible (though, 10+ years later, I'm sure this release is a bit sharper). As it stands, Godard's style is specific enough where lots of color is able to come through, even when the settings amount to different parts of France that are all nice to look at. It makes for a film with plenty of clarity when it comes to taking in the environments, cars, and costuming.
Depth: A proper handle on spacing keeps the image from ever feeling flat. The intricate work done with this restoration does such a fine job of showing the distance between characters, which is especially important in the film's more vibrant scenes.
Black Levels: The black levels are great. No real sign of crushing, though I could tell there's a bit of softness in some indoor scenes when accounting for the shadows.
Color Reproduction: Working mainly with primary colors, there are many excellent examples of how bright and warm the colors shine through. Early scenes are shaded in blues and reds. Later on, we have a lot more outdoor surroundings full of life, and the colors always register as well as they can.
Flesh Tones: The detail level seen in the actual characters is impressive, thanks to various close-ups that really show the depth of this transfer.
Noise/Artifacts: With so much work to deliver a strong new transfer of this film, there is little to complain about. There is a consistent level of grain that is expected, but this film is basically spotless, as all the dirt, damage, stains, etc. has been cleaned up.
Audio:
Audio Format(s): French LPCM 1.0
Subtitles: English SDH
Details: The original monaural soundtrack was remastered from a 35mm optical soundtrack position using Avid's Pro Tools and iZotope RX.
Dynamics: There are times when this soundtrack is quite busy, but it doesn't stop this mono track being as effective as it can be in delivering the goods from an auditory level.
Low-Frequency Extension: N/A
Surround Sound Presentation: N/A
Dialogue Reproduction: Everyone is heard loud and clear.
Extras:
Pierrot le Fou does not feature any new features not already seen on the initial Blu-ray release, but the ones available still do proper justice to detailing the film, reflecting on its impact, and more.
Features Include:
Anna Karina (SD, 14:18) – Karina recalls working with Godard, her husband at the time, on the film. Recorded in Paris in 2007.
A Pierrot Primer (SD, 36:00) – A video essay from 2007, written and narrated by filmmaker Jean-Pierre Gorin. It's about as close to a commentary as one gets for this film.
Belmondo in the Wind (SD, 9:21) – This feature focuses on Jean-Paul Belmondo and his role in the film. We hear from Godard and Karina as well. This footage and these interviews were recorded back in 1965.
Venice Film Festival, 1965 (SD, 3:59) – An overview of Pierrot le Fou's reception at the Venice Film Festival.
Godard, L'amour, La poesie (SD, 52:59) – A 2007 documentary by French filmmaker Luc Lagier. It traces Godard and Karina's marriage and films.
Trailer (HD, 3:00)
PLUS – An essay by critic Richard Brody, a 1969 review by Andrew Sarris, and a 1965 interview with Godard.
Summary:
With a new 2K transfer, those who missed out on Pierrot le Fou don't have to pay extravagant prices to get a hold of this new Criterion release, which presents the film about the best of ways possible. As it stands, Godard's experimental feature remains incredibly watchable, full of style, and serves as a clear gateway to more of the French New Wave. The nice collection of extras doesn't hurt either. Those who managed to obtain the first release may be hesitant, but others will have plenty to enjoy from this sad clown
Order Your Copy Here:
(Paid Link)